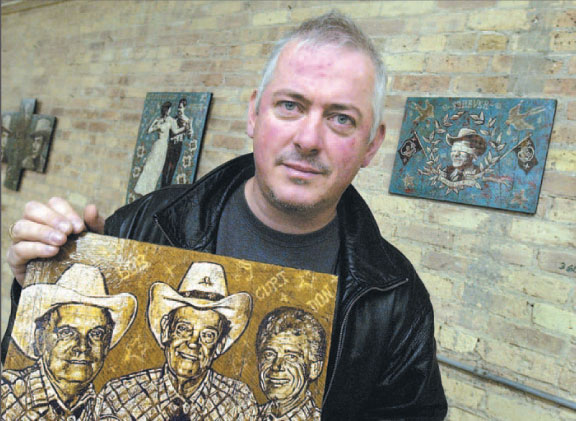 The idea of America as the great light of the world and some bastion of liberty is in tatters…
Jon Langford
by James Mann
Jon Langford is one of our greatest cultural sparkplugs. Originally the drummer for The Mekons, he has led the pioneering punk collective since its start in 1977. Since then he has been a member of the Waco Brothers, Pine Valley Cosmonauts, Skull Orchard, Men of Gwent and Bad Luck Jonathan. He is also a world class artist, whose paintings of classic country performers – warts and all – have graced album covers, books and recently, the Country Music Hall of Fame in Nashville with his Dylan, Cash and The Nashville Cats.
Ink 19 lobbed a few questions to the outspoken artist and activist. This is what we got back:
Q: You were born in Wales, now living in Chicago. What was your reaction to the election of Trump?
A: I have two teenage sons who are most certainly American and it was sad for me to have to sit down with them and explain why we couldn't just up and leave. It was my oldest boy's first chance to vote and frankly he's not impressed. I thought Hilary was a dreadful candidate and deserved to lose but its hard to watch this foul rich kid and his cabinet of petty twisted numbskulls dismantle what's left of this democracy. Part of me has hated American consumer capitalist philistinism for so long that it all kinda makes sense. You get what you deserve. I've been writing lots of songs, (cos that's what I do) mostly dealing with the fear and uncertainty that's been deliberately sown and the huge betrayal of the working class people who blindly supported Trump and will only get poisonous drinking water, class-segregated education, welfare cuts, dwindling healthcare, unemployment and foreign wars for their trouble. The UK is on a similar path so there's nowhere to hide. Resist! Â Â
Q:You've called yourself a "working class socialist". Did you support Bernie Sanders in the election? What role do you see him having going forward, and socialism as a whole in the US? Â
A: I've called myself a socialist. I come from a working class seaport town in South Wales. My Dad was an accountant and my Mum worked in the bank but she was from the industrial valleys above Newport and her family were miners, metal workers, gamblers, drinkers, Baptists etc. in stark contrast to my Dad's lower middle class Church of England background. When I moved to the States I felt like I'd slipped off the political map. Normal mainstream socialist views were suddenly cries in the wilderness. The Death Penalty really got to me. So many people I respected and thought I had things in common with could not understand my opposition.
I did support Bernie. I sent him money and did some benefit shows in Chicago. As leader of a broad political movement to bring about fundamental change in US society I'm not sure Bernie is our savior. I like what he stands for but this is gonna take a new rainbow coalition with grassroots organization and a clear vision of what needs to be done to oppose rampant capitalist greed.
Q: As a songwriter, you've never backed down from political statements. Is this the time for protest music? Â
A: Its one way to stoke the fire. Real protest songs that ignite some conversation are fine but no grand gestures from inside the corporate machine! Â Â
Q: I was fortunate to see your Dylan, Cash and the Nashville Cats at the CMHF, loved it. How does a Welsh punk rocker come to love American country music? Â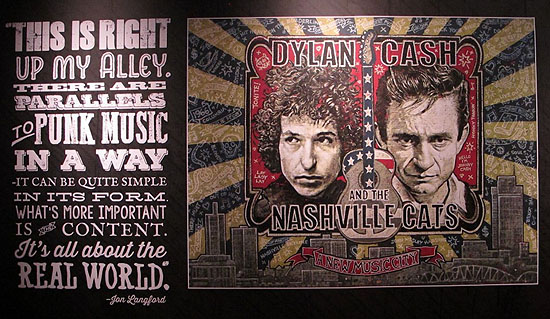 A: I grew up on Tom Jones ("Green Green Grass of Home", "Delilah") and Johnny Cash ("Boy Named Sue", "Folsom Prison") and I had no idea that either of them had anything to do with Country music. After the first wave of Punk the Mekons became incredibly open to all sorts of musical influences and the one that really hit home as a parallel to what we'd been doing in the late '70s was the classic Honky Tonk music of Merle Haggard, George Jones, Jerry Lee Lewis. Someone said to us "the Mekons are like a Country & Western band, all your songs have 3 chords and are about sitting in bars and failed sexual relationships" We were all about 27 years old when we started listening to that stuff and we loved the way it confronted real life head-on… all of our friends in Leeds were listening to Acid House and thought we were insane. Â Â
Q:What is your take on Brexit? Â
A: Massive manipulation of democracy and really sad for future generations. I was never a great fan of the EU but after Thatcher's assaults on working class rights in the '80s the EU became a moderating force. Down in Wales the EU was pumping loads of money into post-industrial and rural redevelopment and the people of Wales voted to leave! The right-wing press have been lying about Europe for so long it sank in… Another blow to democracy. Â Â
Q: Finally, what does the election of Donald Trump say to you about the state of the world, and America's place in it? Â
A: The idea of America as the great light of the world and some bastion of liberty is in tatters. We are in a terrifying spiral of displacement, institutional collapse, poverty and war. I should have been an arms dealer! ◼
http://jonlangford.de/;http://www.facebook.com/jonboylangford
---