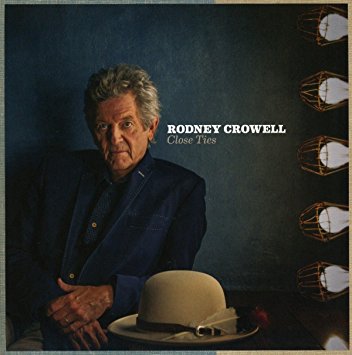 Rodney Crowell
Close Ties
New West Records
Rodney Crowell has been one of country music's elites since being discovered by Jerry Reed in 1972 and joining Emmylou Harris's "Hot Band" in 1975. He's penned some of the genre's greatest moments on songs such "Ain't Living Long Like This", "Till I Gain Control Again" and "Bluebird Wine", but rarely in his long career has he bared his soul so completely as he does on Close Ties.
Crowell was befriended by Texas songwriting legend Guy Clark and his wife Susanna when Crowell came to Nashville, and their relationship endured until her death in 2012 and Guy's death in 2016. His look at "Life Without Susanna", with the line "The most near perfect woman I'd ever seen" gives a glimpse as to their relationship, and it's a raw look at the trio's emotional core. Between that, and "Forgive Me Annabelle", this is as personal as Crowell's music gets, and is why you listen. He doesn't sugarcoat the truth, spares no one – most of all himself, and creates moments that can make you smile – or grimace from the intensity.
The album opens with "East Houston Blues", a look at his early days as a troublemaker on the streets of Texas, which features a beautiful guitar part from the legendary Tommy Emmanuel. As with all of Crowell's music, reminiscence is a big part of the songs on Close Ties, such as his account of "Nashville 1972" where he namechecks everyone from Steve Earle to Townes Van Zandt and admitting to meeting Willie Nelson and getting stoned enough to "puke out in the yard". "It Ain't Over Yet" with John Paul White and Crowell's ex Rosanne Cash on vocals is a wistful look back, and "I'm Tied To Ya", with Sheryl Crow sounds, like a lot of his material, like a hit waiting to happen.
Close Ties continues Rodney Crowell's remarkable string of memorable albums, unvarnished slices of life whose most intimate details are delivered with grace and humor and without pathos. Can't wait to see what he does next.
---