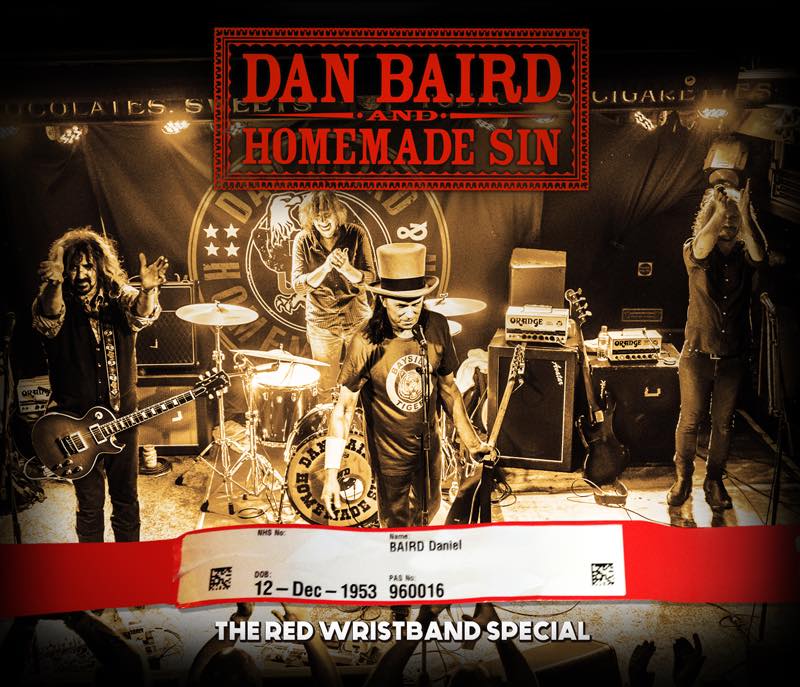 Dan Baird
by James Mann
Dan Baird, formerly with the Georgia Satellites and now making much noise with Warner Hodges in Homemade Sin stunned his fans and friends with his mid-2017 announcement that he was taking time off the road due to a cancer diagnosis. We sat down with the Nashville-based rocker to see what 2018 holds.
Q: You had to take some time off due to illness. How is your health, and are you still in treatment?
A: Yes, I have CLL, which is a form of leukemia that I inherited.
It's a slow mover to start with, in my case it got to movin' along pretty quick after knowing I had it for 2 years. Its trajectory looked like I'd have to deal with it 2019 or so. Not so at all.
Anyway, my oncologist knew what was up, and started my treatment (which ends the back part of January) and I was in remission after 3 months. I still have to finish the course of drugs to attempt to bury that dirty fucker, so I'm all in on that!
Q: In your absence, the rest of Homemade Sin kept touring. How did they manage that, and how was the reaction?
A: We had 2 guys that were willing, Warner and Mauro, and one guy that needed a paternity leave, so those two needed 2 guys to be stand-ins. Joe Blanton mixed the last 2 Homemade Sin records, wrote a buncha the songs with us, and was a general fan of what we/I do, so that was a natural.
Sean Savacool had one wild ride. Micke, our bassist, had to go be a new pop, and we needed a guy. Now, I knew this and went to work on it a month before the CLL hit. I went around to what I'd refer to as "the usual suspects", struck out and asked Brad Pemberton who he thought would be good. He recommended Sean. I got in touch. He said he'd be willing if we were, then I got hit with my leukemia. Called him up, shot him straight and figured that would be that. Nope, Warner and Mauro wanted to give it a go with Sean and Joe. Well hell, get busy gents. They did.
I think the response in the states was okish. In Europe they fared pretty well, in the UK they did well, which was the order of the dates, so that all worked out fine.
Q: It seems that every week we hear of a musician needing help from medical bills, due to lack of health insurance. Has this affected you and your treatment?
A: That question gets a yes and no.
Yes, in the fact that we weren't gonna be able to afford the drugs and treatment on our own. Now, we had good insurance and that was a great start. The oncologist office got us some grants to help pay for the really expensive drug (Gazyva) and their pharmacy division got us help with the pills (Leukeran).
We were put in touch with Music Health Alliance and they are a musician's best friend about all the things you just don't know about. Many forms of grants and aid. They know all of them and got us on a couple of big-time helpers.
No, in the normal "Quick, let's do a fundraiser! Oh man we are fucked!" that plagues most of us musicians.
Q: You've generally never been outspoken on politics in public in your career. But the last year has seen a change to that. What brought that about? How is the nations "state of the union" as you see it?
A: That I tried to keep on my SoLow record, because it was mine alone, and I know that a singer "speaks for the band". One doesn't assume for anyone else. I did a song called "Get Loud" that has those undertones, but it's nonspecific enough for me to feel ok about it in the band setting.
I've been and remain a life-long liberal. "Look Away" is what I assume you're speaking about. That's honestly the way I feel. Southerner that knows better. I used to think the south was going to try and move forward. Not sure if I'll see an honest try in my lifetime.
Well, we got city folks and rural folks. They're not seeing eye to eye. History shows us that the cities foretell the general populace's path. The ruralites don't much like it. The MAGA thing is pretty horrid to me. I know a thinly veiled message when I see one, and so do the ruralites. Still gotta ways to go.
So, we're pretty much divided into those 2 camps right now. Not much give or take one way or another. It'll be interesting to see how it shakes out.
Q: The last year we sadly marked the death of so many legendary musicians. I'd like to ask you about two. First, Tom Petty. I know the Satellites toured with him, any recollections from that time and of the man?
A: I'll tell you my biggest thrill moment:
Benmont (Tench, Heartbreakers keyboardist) and I were backstage foolin' around on their band's rehearsal set up. He was drumming and I was playing guitar and singing. Well, Mike (Campbell, Heartbreakers guitarist) comes along grabs a bass and we start playing "Let It Bleed". Stan's (Lynch, drummer) not far behind, grabbing a guitar, then Howie (Epstein) and Tom cruise in and start hit the keyboard and and tambo respectively. This all took place within 30-40 seconds after we started playing the song. Everybody singing along and laughing, and I just kinda "come to" afterwards and realize just WTF is going on. I have never been so giddy in my life. I don't expect to be again.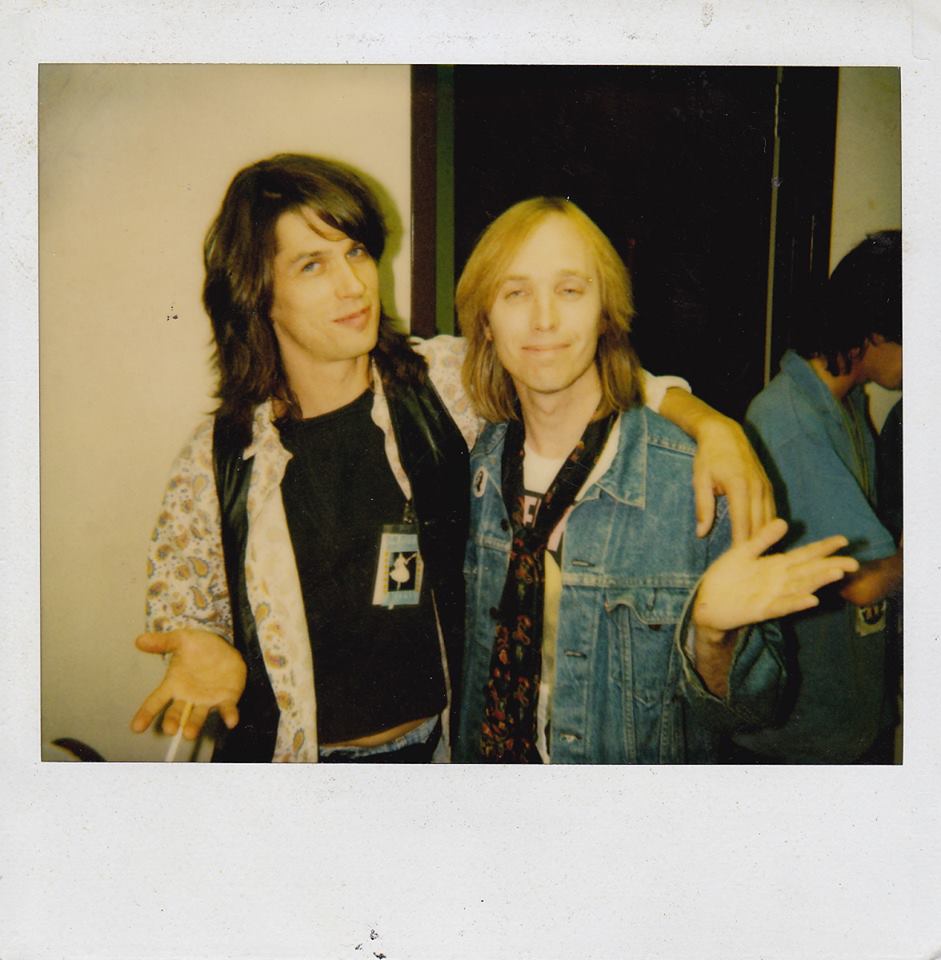 Now, as far as learning?
I wrote "All Over but the Cryin'" just a little while after that tour.
Mike's economy got me thinkin, if I plan a solo out I could handle it. All those guys were great to us.
Tom's passing hit everyone like a ton of bricks. Like anything you love, it can't be replaced. You're left with his work and memories. That's what we all have.
The first time you heard "I Need to Know", "Even the Losers", "Freefallin'", "You're a Free Girl Now". You don't just replace that guy.
Q: Your Facebook page is adorned with the founder of AC/DC Malcolm Young's guitar. How did his passing affect you?
A: In my world, there's rhythm guitar. It's important to me.
There's a couple of guys in that realm that stand out for what they do. Keef on the swingin end of the spectrum and Malcolm on the drivin' side. Now Mr. Richards can drive it too, and Mal could swing like hell inside that VERY disciplined rhythm section. You heard him and you knew who it was, and what's about to happen. That's success to me.
A total original on rhythm guitar. It's really hard to do.
Q: What are your plans for 2018 and beyond?
A: Well I'd like to see beyond 2018 for starts. In between my suspect health and 45 trying to start a nuke out, yeah, it'd be nice to see another year or so.
Homemade Sin is heading back out in May, and starting work on a new record in March, so I got a lot to do.
◼
---