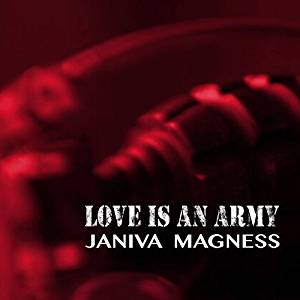 Janiva Magness
Love is an Army
Blue Elan
Sometimes, I miss the top 40 format of my youth. At the time, I hated it because to hear the rock and roll that I wanted to hear, I had to listen to the soul, disco, soft rock and whatever else was on the charts. What I miss is that you did get exposed to so much. And since everyone was exposed to the same batch of songs, protest songs like "For What It's Worth" got heard across the radio spectrum and at least gave the illusion that someone with a guitar and the right song could make a difference. I'm saying this because I wish I could wave my magic wand and make Janiva Magness song "Love to A Gunfight" one of those zeitgeist hits that define an era and move the national consciousness.
I'm writing this days after the horrors of Parkland, Florida. Janiva sings, "Momma called me just to say/Now is not the time to pray/Everyone is so afraid/Maybe we get brave today/This song our weapon tonight/We're bringing love to a gunfight/Sometimes it hurts when you try to do right/We'll bring our love to this gunfight," and it strikes a chord. It fits with the viral video of the high school student declaring, "We will be the last school shooting." Janiva's song is a wistful country flavored ballad, which means it will only get radio play on Americana stations, but we need an anthem. We need a rallying point to say enough is enough. I wish "Love to A Gunfight" could be that song.
Love is an Army is full of stand-out songs aimed at rallying people to their better instincts. Janiva gets her Memphis soul groove on with "Hammer". She sings, "Just keep on swinging till the walls fall away. And if the hammer's too heavy keep trying. Might take a little while, that's ok". I like that Magness is realistic. Striving for a better self, a better world is not an easy thing and requires perseverance. Magness channels the Staples Singers and Al Green on songs like "What's That Say About You". She testifies to the congregation of pop that we need to look after one another, despite what we're going though in our own lives.
I'm projecting a lot of my own punk rock past onto a lot of these songs. In my mind, I'm hearing stripped down, amped-up versions of these tunes. Love is an Army is a very solid record much in the Bonnie Raitt mode. She has stellar assistance from the likes of Delbert McClinton, Charlie Musselwhite and Cedric Burnside. The songs seduce with lush production and immaculate recording. It's all a little too clean for my taste, but then again, "For What It's Worth", was a pretty slick, pretty mellow song and it stirred a generation. Why can't "Love to a Gunfight" do something similar?
---