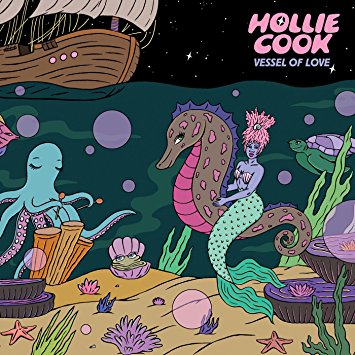 Hollie Cook
Vessel of Love
Merge
I really wanted to like Vessel of Love by Hollie Cook. It's a bit like wanting to like your friend's kid's band. You check them out and you want them to be good. In Hollie Cook's case, her Dad is Paul Cook from the Sex Pistols and her Mom, Jeni was a singer with the Culture Club. She was also a member of the reformed Slits, so she has that going for her too. There are some cool guests on the record, including Jah Wobble and Keith Levine from Public Image Limited. So why can't I work up much enthusiasm for this record?
Vessel of Love isn't a bad record. The album is chock full of easy skanking, rock steady tunes. The albums overall tone is trippy, dreamy, dubbed out and otherworldly as exemplified on "Lunar Addiction" and the title track. "Stay Alive" has a good hook and a message that resonates with our times. It's written as a break up song, but I'm reading a bit of #Neveragain into the chorus, "trying to stay alive."
So, if Vessel of Love has nice songs, what's my problem? I'm not a fan of the way the producer, Youth, over-processes Hollie's voice. Here and there, you can hear her voice without being drenched in echo and effects and it's very nice. On most of the record, Hollie's voice is multi-tracked, processed and filtered to the point that she sounds like an alien chorus. I think I'd like the record better if I was hearing a less manipulated version of Hollie Cook.
---