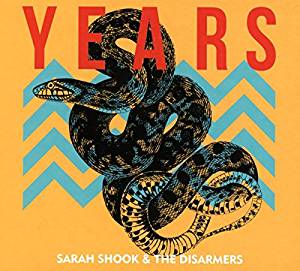 Sarah Shook & the Disarmers
Years
Bloodshot Records
Call me selfish, but I hope Sarah Shook never gets in a good relationship – because her heartbreak makes for some great music. On her third album (second for Bloodshot) she pours her heart out (and a great deal of booze) on the ten cuts with such moments as "New Ways To Fail", "Parting Words" and "Over You" that dial back the punkish volume of her last record, Sidelong from 2017 but ups the classic country. Her voice is still pissed off and blue but on Years she aims for Kitty Wells and Patsy Cline territory, with the sweet pedal steel of Phil Sullivan adding to the heartbreak.
She dismisses a lover with "The Bottle Never Lets Me Down" (take that, Merle) and rides the electric guitar of long-time Disarmer Eric Peterson on "Damned If I Do, Damned If I Don't", and snarls her way thru an epic "piss off" moment on "New Ways to Fail". But she has a tender side on moments such as "Good as Gold" – "Till the wrong song comes on at the right time" – we've all been there, right?
This is a great time for female country artists, and few are as defiantly confident as Sarah Shook. Years is a classic in waiting. Her suffering leads to grand music, but that's the way of country music. Call me selfish, but I love it.
---