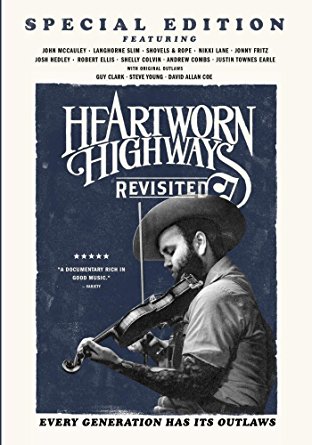 Heartworn Highways Revisited
Directed by Wayne Price
Starring John McCauley, Jonny Fritz, Shovels & Rope, Josh Hedley
MVD Visual
The original Heartworn Highways, directed by the late James Szalapkski captured what are now considered to be the "elder statesmen" of the Outlaw country movement during the mid '70s. Although the film wasn't released until the early '80s, it gave us the first glimpse of some future heavyweights such as Guy Clark, Steve Earle, Townes Van Zandt, Rodney Crowell, Steve Young, David Allan Coe and more. The footage of Van Zandt alone quickly qualified the film as a cult classic, and now, 40 years later, the concept (and the music) lives on in Heartworn Highways Revisited.
Shot, as was the original in and around Nashville (in this case, largely in the hip area of East Nashville), we meet the children of the Outlaw movement (literally, in the case of Justin Townes Earle and Bobby Bare Jr.), as well as some of the original cast. Steve Young and David Allan Coe are shown, as well as a frail Guy Clark, not long before his death. Early on Bobby Bare Jr. gives us a key distinction between the era of the original movie, and today. As he points out, when a songwriter such as Kris Kristofferson (or his dad, Bobby Bare) came to Nashville in the '60s and '70s, established stars such as Johnny Cash recorded their songs. But today the Toby Keith's of Nashville don't rely on young songwriters for material, so today's songwriters exist more on the road then before, and a different sense of community has developed.
Heartworn Highways Revisited, despite a new director (Wayne Price) maintains a lot of the casual charm of its predecessor, just with new faces. John McCauley (Deer Tick), Jonny Fritz, Shovels & Rope, Nikki Lane and more are shown at home, on stage and jamming with other notables in various funky East Nashville haunts. As he did in the first film, Guy Clark looms as a sort of Zen master over the assembled, his voice a bit slower and weaker than before, as he recalls the memories of his late wife Susanna that led to his brilliant song "My Favorite Picture of You". His performance of his classic "L.A. Freeway" with artists such as Robert Ellis, Fritz and newcomer Josh Hedley brings a lump to your throat. It's too soon to tell if the cast of Heartworn Highways Revisited will achieve the greatness of the original "outlaws", but either way, lots of good music will be created, this time across the Cumberland River.
---