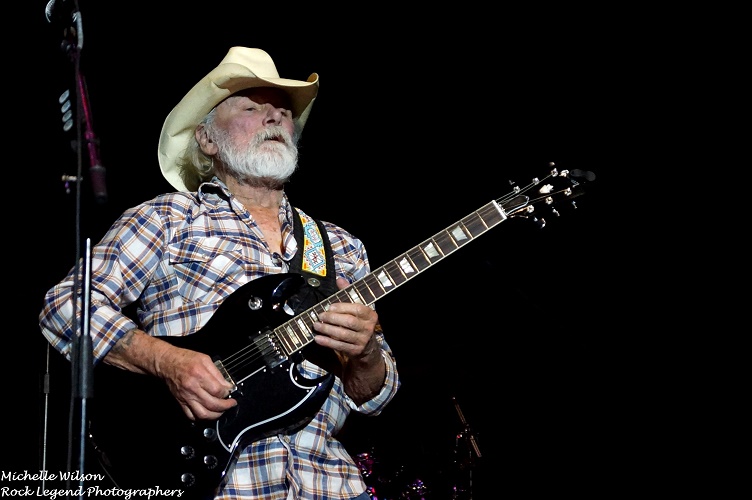 Dickey Betts Band
with Devon Allman Project featuring Duane Betts
Macon, Georgia • May 17, 2018
by Michelle Wilson
Dickey Betts' sold-out show in Macon, Georgia on May 17, 2018 proves that you can, indeed, go home again. Just a few weeks after announcing his retirement in late 2017, the Grammy-Award winning guitarist, singer and songwriter and co-founding member of the Allman Brothers Band thrilled the world in late December, 2017 with a comeback tour announcement. Performing a sold-out hometown "rehearsal" show in Sarasota just two days prior to the "official" opening show of the tour, the Dickey Betts Band rolled into Macon, Georgia, the early home of the Allman Brothers Band, amid throngs of adoring fans. From their humble beginnings in this small Georgia community, the band went on to create some of the most groundbreaking music ever, and the people of Macon came to embrace the six young men who were as diverse as their music itself.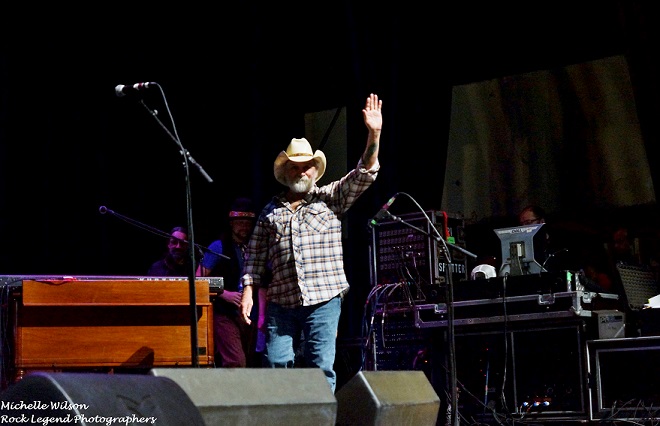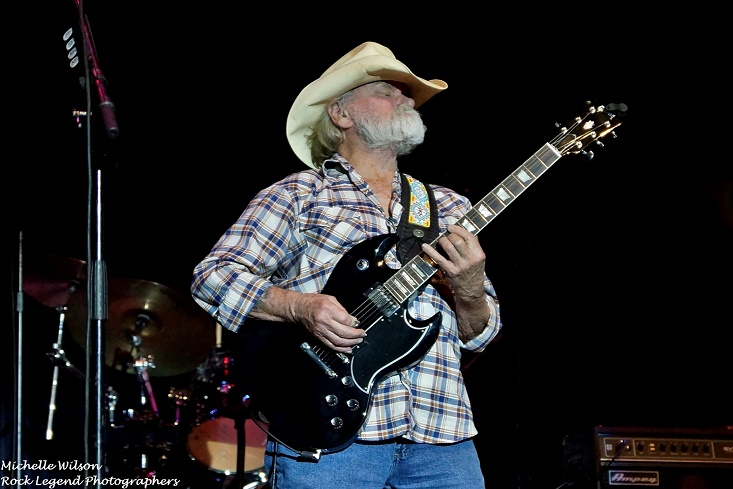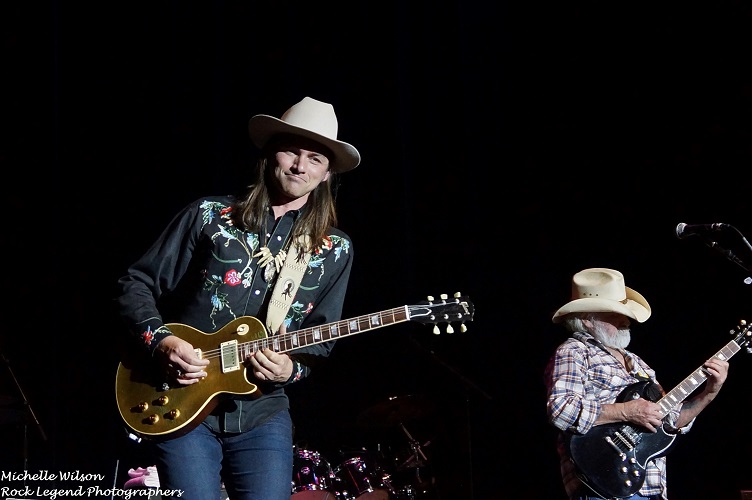 Kicking off the show with a 50-minute set was The Devon Allman Project featuring guitarists Duane Betts and Jackson Stokes, percussionists John Lum and R. Scott Bryan, bassist Justin Corgan and keys player Nicholas David, with a guest appearance from Peter Levin (Gregg Allman Band, Blind Boys of Alabama) and Johnny Stachela (Duane Betts) . The band pumped out a stellar, high-energy set that included "Mahalo" (co-written by Allman for Honeytribe), "Ten Million Slaves" (an Otis Taylor cover appearing on Allman's Ragged and Dirty ), "Left My Heart In Memphis" (written by Allman for Royal Southern Brotherhood's self-titled debut), "I'll Be Around" (The Spinners – Thom Bell/Phil Hurtt) "Taking Time," featuring Duane Betts and his composition from his latest EP, and also featuring Johnny Stachela, "Multicolored Lady" (written by Allman's father, the late Gregg Allman – a bittersweet homage that included use of the elder Allman's Martin acoustic guitar), and lastly, another cut from Ragged and Dirty, the instrumental, "Midnight Lake Michigan." Just prior to performing this last song, Allman was handed a guitar by his tech, and as he held it up high, he proudly stated: "this is Duane Allman's goldtop right here!" It was Allman's 1957 Gibson Les Paul Goldtop, and the Macon contingent got the thrill of a lifetime as Allman took his uncle's iconic guitar out into the sea of concertgoers while playing it. The prized instrument, which was graciously proffered for the evening, is owned by Scot Lamar and housed at Macon's Allman Brothers Band Big House Museum. Allman thanked everyone for all the love and support given to his family over the last year, reassuring them that it meant a lot to him.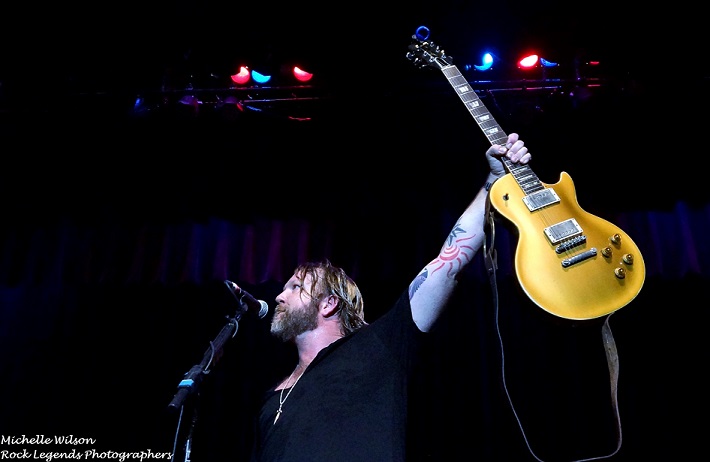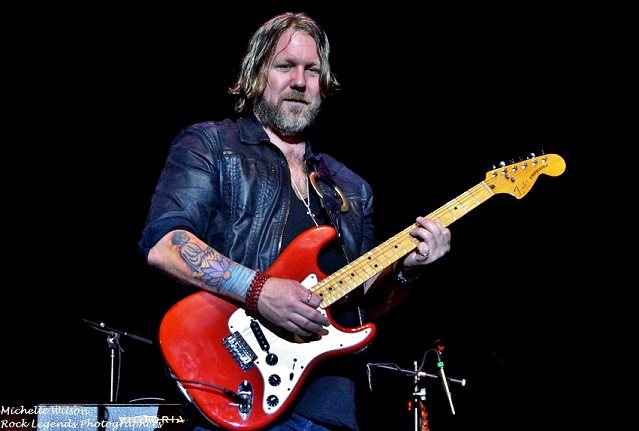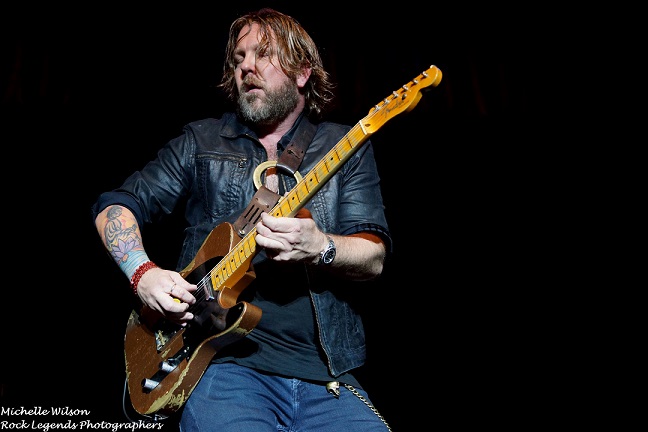 It was truly a monumental moment as a smiling Dickey Betts walked onstage around 9:30pm amid the roaring applause of lifelong Peach Heads, armed with the latest axe in his arsenal, a black, one-of-a-kind custom SG/Les Paul combo, dubbed "DB Proto 1." Opening with "Hot 'Lanta," an Allman Brothers Band classic instrumental, the band followed it up with another Allman Brothers Band favorite, the Blind Willie McTell cover, "Statesboro Blues," with Mike Kach's growling, edgy vocals doing major justice to Gregg Allman's recognizable sound. Backed by his son, Duane Betts as well as Damon Fowler on guitar, bassist Pedro Arevalo, the aforementioned keyboardist/vocalist Kach, and drummers Frankie Lombardi and Steve Camilleri, the set also included guest appearances from Allman (vocals and guitar on his father's legendary hit, "Midnight Rider"), mother/daughter vocal team, Bonnie (Delaney & Bonnie) and Bekka Bramlett (Allman Brothers Band hits "Blue Sky" and "Ramblin' Man," and Dickey Betts & Great Southern staple, "Nothing You Can Do" (1977)), as well as Kris Jensen (Jaimoe's Jasssz Band saxophonist, "Whipping Post," "In Memory of Elizabeth Reed"), along with the real highlight of the night, Jaimoe, on a monstrous "Whipping Post." It was the first time Betts and Jaimoe had performed together in almost 20 years, a fact not lost on this capacity crowd. Other songs in the set included Dickey Betts & Great Southern's "My Getaway" and 90s-era Allman Brothers Band tunes, "Change My Way of Living" and "Seven Turns." With the audience on its feet, the encore of Allman Brothers Band hits, "Ramblin' Man" and the instrumental, "Jessica," rounded out the magical two-hour set. Kicking up the special factor a notch, Betts' ex-wife, Sandy "Bluesky" Wabegijig and their daughter, Jessica Betts, also were in attendance to cheer on their Rock and Roll Hall of Famer.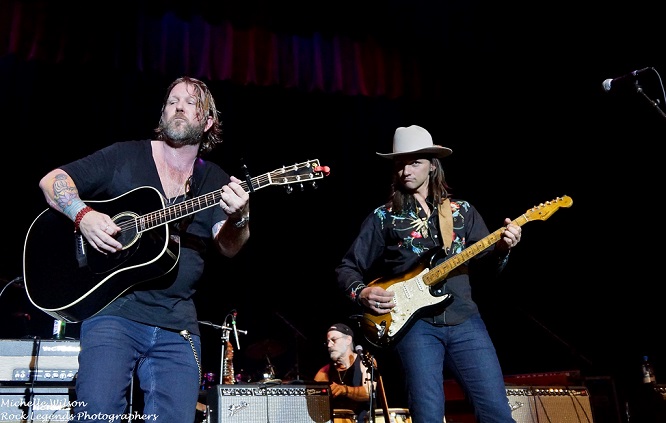 Allman Brothers Band die-hards "get" the magnitude of this event, and those lucky enough to be in attendance, this one included, felt the wash of emotion coursing through the venue. Being a small part of it was an indescribable feeling, but it is one that will be cherished forever.
Links to full galleries from Rock Legends Photographers:
◼
---