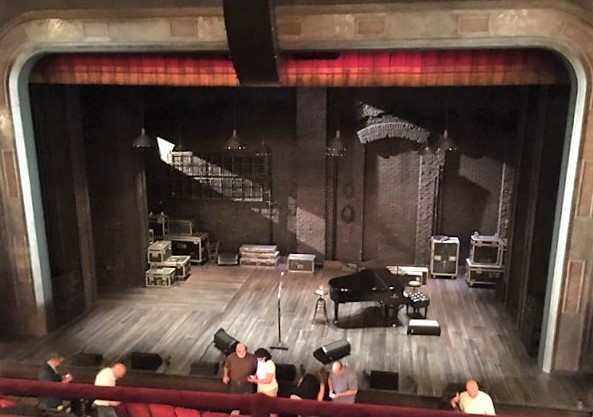 This Hard Land
Springsteen on Broadway
by Doug Hoekstra
The best artists are mirrors, reflecting your own sense of self through their craft and experience, making you think about what comes back at you, creating something that lives in the space between you, them, and the work. This is true of any medium. For rock and roll, Bruce Springsteen achieves this to exemplary results. Having seen him live in many guises over the years – mine and his – two essential observations resonate.
First off, while a fine musician with a fine band, he is an American songwriter of the highest order, belonging in the same league as Dylan and Gershwin. Fans get it, but many laypeople overlook this because somehow he's a victim of his success, the hits that namecheck Cadillacs, ramrods, and the U.S.A. Sure, he writes about these things, but they are backdrops for deeper meaning, songs about characters who are every day folks struggling with the ups and downs of life and love in a blue collar noir setting.
Secondly, and more obvious, is his natural charisma, his ability to connect with and lift an audience of any size. His E Street band extravaganzas are legendary as three-hour plus marathons, holy rock and roll revivals. I've seen a few and there is perfect pacing to those shows, so that despite their length, peaks and valleys pass too quickly and leave you exhausted, but still ready for more. Â
This leads me to Springsteen on Broadway. Â
When the run was announced, I immediately thought "what a strange idea." A scripted set of tunes by the Boss carrying a personal narrative – solo, with none of the band interplay, none of the spontaneity, none of the ever changing set list. Odd artistic choice. But, maybe not, as I reflected on the shows I'd seen and Springsteen's habit of inserting long narratives about growing up, battling with his father, and trying to make it out of Jersey, stories that would precede tunes like the Animals "It's My Life" or his own "Independence Day." So, there was a precedent for this, in some ways. In this case he would draw from those tales, as well as those he added for his Born to Run memoir. Springsteen has toured and recorded solo before, and of course, the legendary John Hammond signed him thinking he'd be a solo artist. Â
But, Broadway?  As a young man in Freehold, New Jersey, did he ever, in his wildest dreams think his career would land him on Broadway in the Walter Kerr Theater on 48th Street, in a musical one man show? I doubt it. And, the prices. Two ranges. $75 to $400 and $500 to $850. Yikes. I discussed this with my brother, who incidentally, took me to my first Springsteen show at the Uptown Theater in Chicago when I was in high school, on a school night (Not sure how I got away with that, but thanks Dave). He was a bit critical of Bruce's pricing motives. I thought the tickets were too expensive for me, but defended the Boss nonetheless.  My rationale was there was a lot of other things I could do with that amount of dough; but on the other hand, Bruce deserves to charge what he needs to charge. The man has a family to take care of and a business to run, and who knows, maybe he was doing this run to do something different creatively, be close to home, and build up the trust fund for his heirs. He's worked hard, built a reputation, and earned the right. There is only one Springsteen. Supply and demand. Â
Of course, true to our personalities, my brother pulled the trigger on a ticket without hesitation. But, I waited, putting it out of my mind. Like a character in a Springsteen tune, I have a job, a life to lead, a son to raise. This was for other folks. Â
Then, one morning in March I got a text message inviting me to the pre-sale for a new batch of tix released for the back half of 2018. I'd signed up for it ages before and forgotten. Clicking on the link, I followed a series of complicated steps and walked through the gates to the purchase land. One of the available dates fell on a week I was already planning to go to New York with my son Jude, for one of our summer vacations.  I used to gig in the city a lot, through all of my musical incarnations – new wave, country, and solo – and I had a lot of favorite spots I wanted to show him, paying karmic tribute to the brothers and sisters who I played with and to. Plus, we could simply be tourists, buddies, father and son, in the city that never sleeps. There is nothing Jude likes more than pizza, by the way. Â
There was another precedent. I'd taken Jude to see many musical greats in his young life, as part of the see 'em while you can trick. This includes multiple Dylans, Sir Pauls, Sir Ringo, George Coleman, Bryan Ferry, Ramsey Lewis, Nick Lowe, Paul Simon, the Who, and yes, even the Monkees. I'm probably forgetting someone. Jude's had the pleasure of seeing Leon Russell, Willie Nelson, Mavis Staples, and Joan Jett – as opening acts. Throw Beatles Love and Bruce and the E Street Band in there, and you'll see I've done due diligence. Jude digs a lot of these acts, but he is also getting to the stage where he's discovering his own cultural references, for his time, which is as it should be. Whether it's been national parks or cities, museums or concerts, flying kites and playing board games, I've just tried to lay out the experience, to absorb, remember, embrace, or pass on through. Possibilities. The rest is up to him.
My parents had me very late in life and they were always older than other parents and somehow I think this also instilled in me how quickly time passes, and that often you only get one shot and you never know when it's the last shot. When I toured I would always soak up the city and the surroundings, making mental notes, wondering if I'd ever return. Usually I did. Sometimes more times than I cared to. I remember a manager friend of mine saying, "Doug, you know it's great when you hit a town the first time, and it's great the tenth time. It's the eight in between that are a bitch." That said, with kids, one thing is for certain; their growth marks time in a way that is obvious. Change is constant, as it should be. Chances were that Springsteen on Broadway wouldn't be our last show for a while, but it could be. So, I rationalized away and pulled the trigger. Two tickets third row mezzanine. Damn. We were in. Time passed. We were on.
 Tuesday, July 10, 2018.  Showtime. Long line getting into security. Metal detectors. Cops. Excitement. Ushers. Anticipation. Playbills. Merch.  Diet coke in a commemorative glass. Strict no camera policy. Selfie before the show. Lights down. On walked the Boss with a one-man mix of music and monologue, beginning with long passages from his memoir, stories of his mother, father, and sisters, growing up, becoming a man, becoming a star.  Springsteen switched between guitar and piano, playing some songs as they were, reinventing others to fit the context. The crowd was a hush, still, silent, reverent.  You could've heard a diamond earring drop. Â
My first highlight was "My Father's Town," the song from Nebraska, elevated by Bruce's piano playing and telling of the conflicted relationship he held with his father, throughout his life. Originally using his dad as a relatively negative dramatic foil in his work, Springsteen now grasps the other side of this complicated familial relationship. Much of the show shed light on demons and ghosts, in the context of who we are, or who we become. It was moving. Â
My second highlight was "Thunder Road." Maybe Springsteen's strongest song. Is there a better opening line than "the screen door slams, Mary's dress sways?" This is one of Jude's favorite Springsteen tunes, and I looked over to see him in rapt attention, his bright and soulful eyes fixed on the stage. When I take him to stuff like this, people tell me he's lucky to have me as a dad. Maybe. Personally, I think I'm the lucky one, as I have learned so much from being his father. On every adventure we take I hold time still in certain moments, to savor what I know will soon become another memory to be carried with me to a time in the future, when I would have little to do but remember. This was one of those moments. A gift.
"Thunder Road" also took me backwards, to my room, in my parent's house, in my home town, when I was younger than my son and discovering this music.  I probably ordered the album from Columbia House Record Club and if they were still around, would still owe them money. But, I still have it ,and so does Bruce. He effortlessly wove guitar, harmonic, and his impassioned voice together to wring soul out of every word and note, beautifully. Â
Each song was its own highlight, really, but by mid-set, I felt something odd about the performance, as if Springsteen was a bit constrained in his chosen setting. Doing eight months of the same songs every night, with close to the same dialogue, had to be wearing on him.  While the consummate professional taking good care of his audience, I imagined a slight tension in the air, as if the Boss was itching to pepper in some E Street Band drop a song he'd never played, add a deep cut cover from a favorite soul record, and simply throw caution to the wind.
Midway through the Broadway show, Springsteen typically brings on his wife and background singer Patti Scialfa to do two tunes from his "relationship" album, Tunnel of Love. But, on this night, our night, we were informed she was sick at home with a stomach flu, and regrettably, couldn't make it. Sent her love. Awww said the audience. But, necessity is the mother of invention and while we all sent our love back, even Bruce would tell you that good art is often born of accidents. And so, he veered from the script. Â
A sweet narrative about coming to terms with his father and the chain of parenthood was followed by a spontaneous "Long Time Coming," and his prayer that "if I had one wish in this god forsaken world, kids, it'd be that your mistakes would be your own." The words had personal, societal, and communal relevance. To tie the personal to the political, which it always is, Springsteen followed with an impassioned social justice narrative that called attention to our dark times and the hope that our better angels would prevail, a call to action that was appropriately punctuated by the Guthrie and Steinbeck inspired "Ghost of Tom Joad." Come on up for the rising and the Broadway walls were coming down. The rest of the set was excellent, and Springsteen thanked and blessed the audience with grace and humility, closing "Born to Run," the lights came up and the audience snapped their curtain call photos. Â
"You're a beautiful audience," sayeth the Boss. "You're so good, you get the first encore ever…Feel free to take a picture." Grinning ear to ear as people rose, snapped and clapped, Springsteen launched into the run's first encore, "This Hard Land." Â
Earlier in the weekend, I'd taken my son to the crown of the Statue of Liberty, on his request 354 steps, round and round all the way to the top. I'd visited the Lady before, but it never gets old to me, every time I shed tears when the boat approaches the island, as I'm reminded of the best of what this country offers, the reason why my grandparents came to make their way and the hope that somehow, I can better our generational path forward, for the sake of my son and all that will follow. Walking through the great hall of Ellis Island, I was reminded of the vast and innumerable contributions of immigrants to our nation, to the arts, culture, science, politics, and the backbreaking hard work that no one wants to do, particularly after they climb a few rungs on the ladder. And, it was very relevant today, in the context of the dark times to which Bruce referred.
Before my father passed, he gave me a copy of the manifest of the Steamship Edam, which left Amsterdam for New York, carrying his father (who was three at the time) and his parents, Tjerk and Neeltje Hoekstra, who were 34 and 28 years old, respectively. It arrived May 13, 1889. Actually, my grandfather and great grandfather were both named Tjerk, but family lore has it that my grandfather changed his name to Alfred on the bequest of his wife, who said she liked the name, it was more American, and no one wanted to know him as a jerk. Since Ellis Island facilities weren't built yet, they would've landed on shore, at Castle Clinton, where we picked up our tickets to sail. I wore my dad's favorite hat on our visit and took a picture with Jude in front of the old stone entrance to Castle, the gateway to America for my ancestors. Great grandfather Tjerk's marriage papers, which I discovered online, listed him as a laborer. Chucking it all for a new life, crossing into the unknown with courage and fortitude. Only three generations later and I'm high-stepping on Broadway. But, like the performer in front of me, I still think of myself as blue collar, and proud to be only second generation America.
"This Hard Land" was a joyous finale that brought all these thoughts together, Springsteen displaying a familiar spirit that lifted the house, and he intensity of the previous numbers. He blew harmonica as if his life depended on it.
"Hey Frank wont ya pack your bags and meet me tonight down at Liberty Hall; just one kiss from you my brother and we'll ride until we fall."
During the show, Springsteen spoke a lot about the souls of the departed, the presence of those ghosts in his life. What were the chances of us being there on that night, of all nights? Was my father with me? His father as well? Did his father pass by 48th Street on the way to Chicago? What would they think of all this?
"We'll sleep in the fields. We'll sleep by the rivers and in the morning. We'll make a plan… if you can't make it…"
The crowd waited for the tagline and the Boss drove on with the bittersweet optimism that his best songs carry, singing as if to me, my son, those around us, and himself. The lights were up and again, I glanced at Jude and captured another moment for the books. If you collect enough good moments, you have a good day. If you collect enough good days, you have a good week. And, so on, until you have a good life. And, then you sleep well at night. Â
"Stay hard, stay hungry, stay alive, if you can – and meet me in a dream of this hard land."
Thanks Bruce for the reminder. Â ◼
---