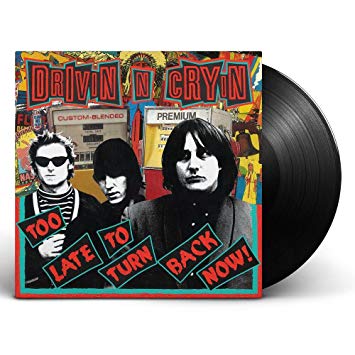 Drivin' N Cryin'
Too Late To Turn Back Now!
New West Records
Originally released in 1997 eponymously, Too Late To Turn Back Now! has been released on vinyl for the first time, and it documents a period of change from the Atlanta-based rockers. As leader Kevn Kinney relates, this era "…is who I am. Gone are the major labels. Gone are the tour buses." So instead of big studios (and big bills) Drivin' N Cryin' – at this point a trio with Kinney on vocals and guitars, Jeff Sullivan on drums and bassist Tim Nielsen – encamped in a hot, small studio in Atlanta's hip mecca of Little Five Points with Clash producer and video artist Kosmo Vinyl, intending to record a single. One thing led to another, and soon, they had an album's worth of material.
And good stuff too. Opening with "Keepin' It Close To My Heart", Kinney's endearing knack of creating arena-rock folk songs triumphs, and the record's 12 tracks are full of punky energy ("Paid in Full", Let Lenny B"), Byrdish odes ("Everything's Gonna Be Alright") and a faithful rip thru John Denver's "Leaving On A Jet Plane", and like most of Kinney's best material you'd be at a loss to pinpoint the year.
While not reaching the heights of earlier work such as Mystery Road or Fly Me Courageous, Too Late To Turn Back Now! deserved a better fate than some forgotten shelf in a used CD store, and now with a new title and cover art (by Kosmo Vinyl), and a great-sounding vinyl edition, it joins Drivin' N Cryin's solid discography, further illustrating how this little band from Atlanta has survived and persevered all these years – with great songs, catchy hooks and a lot of heart. Long may Drivin' N Cryin' reign!
---