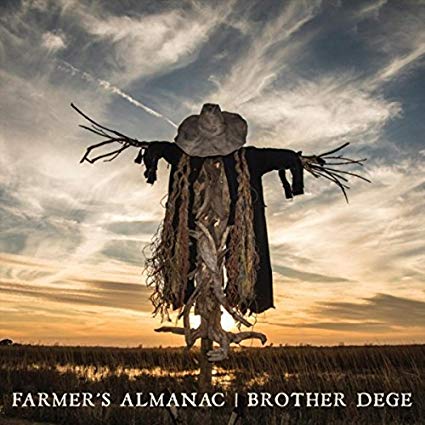 Brother Dege
Farmer's Almanac
psyouthern
Get off the interstate and drive off on Highway 61. Randomly take a county road and follow it out to nowhere in particular. Somewhere out there in the fields and forgotten towns, the Devil sits at the crossroads. Business isn't what it used to be. He used to be able to get a soul for some guitar lessons, but now days, he's lucky to get a burner cell phone and Popeye's chicken. Times have changed, even down at the crossroads.
One day, the Devil, is wandering through the back roads of Louisiana looking for some action and he hears a lonesome slide guitar sound coming from a Bait Shop. Here's a candidate for some soul swapping, the Devil thinks hopefully. The Devil takes a seat on a rusty old glider love seat on the porch to run through his sales pitch, it's been a long time since he's made a sale. While he's sitting there, he hears this fellow called Brother Dege inside running through his latest collection of songs. It's an album called Farmer's Almanac.
The Devil smiles when he hears a tune called "The Ballad of Ingo Swann". Nice tune, decent delivery and just derivative enough to give him hope. The Devil nods his head in approval, listening to a tune about a desperate whiteboy. If the boy is desperate enough… the Devil thinks.
The Devil can't help himself when he hears a rocking tune with an infectious slide guitar riff. He's up doing a little solo shuffle to that backbeat. The lines about no bad blood when country comes to town bother him a little though. The Devil likes bad blood. The Devil gets into the stomp of a tune called "The Shakedown", that guitar is pure country blues. He remembers trying to steal that from some guy called John Fahey a long, long time ago. This Brother Dege fellow is putting that slide magic on a nice rump shaker though. The Bastard Blues comes out of the Bait Shop all resonator riffs and murder ballad lyric. This is the shit, the Devil thinks.
The Devil sits on the rusty glides to catch his breath. A pretty tune about "The Moon & the Scarecrow" remind him of the long nights he's spent waiting at various crossroads. That lonesome Dobro sound at the end of the tune almost brings a tear to his eye. Then some words make the Devil's blood run cold. "Bobby got back from jail, talking about eternity's too long, spent my time in hell." The songs an ominous, slow blues with that wicked guitar weaving throughout. Brother Dege sings, "I may have to run, I might have to beg, but I'm slave here to none… Ain't no man a slave."
The music stops. It's a hot, humid afternoon down here in the Louisiana swamps, but Devil feels like he's up in Dead Horse, Alaska again. A chill runs through him as he realizes, there ain't nothing he can teach this Brother Dege guy. Oh sure, there is some nit picking on arrangements maybe, but even the Devil can't buy a soul on that.
The Devil shuffles through the door and see this Brother Dege sitting behind the counter with a shiny steel body guitar. He smiles at the Devil, who looks like just another guy after all, and says, I saw you dancin' out there. Did you like the record? The Devil nods, pulls out a wade of crumpled dollar bills and trades them for a CD copy of Farmer's Almanac. The Devil heads on down the road thinking maybe his cousin was right. He said there were good souls to he had setting people up with talk radio shows.
---