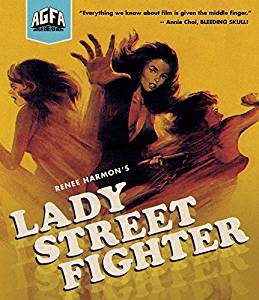 Lady Street Fighter
directed by James Bryan
starring Renee Harmon
AGFA
Looking for a new film for bad movie night? Need something to throw on at a party for guests to gawk in amazement at? The wonderful people at American Genre Film Archive have got you covered with their restored and bonus packed version of cult action film Lady Street Fighter
After her twin sister is tortured to death for not revealing the whereabouts of a stuffed dog, Linda Allen (Renee Harmon) is determined to get to the bottom of the international shadowy conspiracy behind the murder. Along the way, she'll brave hitmen who won't stop talking, several shower scenes, and car chases. Oh. And some celery stem fellatio.
Shot on a stupendously low budget ($12,000 if the commentary is to believed), writer/producer/lead actress Harmon and director James Bryan do the best they can with their resources and create a hallucinatory semi-logical tale filled with kung-fu, cars falling off cliffs, and day-for-night photography. A Casio keyboard plays an almost version of The Good, The Bad, and The Ugly throughout.
According to the commentary, Harmon stocked the cast with students from her acting school. The fact that Harmon ran an acting school might astound viewers after viewing Harmon's wooden acting and thick Eastern European accent. She acquits herself well in the action scenes, pulling off some convincing martial arts.
Once again, AGFA outdoes themselves with a great-looking cleanup job, commentary from the director, and even the 1990 sequel Revenge of Lady Street Fighter, previously only seen in South Korea included! Sure, the sequel seems to only have about 20 minutes of new footage, but it's still worth a viewing. And yes, the keyboard theme returns for the sequel.
Will Harmon avenge her sister and take down Assasins, Inc? Will she be double-crossed? Do all those inserts of champagne bottles bursting mean what you think they do? Rush to order Lady Street Fighter and find out.
---