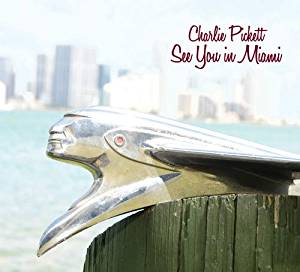 Charlie Pickett
See You in Miami
Y&T
See You in Miami is Charlie Pickett's love letter to Miami. This isn't the kind of love letter you write in the first blush of infatuation. It's not full of hearts and flowers. This is the sort of love letter from someone who's been in a relationship for a long, long time. They know you fart too much, always burn the toast and never, ever put the toilet seat down. They love you anyway.
Charlie Pickett has been a fixture in Miami since the late '70s when he was at the vanguard of Florida punk. Charlie Pickett and the Eggs had a reputation for being an intense live band (and for having a couple for hardcore junkies, Johnny Salton and Dave Frosh, in the group). Charlie had a brush with almost success when his album Route 33 was released by Minneapolis indie, Twin Tone. Pickett released The Wilderness with help from Peter Buck…. and then went to law school. For the past few decades, Charlie has been doing the law thing by day and every now and then, dusting off his guitar and playing the old tunes in Florida dive bars.
See You in Miami is a true representation of the Charlie Pickett experience. I saw the Eggs back in the day and I've seen Charlie in recent years playing at Dave's Aqua Lounge in St. Petersburg. These days, Charlie is playing for fun. He's knows he's not going to be a star, and that's ok. He wants to tell you about the people and places he really cares about. He wants to remember friends who have passed on and bitch about the bullshit a bit.
The title track kicks off the album with a two and half minute tour of his hometown. From the Cuban girls, to South Beach, ending up at 2am at Churchill's Hideaway. The song is ragged garage rock perfection. "Travelust Revisited" comes on like a challenge to senses. It's more of a rush of adrenaline than a song that recalls the falling apart glory of early Replacements. The guitars splatter against the studio walls sending waves of feedback and toggle slide guitar all washing over everything. Its almost like Charlie is saying, if you can dig this bit of craziness, you might deserve to hear the rest. You got it! You got it! You got it!
Some of the tunes are impressions of South Florida communities. There is the blues shuffle of "Miami Interlude", "Hialeah Backstretch" and "Sugarland Interlude". Some of the tunes are about folks Charlie knows (or knew). "Teajay and Mindy" introduces us to a couple of the regulars down at the bar. Teajay is making questionable decisions while Mindy plays slide guitar in a band. All the while, the back bar choir proclaims "What a beautiful girl." "Rosie & Billy" is a country blues shuffle telling the story of a promising student who goes astray at 16, "out with boys and out with friends and Velvet was her name."
The definitive tracks are "So Long Johnny" and "Four Chambered Heart". Peter Buck wrote and plays on "So Long Johnny", a tribute to the junkie guitar god of the Eggs, Johnny Salton. It's a loving remembrance to someone who would rather "sleep on the street than be a pop star whore." Buck sums up the situation with the lines, "Don't know what happened. It all went by so fast. Used to have a future, now you only have a past." It's a cathartic attempt to patch over that empty place where a good friend used to be.
"Four Chambered Heart" is the epic exploration of love and hope. Charlie sings about committing to the woman you love. Charlie's voice cracks with emotion when he sings, "Show her how you really feel. Be a man, be a man, be the man you can. It's the best thing you'll ever do." Pickett sings about commitment like his life depends on making good on his promise to his partner. As the song comes to an end, it slides into a bit of Television's classic "Marquee Moon". Both songs have the credit, "Spirit of Johnny Salton – inspiration guitar."
"Too Good to End" closes the album with a bittersweet country lament for those who have gone. Cynthia Duval sings with Charlie, adding some sweetness to his salt. It's a nice way to sum up the themes of hope and loss that run through See You in Miami. "It's too good to end. We'll be together again."
---