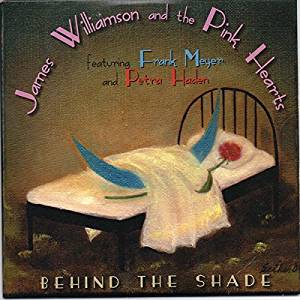 James Williamson and the Pink Hearts
Behind the Shade
Leopard Lady Records
When you're a retired electrical engineer and Rock and Roll Hall of Fame inductee, what are you going to do for fun? Why not round up some young buddies and make a kick ass record? The Pink Hearts are primarily singer Frank Meyer (Streetwalkin' Cheetahs) and vocalist, violinist Petra Haden (That Dog). Williamson did all of the guitar work and a lot of the bass parts and Michael Urbano played the drums.
Behind the Shade is a fun romp. "Riot on the Sunset Strip" kicks things off with the sort of primal rocker you'd expect from someone who was once a member of the Stooges. The hard rocking continues with the fun love song, "Judith Christ". "Pink Hearts Across the Sky" makes an abrupt shift to a yummy, strummy slice of Americana with Petra taking over primary vocals. The stylistic shift set the expectation for a rock record that has scope.
The fulcrum of the album are "Destiny Now" and "This Garden Lies". The songs are not only in the middle of the playing order, but they define the arc of the album. "Destiny Now" is a pretty song sung by Petra about facing your demons. The lyric sounds like it could be from a spy novel. I love the line, "I bought you some phony passports." Petra's violin adds some nice coloration to the tune. "This Garden Lies" has words that I interpret as being about the pernicious spread of falsehood in the world. A lilting Mariachi trumpet line that reminds me of the Minutemen buoys the tune. These two tracks focus the themes of hope and despair that run through the disc.
The album closes with the sole cover tune, "Died A Little Today". Haden sings this haunting Alejandro Escovedo penned tune. It's a somber meditation on mortality that leaves the hard rock behind for a closet orchestra feel. For Williamson who has lived through so much, the notion that every day we're a step closer to the exit, must resonate.
---