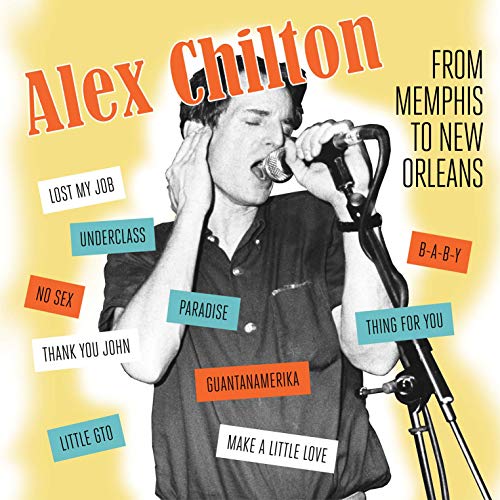 Alex Chilton
From Memphis to New Orleans – Songs From Robin Hood Lane
Bar None
It seems like every few years whole new classes of young music junkies discover Alex Chilton. Alex lived the rock and roll dream in reverse. As a teenager, he scored big hits with the Box Tops. After the Box Tops, Chilton led the critically praised but commercially marginal band Big Star. When Big Star fizzled out, Alex went deep underground on the New York scene, producing some art damaged (or maybe booze-addled) records while helping the Cramps and Panther Burns get their start.
At the same time Chilton's career was fading, a whole cadre of young bands came up singing the praises of Big Star and Alex Chilton. The principal songwriters of the dB's, Chris Stamey and Peter Holsapple, did stints with later incarnations of Big Star. The Bangles covered Chilton's tune, "September Gurls". Then the Replacements had an underground hit with their song, "Alex Chilton". There was a Big Star revival going on and people were ready for Alex Chilton to make a come back.
Alex Chilton did make a come back. By this time, Chilton was through with chasing stardom. When he started releasing new records in the 1980, he played what he felt like playing. It confounded people expecting to hear Chilton singing Big Star-style power pop. Here he was singing Memphis soul standards mixed with some wry new songs. From Memphis to New Orleans collects the best tracks for the album High Priest, Feudalist Tarts, Blacklist and the No Sex EP. Songs From Robin Hood Lane brings together jazz standards Alex learned from his bandleader father.
Alex was probably more interested in interpreting songs than writing them at this point in his life. He delves into Memphis soul with the Isaac Hayes penned, "B-A-B-Y". He revs up the Ronny and the Daytons hot rod/surf classic, "Little GTO" and the Goffin/King chestnut, "Let Me Get Close to You". There is a rousing take on the country lament, "Lonely Weekend". He delivers a relaxed and swinging version of Willie Tee's "Thank You John". The John in this song is a john. The man thanking john is his date's pimp. "I don't mind Baby. He's giving us his bread." That's probably not what fans of Radio City were expecting.
When Chilton did write originals, they were couched in self-deprecating humor. Anyone who has worked menial jobs will relate to "Lost My Job". (Gonna get me another job down the street). Chilton sings, "People think, I'm a rich musician. No. That isn't my condition. Let me describe my position. It's down, way down," on the tune "Underclass". He poked fun televangelists on "Guantanamerika", (Gonna make a pledge to the TV preacher and hope and pray that I get richer). He has some fun with the Dalai Lama too.
Chilton was one of the first musicians to address the AIDS crisis head on. "No Sex" is full of gallows humor with lines like "Pretty soon, we're all gonna get it. Time to buy some stuff on credit." I don't know if he could get away with something like this now, but at the time, it gave us something to whistle as we passed the graveyard.
When Alex was growing up in Memphis, he lived on Robin Hood Lane in a subdivision called Sherwood Forest. Chilton's father, Sidney, was a jazz pianist and sax player. One of Alex's earliest influences was trumpeter/vocalist, Chet Baker. Songs From Robin Hood Lane pays homage to these early influences. This album collects standard from the albums Clichés and Medium Cool along with a previously unreleased session 1991 session with producer/bassist Ron Miller.
Songs from Robin Hood Lane are a world away from the Box Tops and Big Star. On these tracks we hear a relaxed Chilton approximating the sounds his father made and paying homage to Chet Baker. Ron Miller captures the late night, smoky lounge feel of the 1950's (or NPR jazz radio programs of today). Alex sounds good singing "Look for the Silver Lining". "Time After Time" and "There Will Never Be Another You". Six of the tunes here are solo acoustic numbers recorded in New Orleans for the Clichés album. Alex does a good version of "Let's Get Lost" for just voice and guitar. The solo instrumental version of Slide Hampton's "Frame for the Blues", reminds us that Chilton really was a great guitarist.
Bar/None has done a good job with these compilations. From Memphis to New Orleans will make a great introduction to later period Chilton for those just discovering him. Songs From Robin Hood Lane is a bit of a revelation showing Alex as the jazz singer his Dad may have been.
---