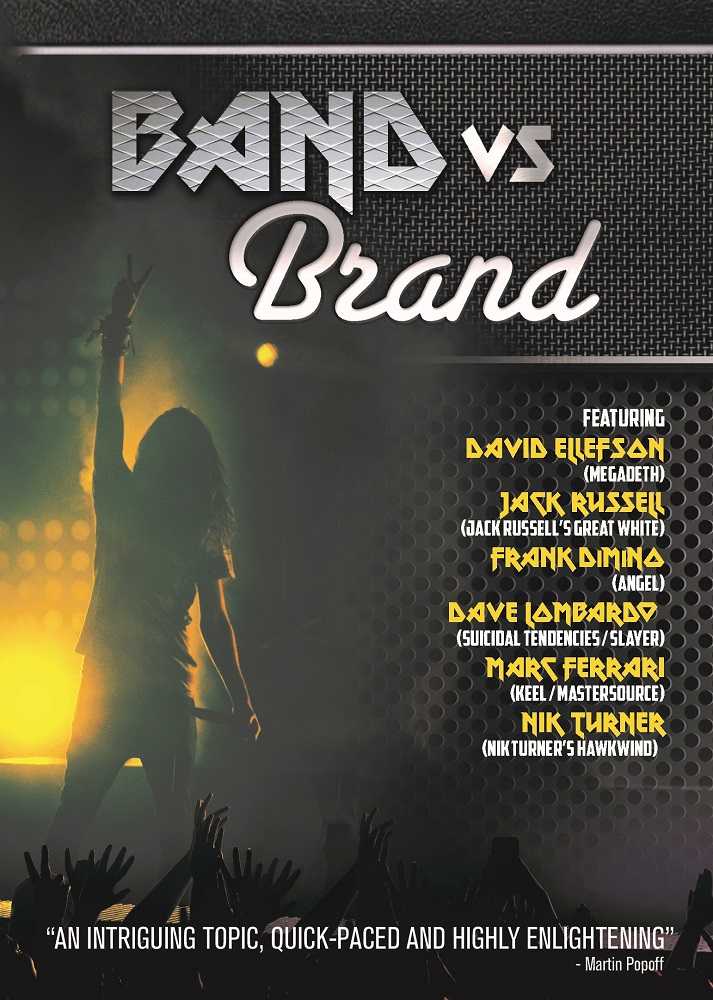 Band Vs. Brand
directed by Bob Nalbandian
starring David Ellefson, Dave Lombardo, Jack Russell, Gus G., Jean Beauvoir, Marc Ferrari
MVD Visual
It doesn't take a savvy insider to recognize how the music industry has changed for consumers in recent years. However, for artists, the business of music not only has changed, it also has become more complex. And these days, more than ever before, having a grasp on branding is paramount. But, what is "branding" and when does a band become a brand? That's a good question.
Written and directed by Bob Nalbandian (Inside Metal series), Band Vs. Brand is a fascinating new home DVD documentary – examining the current state of the music business and revealing how the "brand" of a rock group now has more power than the members themselves.
Fun and fast-paced, the 90-minute feature is packed from start to finish with live video snippets of such iconic bands as KISS, Metallica, Anthrax, Dio, Motörhead and many more. But the true payoff comes through the film's insightful and engaging interview clips with a slew of prominent rock artists, including David Ellefson (Megadeth), Dave Lombardo (Slayer), Gus G. (Ozzy Osbourne Band), Jack Russell (Great White), Jean Beauvoir (Plasmatics) and others.
Equally compelling are the informative interview segments with leading industry insiders, including Mike Varney (Shrapnel Records) and Marc Ferrari (Master Source Productions) – as the artists and insiders ALL discuss such relevant topics as publishing, merchandising, logos, tribute bands, VIP packages, CGI technology and an array of other riveting bullet points.
In sum, Band Vs. Brand is fascinating and informative, with something to offer aspiring musicians and experienced pros alike.
---