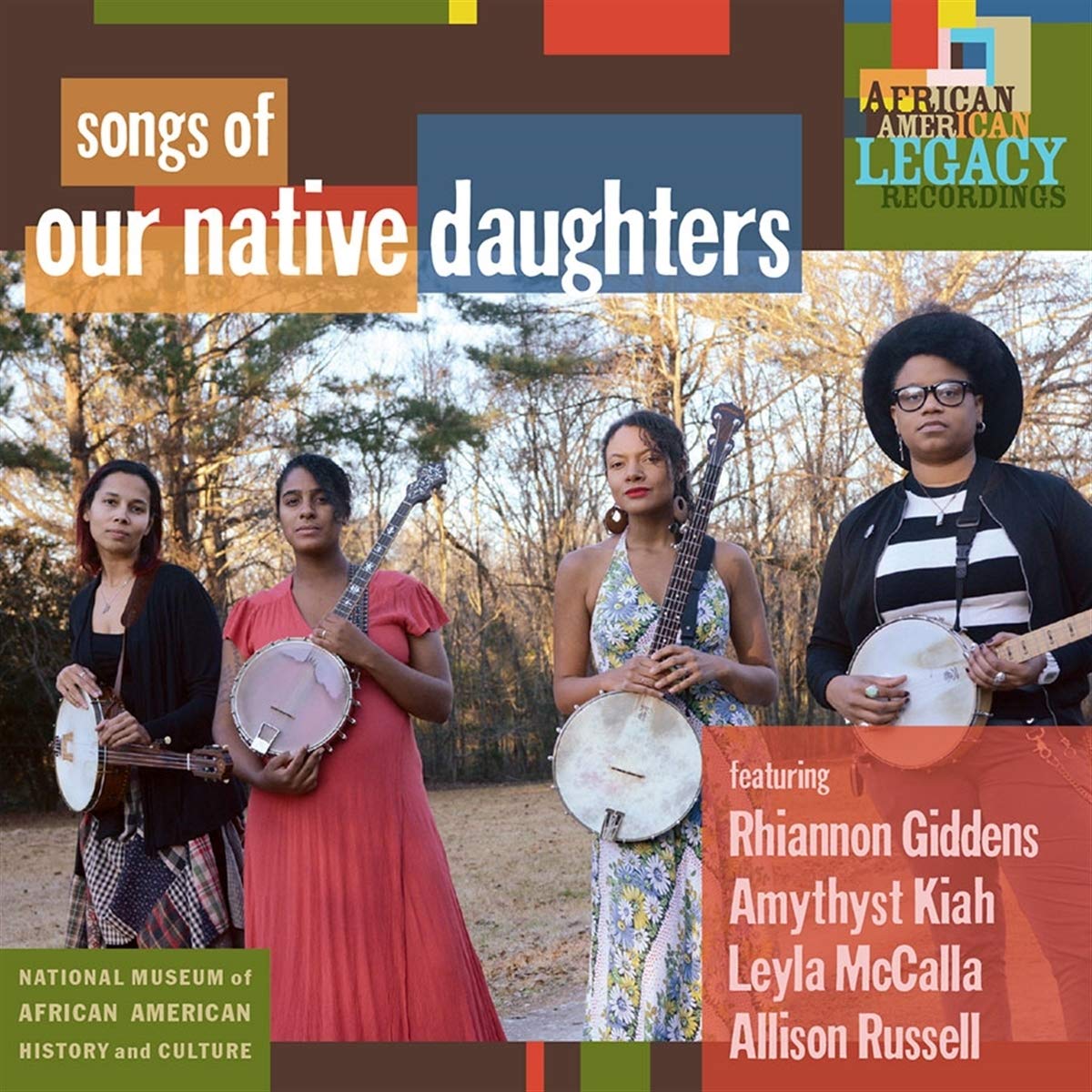 Songs of our Native Daughters
Smithsonian Folkways Records
Rhiannon Giddens enlisted three other banjo-playing women songwriters, Allison Russell, Leyla McCalla and Amythiyst Kiah, for Songs of Our Native Daughters. In some ways, this project is an expansion of ideas developed on Gidden's last album, Freedom Highway. That album delved into stories of black women from the colonial period to the Civil Rights movement. Songs of Our Native Daughters focuses on the experiences of women during slavery days. The four songwriters call upon inspiration in sources from the 17th, 18th and 19th centuries and the musician's own family histories. The thirteen songs on this album attest to the spirit and determination of women dealing with unimaginable levels of racism and misogyny who found ways to do more than just survive.
Amythyst Kiah kicks off the album with a hill country blues inspired by a line by Sid Hemphill. "Black Myself" touches on the interracial discrimination that hold lighter is better. Kiah sings, "I don't pass the test of the paper bag/ 'cause I'm black myself" She sings of things denied to black folk and also of strength and perseverance.
The haunting melody of "Barbados" written down in the 18th century by D. W. Dickson. It is the earliest transcribed melody of enslaved people's music in the Americas. The melody is book-ended by satirical poems. English poet and abolitionist, William Cowper, wrote the introductory verse in 1788. In part it goes, "I pity them greatly but I must be mum. For how could we do without sugar and rum?" Producer Dirk Powell wrote the closing verse bringing the same logic to 2018. "I pity them greatly but I must be mum. For what about nickel, cobalt, lithium? The garments we wear, the electronics we own?"
Allison Russell draws on her family's history for "Quasheba, Quasheba". Her family traces its lineage back to the titular Quasheba. They don't know where she was actually from, only that she was sold at a slave market off the coast of Ghana. Russell sings of the horrors her ancestor survived and the spirit she passed down to her descendants.
Rhiannon Giddens reclaims a minstrel show melody attributed to Thomas F. Briggs, that she learned from a banjo instructional book published in 1855. Giddens re-imagined the song from the vantage of newly freed person. The thing they most wanted was an education. "Better Git Yer Learnin'" speaks of the obstacles to education faced by young blacks; lynchings, arson and Northern teachers dying like flies from disease. The narrator's advice? "Better git yer learnin'/ before it goes away."
The most harrowing tune on the record is "Mama's Cryin' Long". The song is drawn from a collection of slave narratives Giddens mined for source material. It is based on a story about a woman who kills the overseer who has been raping her. Her guilt came to light when someone heard her child singing about blood on Mama's dress. The song is very stark and told from a child's perspective. Giddens sings "Mama's dress is red" and the chorus respond with "It was white before." Giddens sings "all the men have come" and the chorus replies "and they brought the rope." Mama's in a tree and she can't come down" This song sends shivers down my spine.
Songs of Our Native Daughters is a pretty heavy record. There is a lot of history to consider. It's not all horror and pain though. "Lavi Difisil" is Leyla McCalla's homage to her Haitian heritage. The song is a joyful swirl of banjo and fiddle with lyrics sung mostly in Kreyol. "Music and Joy" is another melody drawn from the minstrel banjo tradition that is a pure, heartfelt expression of the ecstasy of song. "You're Not Alone" closes the album with a ballad of hope and optimism. It's a song Allison Russell wrote for her ancestors who's strength is passed down generation to generation, and for her child. She closes the album with words of hope. "We have love, you're not alone."
---