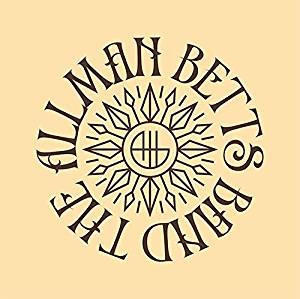 The Allman Betts Band
Down To The River
BMG
I wasn't sure what to expect from The Allman Betts Band's debut release, Down To The River, but I was thrilled at the prospect of a record that would include three sons of original Allman Brothers Band members. What I did discover is a truly great album that pays homage to their legendary fathers while still remaining true to their own sound. Produced by Matt Ross-Spang and recorded at legendary Muscle Shoals Sound Studio in Sheffield, Alabama, the nine songs offer a successful contrast between Devon Allman's soulful vocals and Duane Betts' country/Americana leanings, all held down with amazing guitar work. Allman and Betts co-wrote five of the nine tracks along with Stoll Vaughan except one, which was written without Allman plus a sixth that Allman wrote alone. He also co-wrote one track with Cisco Adler (Backbone69). The remaining two songs are covers from Tom Petty and the late Chris Williams (Backbone69).
The band is comprised of Devon Allman (vocals/guitar), Duane Betts (vocals/guitar), Berry Oakley, Jr. (vocals/bass – son of original Allman Brothers Band bassist, the late Berry Oakley), Johnny Stachela (guitar including slide), John Lum (drums), and R. Scott Bryan (vocals/percussion). Guests include Peter Levin (keys – also a member of the late Gregg Allman's band), Matt Ross-Spang (guitar/percussion), Lamar Williams, Jr. (background vocals on the title track – son of the late Allman Brothers Band bassist, Lamar Williams), and former Allman Brothers Band member and current Rolling Stones keyboardist/musical director, Chuck Leavell (piano on "Autumn Breeze").
The record starts off strong with "All Night," a bouncy Southern rock song featuring Allman on lead vocals with fierce guitar and Levin's subtle keys. It was released as the first single, and rightly so since it has a radio vibe to it (as does "Try," co-written with Adler). The guitar solo is VERY Allman Brothers Band-esque as is the next track, "Shinin'." Stachela smokes on slide guitar.
"Down To The River" is one of my favorite cuts. Levin's tasteful keys really stand out and Lamar Williams Jr. is featured on backing vocals. This fact makes Allman Brothers Band fans very happy (this one included). Somewhere down the road I would love to see Williams collaborate on lead vocals with this band.
"Autumn Breeze" oozes Allman Brothers Band out of every pore. It has the extended jams like The Brothers plus Betts' twangy vocals. The song was written by the late Chris Williams who was part of Backbone69 with Duane Betts, Berry Oakley, Jr., Cisco Adler and Alex Orbison. The original was more keys and drum-heavy than this version. The guitar work is brilliant.
Allman Brothers Band alum Leavell offers piano accents to the reflective, Devon Allman-penned "Good Ol' Days," a heavy acoustic track that also highlights some amazing slide from Stachela. The opening notes have a Gordon Lightfoot/"Sundown" feel to them.
Another standout track is "Melodies Are Memories," a song that packs the punch of Allman Brothers Band-type guitar with a Grateful Dead vibe. Betts could easily be mistaken for his father, Dickey Betts, on vocals.
Anyone familiar with Devon Allman knows that Tom Petty was one of his favorites. The band's rendition of Petty's gorgeous gem, "Southern Accents," features a stripped-down version of the original with Allman on vocals accompanied by piano and subtle guitar. It is stellar in its simplicity and does the song true justice.
Allman and Betts share lead vocals on "Long Gone," a beautiful, heartfelt composition that finishes off the record perfectly. It builds slowly and sweetly, and then midway it breaks down to just an acoustic guitar and Allman's voice, and you almost think it's over. But then what follows is a mammoth two and a half minutes of swirling guitars.
Allman Brothers Band fans will absolutely love this record. It's a fine line between tipping your hats to your fathers while still creating your own style, but they have managed to do just that. Every track is great. The band continues to tour, and with the addition of keys master John Ginty (Robert Randolph and The Family Band, Dixie Chicks) they are unstoppable.
---