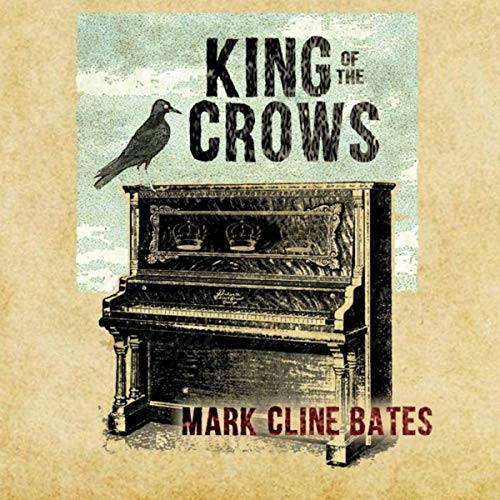 Mark Cline Bates
King of the Crows
His producer, the renowned Don Dixon calls Bates a "hillbilly Randy Newman", and that's pretty close- I find him akin to a piano-playing Richard Thompson at times (such as on the haunting "Mississippi"), but in reality, Mark Cline Bates stands alone on his second release, King of the Crows. Recorded essentially live in the studio, Bates, along with a great backing band- Jim Brock, drums, Michael Lipton, guitar with Dixon on bass – has crafted a tremendously engaging work on these 12 cuts.
Opening with "Animals", onto "Mississippi" and "Self Control", Bates sounds like he's holding onto life by a desperate clutching of the piano keys – never giving himself or his upbringing a break. The protagonist of 'Baby Don't Like" – a plate-smashing abuser that one hopes isn't based on himself – is a character rarely voiced in pop culture, and Bates captures the evil with a mournful gut punch. The narrator of "Caged Up Bull" fares little better, a man frustrated by "the push and the pull", Tom Waits blaring as he rides thru his small town. Vivid captures of unglamorous people, living day to day in troubling circumstances, lives that Bates transforms into art. Not happy art, to be sure, but a poetic and unapologetic glimpse nevertheless.
By the time the record ends with "My Heart Is Good" – a call for redemption and mercy – the listener has been on a somber, emotional journey that leaves you with unanswered questions, and well-earned respect for the craft that it took to achieve. Mark Cline Bates has created one of the year's best releases. Easy listening it's not…but life rarely is. Kudos to Bates and Don Dixon, whose understated production makes the songs shimmer with a certain low intensity. Can't wait for the next chapter.
---