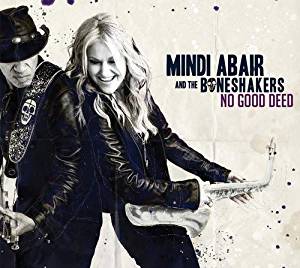 Mindi Abair And The Boneshakers
No Good Deed
Pretty Good For A Girl Records
Mindi Abair And The Boneshakers are one of the most dynamic bands on today's music scene. Deftly combining blues, rock, jazz, and soul, the multidimensional quintet is back with their third studio release, No Good Deed, on Abair's own label, Pretty Good For A Girl Records. Abair is truly a force to be reckoned with and has worked with just about anyone you can think of in the music industry. The combination of her fierce saxophone skills and enticing vocals are the perfect complement to the guitar mastery of Randy Jacobs (also on vocals). Rodney Lee (keys/vocals), Third Richardson (drums/percussion/vocals) and Ben White (bass/vocals) round out this top notch collective. Produced by industry luminary Kevin Shirley (who also produced the band's first record), the 10-song album was recorded in Hollywood in under one week. Abair co-wrote half of the tracks while the other half were carefully chosen covers from some of the band's favorite R&B and rock musicians. The award-winning saxophonist and newly married frontwoman has an uncanny knack for bending and shaping a cover into her own unique groove.
Boldly opening with "Seven Day Fool" (Billy Davis/Berry Gordy, Jr./Sonny Woods), an Argo/Chess Records sensation famously recorded by Etta James, this fresh take features searing guitar and subtle keys as opposed to the strings on the original. Abair showcases her vocal range and superb sax skill, setting the tone for the rest of the record.
The second and third tracks are also high-energy, riff-driven, drum-laden, sax-soaked winners. Abair co-wrote "No Good Deed Goes Unpunished" with Jacobs and Grammy-winning songwriter Dave Yaden, with whom Abair has collaborated before.
Taking The Young Rascals' "You Better Run" out for a new spin (Felix Cavaliere/Eddie Brigati), Abair and the band give it fresh life. The original version is very '60s psychedelic as opposed to the iconic cover from Pat Benatar. While Abair is vocally closer to the original, she completely owns this more rock-oriented version. The deeper male backing vocals give it a twist from the operatic notes that only Benatar can hit.
Slowing it down with the sad, seductive burner, "Sweetest Lies," Abair's vocal range is on full display. Co-written with Jacobs and Nashville musician, James House, it is the age-old story of a relationship that will never be right. I can give I can take/Long as I think that I'm getting my way/Fool me once fool me fool me twice/As long as you're giving me love every night/Is it wrong is it right that I let you make me cry/I can't leave I know why 'cause you tell me the sweetest lies.
The David Grissom cover, "Good Day For The Blues," incorporates hints of the Stax Records sound a la The Staple Singers/"I'll Take You There" as well as Billy Joel's "Keeping The Faith." Abair's sax solo is perfectly placed as it finishes out the track.
"Mess I'm In," also co-written with House, has distinct echoes of Sheryl Crow's "All I Wanna Do" and it will get you moving. Anyone can relate to its message about life and how crazy it can become.
The slinky, sultry tones of Melody Gardot's "Bad News" are in great hands with Abair on this record. Gardot's music blends jazz, blues and classical into a sultry swirl of hypnotic heaven, and not many people could tackle that. Abair, however, slays it. Richardson incorporates the unique sound of cut crystal glass to add an intriguing dimension while Nick Lane (who has toured with Joe Bonamassa) lends trombone accents to this album highlight. If you're not familiar with Gardot, you need to change that immediately and check her out. There's a reason that singers such as Abair and Beth Hart cover her music. I would not be surprised if the late Amy Winehouse was influenced by her as well.
With a down and dirty, funky rock groove, "Movin' On" is another standout track. Co-written with Atlanta-based musician, Brad Cox, there is some incredible guitar work from Jacobs. Movin' on, movin' on/Let the past be the past it's dead I'm gone. That is a GREAT lyric.
With a Tom Petty vibe musically, "Who's Gonna Save My Soul?" is another favorite. The combination of Abair's heartwrenching vocals, Jacobs' guitar and Lee's keys is electrifying. Co-written with Tyrone Stevens (with whom Abair has collaborated before), it is a song that I could have heard the late Gregg Allman sing. Abair's killer sax solo finishes it off beautifully.
Coming off the prior heavy track and closing with an upbeat, boogie-woogie/blues duet is sheer brilliance. Abair and Richardson tackle the Ike and Tina Turner duet, "Baby, Get It On" (Ike Turner). Paulie Cerra and Lee Thornberg (both who tour with Joe Bonamassa) add saxophone and trumpet/trombone, respectively, and the result is spectacular.
If I'm being completely honest, there's nothing I don't love about this release. Song sequence flows seamlessly and musicianship is wonderfully diverse. In fact, I will go so far as to predict Grammy nominations. It's THAT good. But don't just take my word for it – get your hands on a copy and see for yourself. The band kicks off a multi-city tour in early August. Do NOT miss them live – they will blow you away.
---