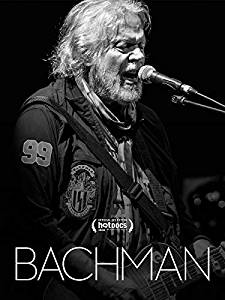 Bachman
directed by John Barnard
starring Randy Bachman, Neil Young, Peter Frampton, Chris Jericho
Farpoint FIlms
He was the creative driver of the original incarnation of The Guess Who, and the originator of Bachman-Turner Overdrive. For Canadian rock fans, he is an icon, but for American fans, he's just "oh yeah, that guy." The Bachman documentary attempts to change that, highlighting the life and creativity of Randy Bachman in 80 minutes. We get a standard chronological telling of Bachman's life, from growing up in a tiny house in Winnipeg, to full-fledged rock star. Talking heads range from the expected (Fred Turner, vocalist from BTO; Neil Young and Paul Schaffer, fellow Canadian musicians; one of his brothers and two of his kids), to the odd (Chris Jericho, Winnipeg wrestler/rocker; Bruce Greenwood, Canadian actor/friend).
With the lack of a narrator, they serve to tell the story of a kid who got addicted to playing guitar at a young age, and joined a few cover bands around the city. When he was recruited by Chad Allan to join his band Chad Allan and the Expressions, he found his niche. They started writing their own songs, with Randy taking the lead, and playing larger venues around Canada. Then Randy recruited new singer Burton Cummings, who joined him in the songwriting. Multiple name changes and a few singles led to the name the name that would make them famous – The Guess Who. Eventually, Allan saw that he was being phased out of his own group, and decided to leave the band, right before they broke big in the United States. Bachman and Cummings developed The Guess Who into a hit making machine for several albums. They had the music part of the equation down. As usual in these cases, creative and personal differences caused a riff, and Randy left the band.
His next attempt actually wasn't BTO, as you might expect. The tale of his folksy/acoustic group Brave Belt is an interesting digression before he meets up with singer Fred Turner and realizes that his fans really miss hard-driving rock anthems. With that, he is suddenly one of the rare artists who have hit #1 with two separate bands. After BTO splits up, due to more personal and creative differences, Bachman has to deal with the fallout from his divorce as well.
All of this is set to the backdrop of his current band playing at a music festival, and the recording of his new album, a collection of rearranged George Harrison covers. This allows the viewer to see that, no matter the personal issues, music has always been and will always be his main focus. When we hear from Bachman in the interviews, his personal issues are shrugged off, but he truly lights up when discussing the music. This is especially salient when the film crew is taken to an "undisclosed location" where we get a look at the shelves and shelves full of vintage guitars. Some are personally relevant, being used on long tours. Others are gifts from guitar companies or other musicians. Still others, he's not sure where they came from. The Blu-Ray has a few extras (trailer, extended Neil Young interview, discussions of songwriting), but I wish we could have seen even more from this collection.
While "sex drugs and rock 'n roll" may have been the mantra for most of his contemporaries, it was always just the "rock 'n roll" for Randy, and that was still enough to ruin relationships, whether business, personal, or familial. We see that in the documentary not just in what is presented – stories of how he never "partied" and even chided his bandmates for their behavior, and how he converted to Mormonism to marry his first wife because it mostly jibed with his behavior already – but also in what is omitted. It's not particularly surprising why the mentions of Burton Cummings are treated as almost an afterthought. Two stubborn creative types in a band can commonly lead to lifelong animosity. But when you get to the Bachman-Turner Overdrive era, it's curious that the only brother who is mentioned is the one who managed the band for a brief time. There is literally no mention of his two brothers who were founding members of the band. In some ways, the documentary leaves the viewer with more questions than answers.
Randy Bachman is not a household name, even among rock enthusiasts. This documentary gives those curious a look into the life and history of an unsung talent in the pantheon of rock guitarists and songwriters. Just go into it with the skeptical eye of someone watching history being told from a certain point of view. And enjoy the classic tunes included.
---