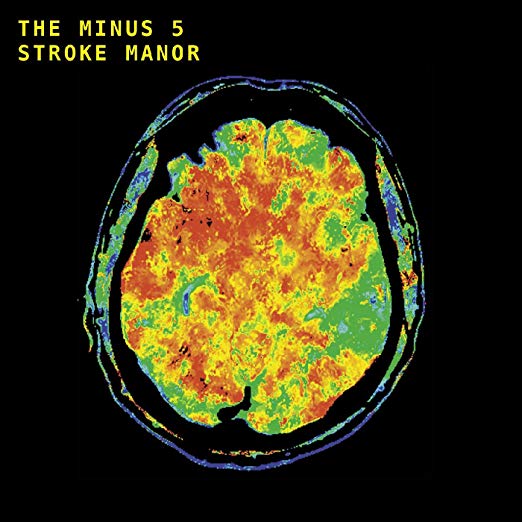 The Minus 5
Stroke Manor
Yep Roc
When Scott McCaughey, the mastermind of Young Fresh Fellows and the Minus 5, had a stroke in 2017, his doctors didn't think he'd ever play music again. In the immediate aftermath of the stroke, Scott couldn't talk and his right side was paralyzed and his thoughts were scrambled. McCaughey is a stubborn cuss. While he was still in the ICU he started writing. It didn't matter that a lot of what he wrote down was incoherent. Scott was fighting to piece together the connections in his damaged brain. McCaughey was lucky. Just a few months later, when his friends threw a benefit concert to help pay off his medical bills, Scott had recovered enough to play a few songs with his friends.
The core of Stroke Manor comes from Scott McCaughey's struggle to recover. The lyrics are culled from those notes he made in the hospital. The fractured sounds of "Beacon from RKO" reflect the effort to relearn how to communicate. "Bleach Boys and Beach Girls" is a would be summer time hit single from an Alice in Wonderland radio station. The Beatle-seque harmonies of "Message of Mother" mask words disconnected from meaning. The psychedelic textures of "Top Venom" provide appropriate context for words originally written on flash cards as a way to communicate in the ICU.
Stroke Manor is a testimony to one man's indomitable spirit. It is also a testament to the community that came together to support Scott's recovery. Peter Buck, Corin Tucker, Joe Adragna, and Jeff Tweedy are among the friends who helped bring these songs together. The most remarkable thing about the record is that it is a powerful album even without knowing the back-story. This summer, you can catch Scott on the road with The Minus 5 and the Baseball Project celebrating the joys of simply being alive.
---