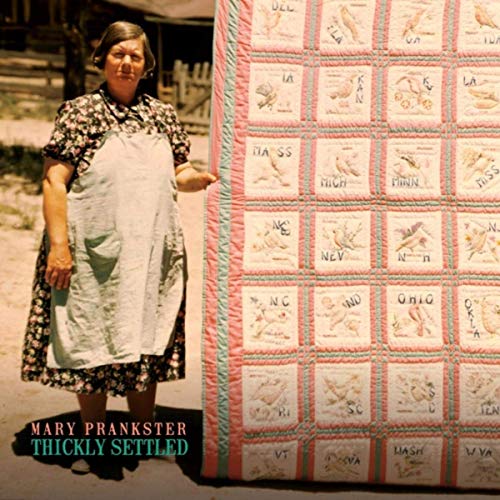 Mary Prankster
Thickly Settled
Our long national nightmare is over, Mary Prankster is back. She first firebombed the indie music scene in '98-'99 with her hilarious, brash, profane, and profound albums Blue Skies Over Dundalk and Roulette Girl. It would be easy to dismiss her as the girl who sings dirty songs, but there was a lot more depth to her music than simple shock value. In 2002, her third album, Tell Your Friends, took her combination of raunch and pathos and created a masterpiece of a break up album exploring the five stages of grief; denial, anger, bargaining, depression and acceptance, that becomes a war cry of self determination. Then the music stopped for over 15 years. Now like a phone call from a long lost friend, our girl is back with a new album.
Thickly Settled is a 10 song therapy session that finds Mary Prankster evolving from firebrand revolutionary to reflective sage. Over the course of a half an hour of various musical styles that that punctuate her acerbic wit, that makes perfectly captures our collective Gen X angst. The record is all about looking forward while embracing our past.
"Rock N Roll Degenerate" proudly displays her rocker bonafides on the introductory track before getting down to business. Her business is now to provide a role model for all those who have been hurt, persevered, and are ready to leave the bitterness of youth behind and move forward smarter and better for what we've been through, knowing we are the people we are today because of, and not in spite of, those who sought to cause harm. The writing on this album is so sneaky smart and confident, you may not get it all in one listen. The mission statement for the album, "Local Honey" asks the direct questions that the rest of the album will try to help you answer, "Tell me who failed you. Strung you along. How did it happen? Who do you want to be?". When Mary Prankster breaks the musical fourth on "Don't Gotta" the vulnerability in that moment slides into a joy that's nothing short of a breakthrough. If you're afraid she has gone soft, rest assured her quips are still razor tipped as clearly evidenced by "I Got Mine" and "Clownin'". The album ends on the bluesy yet optimistic "Any Day Now" that serves as Mary Prankster's affirmations for her fans including "Did you give all you had? Did you forgive your mom and dad?" and it is time we all start asking and answering them, honestly.
---