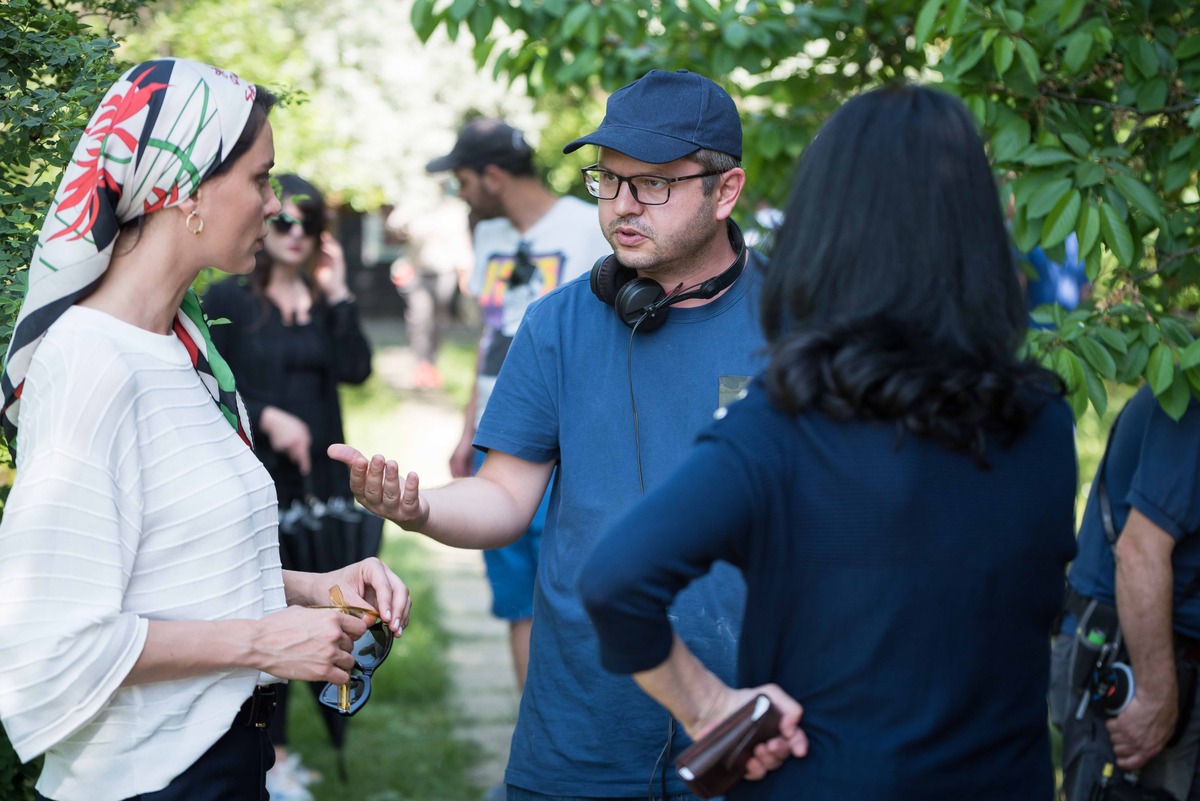 Corneliu Porumboiu
by Generoso Fierro
It was a distinct honor for me to briefly speak with director Corneliu Porumboiu at AFI Fest this year where he accompanied his latest film, the intricate comedic noir, The Whistlers (La Gomera). My adoration of Porumboiu's work began over a decade ago after a chance screening led me to his impressively dry and satirical debut feature, 12:08 East of Bucharest, and shortly after seeing that film, I was fortunate to have the chance to see and program a couple of his promising early short films: A Trip to the City and Liviu's Dream, at a small festival that I co-curated in Boston. The director's 2009 feature, Police, Adjective, the winner of the Jury Prize in the Un Certain Regard section at that year's Cannes Film Festival, is a masterwork that creatively reflected on the after effects of the 1989 Romanian revolution, a subject of so many of Porumboiu's subsequent films released throughout this decade.
The Whistlers, Porumboiu's sixth feature, finds the director returning to the realm of police work and the subject of language. To expand on Cristi (Vlad Ivanov), the protagonist of 2010's Police, Adjective, Porumboiu places his detective in a drug ring operating alongside a corrupted law system; however, Cristi is less occupied by the interpretation of the Romanian language these days. Now, he is learning Silbo Gomero, a language composed entirely of whistling in order to undetectably communicate with his drug ring partners. But, Silbo Gomero is only one of the many types of languages in The Whistlers. In order to form his discourse on methods of communication, Porumboiu weaves together film noir conventions, his own cinematic language, and music into the crime drama plot of The Whistlers to create an experience that toys with our notions of how image and sound can tell a story, evoke an emotion, and modulate our expectations and reactions.
Q: I understand that the origins of The Whistlers began a decade ago when you viewed a television program on the Silbo Gomero language. Language has always been such a large part of many of your films, especially Police, Adjective, so did seeing the program somehow inspire you to revisit the character of Cristi, or were you always looking to examine that character's progression after a decade, and the discovery of the Silbo Gomero language was a perfect mechanism?
A: In the beginning, I was really fascinated by what I read about the language, and after studying it more, I came up with the idea to put what I learned into that character from Police, Adjective. So yes, first, it was about the language, and then, it was about the exploration of the character. Because for me, the Silbo Gomero language is fascinating in that it is like a code, but it is also poetic, and at the same time it is like a bird language, which made me want to read more about it, and the more I discovered about its origins, the more I knew that it would have to be the center of the film. So then, I thought of Cristi. The reason being is that, for me, this character has always stayed in my mind due to the fact that someone like Cristi has an ideology, a way of thinking that is very inflexible, and that kind of one-dimensional thinking just simply cannot endure in the future, so I wanted to explore Cristi further by exposing him to this multifaceted language.
Q: With Police, Adjective, you took the standard urban crime genre, and you twisted the tropes of the genre by making it dialog-driven for the purposes of examining language and ethics post Ceaușescu. On the other hand, The Whistlers, by utilizing film noir as a construct, is in many ways the polar opposite of Police, Adjective, because the noir genre has so many strict demands for you to adhere to in order to be considered as noir that you cannot stray too far from the established motifs. So then, when you were imagining Cristi a decade after Police, Adjective, how did the noir motifs assist you in creating that character?
A: I should say first that I have always liked film noir a great deal. I knew that I wanted the characters in my film to exist in a setting where they felt like they could easily get double crossed and where they would have a hard time trusting communication, so the decision to go into genre film came down to something that could be seen in a character like Gilda, who is living in a world where she would have to play a role, and so she would play a role that she could borrow from cinema. My goal was to have this type of tension between the camera and the character because, in the beginning of cinema, the camera was used to tell stories. So, I decided that I wanted to have this style of two cameras, one used in the way that we are using cameras today as surveillance, but also another as a storytelling device. There were a lot of decisions that were made which were like these, and thus I went deeper into genre because I wanted a film that was more of a visual expression and not very realistic, considering that in my mind, I was thinking a lot about these niche characters and how they can build their identities due to their playing to this surveillance camera. It is this kind of second nature that develops through this second camera that becomes more important than the first, which drove me even more intensely into genre cinema.
Q: I see how you play with this genre's archetypal characters like the anti-hero protagonist/corrupt cop and the femme fatale. And, in terms of visual motifs, you played with flashbacks, a common method in a classic noirs like The Killers, where the technique is used to recall the past to build characters, but you chose to use flashbacks to illustrate how Cristi is learning the Silbo Gomero language.
A: Yes, and the reason for that is that I wanted to have as the center of the film Cristi's process of learning the Silbo Gomero language and form a double movement. At the beginning of the film, when he is going to learn this language, he is going to learn it to use it for something nefarious, but at the same time while Cristi is learning the language, he is reflecting on his personal history, and so there is a movement inside of the learning process. A film noir construct allowed me to do this. Otherwise, if I tried to do this in a more traditional style of storytelling, the language would appear in the middle of the film, but the metaphor would be revealed at the end.
Q: I so appreciate your casting of Catrinel Marlon as Gilda, but I understand that your search for the right actress for the part was a burdensome one. My curiosity is, given her character's name of Gilda and how that name evokes a classic noir reference, was part of that difficulty because you couldn't decide if the actress should or shouldn't possess Rita Haymorth's look and qualities?
A: It was indeed a difficult casting process for that part, but what I liked about Catrinel is that she had a type of style and body language that would allow her to become the character and build it her own way. Also, when I cast the character of the mother, for example, I wanted to her resemble Gilda in that she is an ex-femme fatale, and it is this kind of play on the imagery that I wanted in the film as well.
Q: One usually thinks of jazz music in film noir like John Lewis' score for the 1959 film, The Odds Against Tomorrow. Could you talk about your unexpected use of classical pieces, such as Jacques Offenbach's "Barcarolle" or Carl Orff's "Carmina Burana", in The Whistlers?
A: At first, I used classical music to build the character who worked at the hotel, to make him very unpredictable, as that clerk doesn't want people to stay there, but then I started using music for many other purposes—for example, to create a more personal moment or to build contrast to add humor to a scene.
Q: To me, your use of music as a contrast comes through the most at the end of the film in artificial garden in Singapore. When did you decide on that particular piece of music for the final scene?
A: The music was there at the park in Singapore already. In my original script I wanted to have Iron Butterfly's song, "In-A-Gadda-Da-Vida," but when we got to the location and I heard them playing this other music, I thought that it was better for the scene, so I used it instead.
Q: That park was a perfect setting for the end of the film. Was that a location that you had scouted out prior to writing the script?
A: Since the beginning of my project I wanted the film to end in a certain kind of garden, a futuristic paradise, you can say, because of the way that gardens are consistently seen throughout the film. The island of La Gomera, for example, is a kind of garden, as is of course the actual garden that the mother tends to, and this is very important to what I wanted to do with The Whistlers. So, I really wanted a kind of technologically advanced garden to appear at the end of the film, and I had an instinct that I could find such a garden in Asia, in either Hong Kong or Shanghai, and I was fortunate to find one in Singapore.
◼
The Whistlers opens in theaters the U.S. on February 28th, 2020
• •
Feature photo courtesy of mk2 films.
---