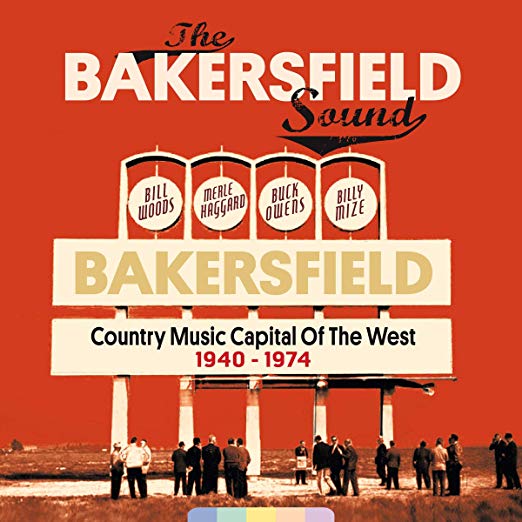 The Bakersfield Sound
Bear Family Productions
It was a study in contrasts for a county music fan during the late '60s. On the one hand you had "Music City USA" – Nashville, with hits such as "Make the World Go Away" by Eddy Arnold and "Danny Boy" by Ray Price, something called "The Nashville Sound" that morphed into "Countrypolitian". Produced by Billy Sherrill and Chet Atkins, among others, it was country music – easy listening style. It was as far removed from the hills and farms that birthed the song collections of A.P. Carter and family as was possible. For those longing for the old songs and feel, one had to turn to the coast, where music still played in honkytonks, five sets a night.
That place was called Bakersfield, CA, and is the subject of this grand look assembled by Bear Family, The Bakersfield Sound – Country Music Capital of the West 1940-1974. On the West coast Merle Haggard and Buck Owens ruled the airwaves, record sales and beer joints, stringing up hit after hit, leading the area to be known as "Nashville West" for a time. While the area's heyday was largely over by the mid-'70s, a quick look at today's country stars – from Dwight Yoakam to the entire "outlaw country" movement owes a huge debt to folks like Merle Haggard, whose poetic songs captured the plight of the everyman as well as anyone, and Buck Owens, that made a career out of classic country/pop moments, propelled by his ace guitarist Don Rich.
This mammoth set, featuring 10 cds and an oversized hardback tome featuring an in-depth look at the Bakersfield era, from it's origins in roadhouses such as the Blackboard, where migrants from Texas and Oklahoma cast their economics woes aside and danced the night away. They danced to moments such as Joe Maphis and Rose Lee's 1952 hit "Dim Lights, Thick Smoke (and Loud, Loud Music)", Wynn Stewart's "Playboy", and starting in the early '60s, Merle Haggard's initial sides on Tally Records such as "Skid Row" (all collected on the set). During his heyday, Buck Owens had 21 #1 Billboard hits, toured the world, appeared on countless TV shows and made Bakersfield into a legitimate country music city with his clubs, recording studios and management offices. Owens knew how to write a hit, from songs such as "Act Naturally" (later covered by some Brit group called The Beatles) to "Sam's Place" and dozens more.
But this set is more than just Haggard and Owen's hits. The Bakerfield sound captured elements of old time, bluegrass, folk and western swing (Bob Wills was huge in the area), and its early days sound much like what Nashville was creating at the same time. But once Haggard (with his legendary steel player Ralph Mooney) began his ascent on the charts, the sound of Bakersfield – rev'd up, no nonsense songs that connected to dancers at the honkytonks to as well as radio listeners (such as his early hit "Swinging Doors"), the area's enduring legacy would be cemented. The sound is both classic and timeless, echoing in today's stars such as Tyler Childers and Sturgill Simpson, and it got it's start among the oil derricks and orange groves of California. Praise be to Haggard, Owens and dozen's of the others for giving us "the Bakersfield Sound." Praise be indeed.
---