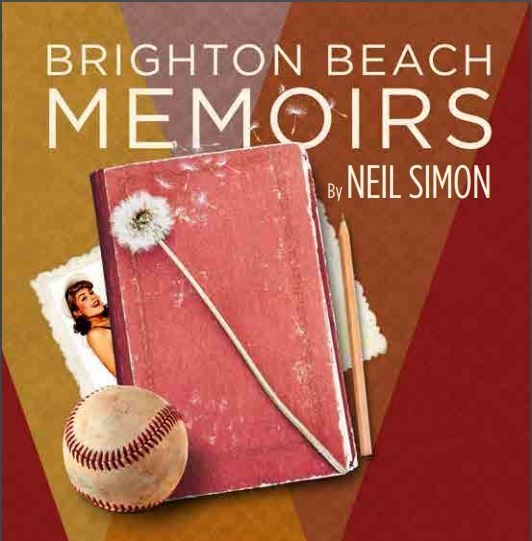 Brighton Beach Memoir
Valencia State College, Orlando, FL
By Neil Simon
Directed by Eric Pinder
Starring Jeramiah Wood
Growing up never grows up. It's the same for everyone on some level: find a sport to obsess on, figuring out sex and answer the big question: What do you want to do when you grow up? Eugene (Wood) wants to be a pro ball player, along with every other boy in America. His older brother assists in a hat shop, and his dad (Steven Lima) works double shifts and then sells party favors to the big hotels for spare cash. Of course, in 1937 few people were partying so that business is dying as well. Mother Kate (Kate O'Neal) stretch dinner with liver and enforces mandatory consumption. The Jerome's also house his widowed aunt Blanche (Yesiana Nelson) and her fragile teenage daughter Laurie (Alycia) Giasullo. Laurie reads all day and is excused from chores as she's "delicate." Eugene resents her but hope to see her naked because he's a Guy in Training. It's 5 pounds of family in a 2 pound bag.
As dad worries about the war and mom about the budget, we watch Eugene pine over sex and sports. He knows something big is happen in the world, but there's still time to ignore it. Wood's angular body and on stage motion make him the most interesting thing on stage, even when he's off stage. Lima remains careworn and reasonable; he's under enough stress to almost kill him by Act Two. Kate sweats the little stuff to free up dad to worry about war, and the distinct possibility more refugees will soon arrive. I love the set, it's a 4 room house with the front wall blown off for artistic reasons, and a creaky staircase up to the bathroom and Eugen's dream of catching his stepsister in the nude. "Oh, isn't that horrible !" proclaim as everyone as they know they tried that once as well.
Brighton Beach is a classic "Coming of Age" story and it does git done often as well, but it's a crowd pleaser, and the house was packed. This slice of life is packed with comedy and the gentle desperation of too many people shoehorned into too little space. But that where comedy comes from, not a mansion on a hill with servants and wine cellar. Let's face it: rich people aren't very funny on stage. Here's a hard luck story to make you laugh and cry. Sort of like that old expression: No matter how tough things get, at least you can be a warning to others.
https://valenciacollege.edu/academics/programs/arts-entertainment/theater/theater-schedule.php
---