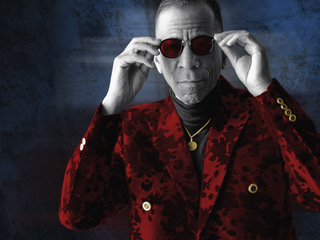 Juewett Bostick
by Stacey Zering
Q: You recently won a Los Angeles Black Music & Film award. Can you tell us more about what it is and how you feel about such an achievement?
A: The award I won was Best Jazz Musician by Los Angeles Black Music & Film. This is an organization that recognizes and awards independent musicians, actors, singers and other talent in the Los Angeles entertainment community. I had nominations in three categories, Best Jazz Artist, Best New Song, and Best Producer. I was honored for the recognition and wanted all the musicians, singers, engineers and designers that worked on the project to share the accolades. We all worked hard getting the project to market in line with the vision.
Q: How did you become interested in playing the guitar?
A: Growing up in the early '60s you had Motown taking command of the radio and TV airwaves then the British invasion providing more saturation and exposure to music and especially guitar. Along with that I had close friends that were active professionally in music. For me the tipping point came when a local radio station; KDIA, did their weekly Friday night live broadcast and introduced their audience to Hendrix's Band of Gypsies. I was hooked.
Q: What is it about the guitar that electrifies you the most?
A: It's a sonic paintbrush for creation. It's a key to unlock Pandora's box. It's a passage to another world, It's intimate and personal and it can go anywhere with you. And you can do it with style!
Q: How would you describe your early days with the guitar – were you slow to learn or did you evolve quickly?
A: It was a scramble to get as much musical knowhow and experience in my head and under my fingers as fast as possible. I felt I was a late starter and wanted to catch up to my friends that had been playing for 10 years when I just started. My goal was to treat learning the instrument like a job so I would practice 8 hours a day. I maintained that routine for a number of years and continue a strict practice routine to this day.
Q: What kind of education did you have in learning how to play the guitar?
A: My mother paid for private lessons and immediate friends provided a musical ecosystem for my early direction. I relocated to Los Angeles in the early '70s to study with a jazz guitarist, Larry White, who also moved to Los Angeles from the Bay Area. I immersed myself into everything musical to shape my professional career. That included the music program at Los Angeles City College, private lessons and a free weekend jazz band organized by a local music store, Grants Music Center. Grants Music Center had the biggest influence on my professional careen in Los Angeles.
Q: What were the most difficult challenges you faced as a musician and how did you overcome them?
A: How to create a stable lifestyle from a constantly changing and unstable business. There is no blueprint, no instruction guide that tells you what to do! You have to figure this out yourself! What worked for others may not be your solution. Not to be judgmental by comparing myself to others. It can be hours, days, months or years of trial and error before you shift gears and reach the next plateau. Ones career is a continual work in progress. I think of challenges I need to encourage my continued growth. How I can work smarter. These ideas and more are continually sloshing around in my head. I keep an eye on up and coming trends and emerging ideas and find ways to integrate them.
Q: What would you say have been the biggest highlights of your career?
A: I think the highlight is that I'm still working and have a great ecosystem of musicians, artists, and other creative resources to draw upon to continue creating great work. I still have passion for what I do and I'm honored I'm able to provide a creative ecosystem for passionate musicians, singers, designers, artists and others to contribute their talent.
Q: What advice would you give to somebody just starting out as a musician?
A: As the business is today you have to do this for the love of the art. The financial rewards may be illusive. Money should not be the sole driving force motivating your creative career.
Q: Your new album, Shades of Blu, is extraordinary. What are the origins of the record?
A: I thought long and hard planning and conceptualizing the project. My objective was to have the music be organic, performed live with all the human benefits. My first criteria was the music had to resonate with a wide segment of the market. I felt drawing upon tunes with a bluesy foundation from the early Blue Note era provided great material and has not being commercially exploited. I choose tunes with strong melodies that I could reconstruct for a 21st century consumer and not destroy the original composition. If I were to draw a comparison to other musicians, I would say "Shades of Blu" is a hybrid blend of Miles Davis' Kind Of Blue and Jimi Hendrix's Electric Ladyland. I worked very hard for each song to have it's own personality. Then I placed them in specific order to connect to each other and provide an enjoyable listening experience. This is why I'm an advocate for the physical CD. It provides the experience I want the listener to have.
Q: What was it like to re-imagine the work of a legend such as Thelonious Monk? Did it intimidate you in any way?
A: Not intimidated at all. I was confident in the vision for "Bye-Ya" when I wrote the arrangement. I happened upon Monk's 2005 release of a lost recording with John Coltrane from Carnegie Hall. "Bye-Ya" struck me as a great Afro-Cuban 're-workable' candidate. I re-imagined the song with lyrics that were complementary to other songs on the project. The "Bye-Ya Tribal Dance" lyric is about recognition and paying respect to the jazz greats whose music serves as the foundation for this project. Since my objective was to treat "Bye-Ya" to an Afro-Cuban make over I wanted a section that would allow the percussionists to be showcased. Hence we have the extended section of "Bye-Ya" that is the original composition 'Tribal Dance. Bye-Ya and Tribal Dance," as a complete piece, would legally be a single song, "Bye-Ya" and the property of the Thelonious Monk estate. So on the CD I decided to separate "Bye-Ya" from "Tribal Dance." Our re-imagining of "Bye-Ya" features Art Webb on flute. During Art's warm up he was playing the melody to 'Freedom Jazz Dance', a challenging piece of music with a melody in intervals of a perfect 4th. This leads the listeners' ear down a rabbit hole and hides the tonal center. So, we had Art lay down 4 avant-garde tracks that became what I call the 'harmonic storm'. We dismantled the song's tonal center so after each occurrence of the harmonic storm the listener is greeted by harmonic purity. We reinforced our harmonic storm with Cal Bennett on tenor sax, soprano sax, and Fred Jackson Jr. on bass clarinet. The segue into "Tribal Dance" features our stacked vocal harmony performed by Kari Taylor. Kari is featured throughout the project on all of our big vocal harmony arrangements. Lastly, percussionist Eric McKaine made everything authentic with his assortment of exotic ethnic percussion. After all of this work we saw an opportunity to exploit "Tribal Dance" in a significant way and give it it's own life. We extracted it from "Bye-Ya" and set it on its own unique development path. The result is "Tribal Dance (Intro)," which opens the CD. All of the musicians, whose work we included on Shades of Blu, have been treated with great integrity and creative honesty. We wanted to honor their legacy. We believe Monk, Lee Morgan, Hank Mobley and Jimi Hendrix would approve of the vision we have articulated for their music. We want a new generation of music aficionados to enjoy their music in a modern setting without betraying the music's origins. Shades of Blu is funky, funny, sexy and most of all soulful. ◼
juewettbostick.com
---