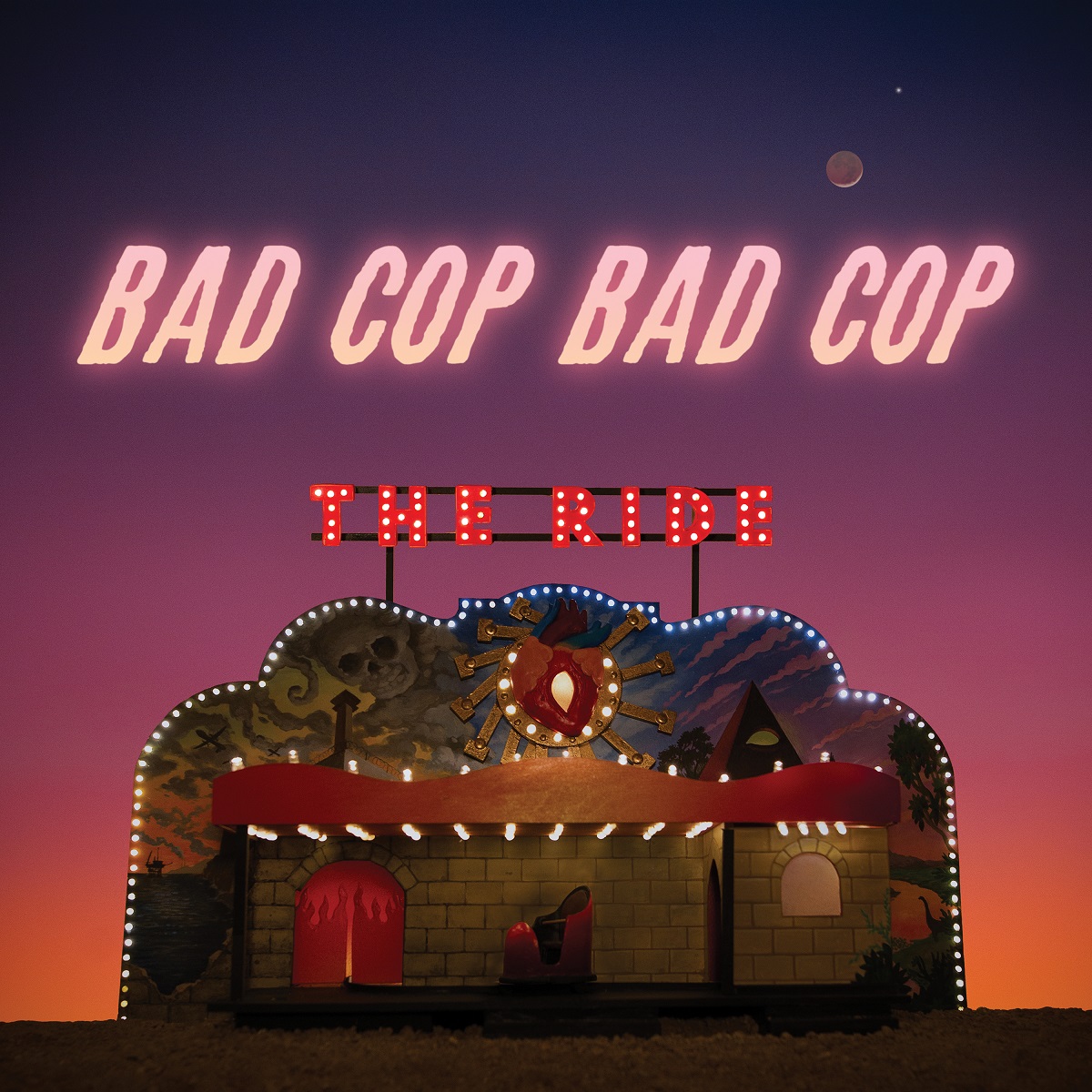 Bad Cop / Bad Cop
The Ride
Fat Wreck Chords
Like most folks, when I think about So-Cal's golden girls, Bad Cop / Bad Cop, the first thing that comes to mind is the B-word – "BIG!" Yep, big vocals, big hooks, big riffs, big beats, big words, big messages – BIG, BIG, BIG! But of all the many components that make Bad Cop / Bad Cop a great rock band, the most compelling is their ability to craft big songs – crisp, crunchy and contagious – it's just how they do. And that observation is validated (loudly) throughout their latest studio slab, The Ride.
Produced by Johnny Carey and Fat Mike, the 12-song set was recorded during much of 2018 and 2019, and it finds the band at a creative apex – picking up, and moving forward from where they left off with their acclaimed 2017 record, Warriors.
Packing piquant ska-flavored appeal, "Originators" is a punchy opener. Guitarist Stacey Dee's burlap-draped vocals make the positive message of personal encouragement particularly powerful. We're greater than we're taught or told, to be sure.
Co-lead vocalist and guitarist Jennie Cotterill shines brightly in the apologetic, breakup / love song, "Take My Call." Scribbled out in coffee and crayon, Cotterill's sentiments feel honest and pure. The signature-style Bad Cop harmonies are big, indeed. The chorus – bigger than big. At the risk of over-selling, this one just might rank among the top two or three biggest Bad Cop tracks – ever.
Another noteworthy highlight – the lead-off video single, "Simple Girl." Dee swaggers to the virtual podium and confesses to the class confidently, I've been rich, been broke, been doped out and lazy. Even been somebody's wife. The transparent lyrics and (yet another) irresistible melody conspire successfully to create one of the record's many "money shot" moments.
There's this crazy thing that Bad Cop do – extremely well. They tackle very real, heartbreaking topics, but drizzle 'em with so many layers of aural confection, you might not recognize immediately that they're tackling very real, heartbreaking topics. Exhibit A – "Breastless." Reflecting on Dee's own recent clash with breast cancer, the lyrics are brutally brave – There's gotta be validity in missing pieces of my chest. I'm feeling restless. The break-neck riffs, yeah – big. And drummer Myra Gallarza's kick / snare combo – rib-cracking. In short, textbook BC / BC.
Bassist Linh Le steps into the spotlight and up to the mic on "Pursuit of Liberty." Recounting her family's immigration to the U.S. from Vietnam in 1975, Le also points to current related events – Since when do passports, without the right stamps, send people back to concentration camps? – possibly the most important passenger on The Ride.
A surprise stylistic left-hand turn, "Sing with Me" closes out the record – a delightful-sounding, piano-driven sing-along that dances playfully across a timely message.
With three BIG full-length records and a fistful of EPs now in the rear view, the band's expanding catalog is quite impressive. And with The Ride, Bad Cop / Bad Cop prove to still have plenty of gas left in the tank.
---