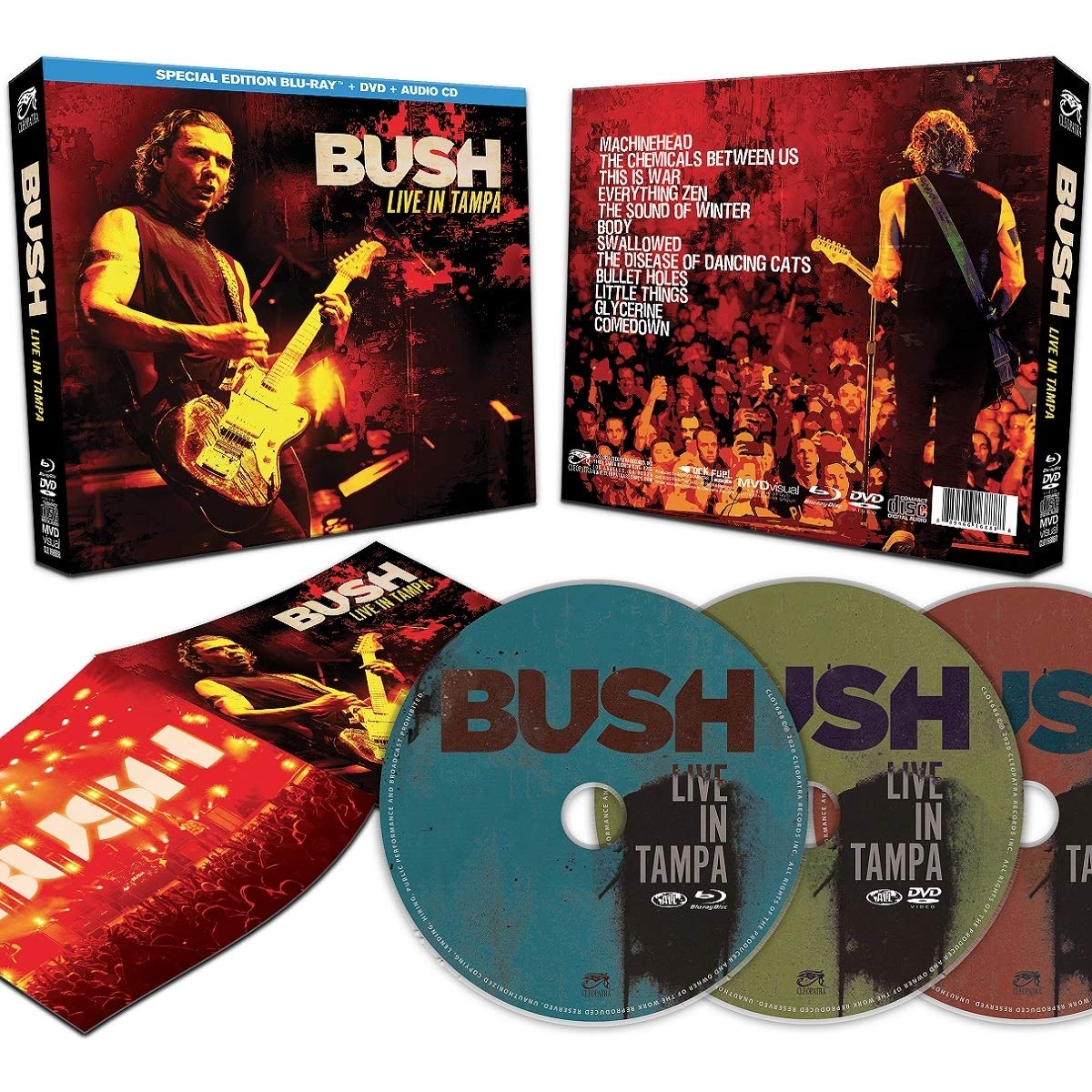 Bush: Live In Tampa
directed by Milton Lage
starring Bush – Gavin Rossdale, Chris Traynor, Corey Britz, Nik Hughes
MVD Video
I was never a huge Bush fan. I always enjoyed their music when it came on the radio (yes, radio). However, I never bought any of their CDs (yes, CDs), or went to any of their concerts. Maybe it was latter day grunge backlash. Maybe it was being focused on finishing undergrad and starting grad school. Whatever it was, I knew very little of Bush beyond their hit singles going into this Live in Tampa set.
The hit singles are here, of course. "Machinehead" starts the show off with a bang. "Everything Zen" shows up early, along with a huge thanks to everyone who has been supporting the band since the beginning. "Glycerine" and "Comedown" close out the show. In between we are treated to lesser known tracks from their early albums and singles from their more recent work, including "Bullet Holes" from the John Wick 3 soundtrack.
Gavin Rossdale (lead vocals/rhythm guitar) has been leading the band since their formation before debut album Sixteen Stone. Lead guitarist Chris Traynor joined the band on tour in 2002 shortly before their hiatus, and bassist Corey Britz joined in 2010 after they reformed. Drummer Nik Hughes joined in 2019. As a group, they have gelled well onstage. Rossdale exudes rock frontman energy, bouncing round the stage like a guy half his age, engaging the crowd with patter between songs. During "Little Things," he stagedives then runs into the crowd to the lawn seats and back. Unlike a lot of singer-guitarists, the guitar isn't just a prop for him. While Traynor definitely does the heavy lifting, Rossdale more than competently supports the rhythm section, and deftly nails key riffs in both the recognizable hits and the catalog songs. Flanking him, Traynor and Britz stalk the stage like predators, getting the spotlight when appropriate, but always in the pocket. Unlike most drummers, Hughes is well-lit on a decently sized riser in front of the giant projection screens, so you can see him having an absolute blast throughout the set, especially while John Wick is having gun fights behind him. The sound mix is practically perfect, with the right amount of crowd noise to remind you this is a live show, but never overwhelming the performers.
The set includes a Blu-Ray, DVD, and CD of the concert. The videos include interstitial clips of Rossdale backstage, discussing his youth and the early days of the band. While informative, I was hoping for some stuff with the rest of the band. Interestingly, the audio from the first of these interstitials is included on the CD, but none of the others are. I assume this was to keep the time down to one disc, but why include any of them, when they were already cutting some of the onstage patter between songs? Other than those quirks, the overall package is very well done – three discs and a booklet featuring high quality photos from the show. Special features include the full eleven-minute interview with Rossdale, a slideshow of pictures from the show, and the trailer for this show, along with several other discs including The Pretenders, Jane's Addiction, and Sheryl Crow.
If you are a Bush fan, you should definitely pick this up, if you haven't already. If you are like me, and have only been exposed to Bush via their early singles, I urge you to give Live in Tampa a look and listen. It's a great showcase of a rock band that is still putting on a lively show in front of an excited crowd and works better than just another greatest hits collection. In addition to the three-disc set, a limited-edition vinyl set and a basic digital download of the audio is available on their Bandcamp website.
---