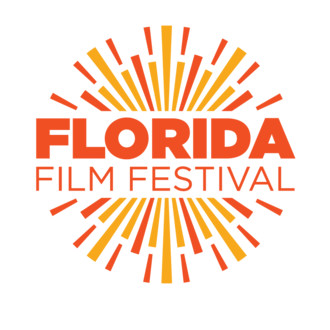 The 29th Florida Film Festival
Enzian Theater
Maitland, Florida • August 7-20, 2020
by Carl F. Gauze
It's been nearly five months since I last covered a live event, and I find online events less than inspiring. But tonight the Florida Film Festival steps out as the first event to challenge this brave new world. There were the usual press previews last week, which rarely draw more than 12 people, so the risk was low. But tonight's the real deal. I dodge a Florida downpour on the way to Maitland, and when I arrive at the nearly empty parking lot, I grab a good spot. A few patrons hung out on the patio. The Eden Bar and restaurant are running reduced menus, but drinks are discounted. A few regulars and patrons hang around, all masked up and hard to identify. More rains fall, and the merch tent, which is just setting up, collects a large puddle of water in its canvas roof. Volunteers poke at it with a broom, hoping to dump it over before the tent collapses. There is a strong chance disaster AND comedy are about to occur, but a Responsible Adult arrives to quickly fix the issue safely.
Inside the theater, seats are missing and the seating capacity is cut in half. Tonight I count 40 viewers, scattered evenly over the space. I grab the best opening night seat I've ever had here. As we wait for the keynote feature, the screen shows a loop featuring prominent local arts leaders. They appear soundlessly, they mug at the camera, and then their heads explode in a cloud of multicolored smoke. Yeah, its arty. Arty to the point of "WTF, over?"
We load in. Patrons and pass holders enter through the lobby. Plebeians, single ticket holders, and press come in through the side fire exits. At least we get a roof. Tonight's opening feature "Surviving Supercon" (reviewed separately) begins after a few pre-show admonitions and recitation of the rules. Stay distant, wear your mask, behave. It's becoming a drill, like the airport pre-flight announcement.
As we wait for the film to begin, servers provide small snacks from sponsoring restaurants, and I get a complimentary Blackberry Mule, which I can strongly recommend. A live pre-show announcement gets us rolling, and soon we are deep in the sci-fi convention experience, only with few chewing sounds and generally clear sight lines. As the film rolls credits, the film's stars and the filmmakers take questions and give answers while standing a safe six feet from the microphone. Microphones are notorious disease spreaders, and I can barely hear the answers. Oh, well, outside the sky is clearing up, and the red yellow pink evening sunset fades. A few people hang out for drinks or the later showing of the opener. The energy is low key but upbeat. I meet a few old Film Fest friends, hold some muffled conversations, and relax. Only 13 days left to go. Let's see if we can pull this off without an infection. ◼
---