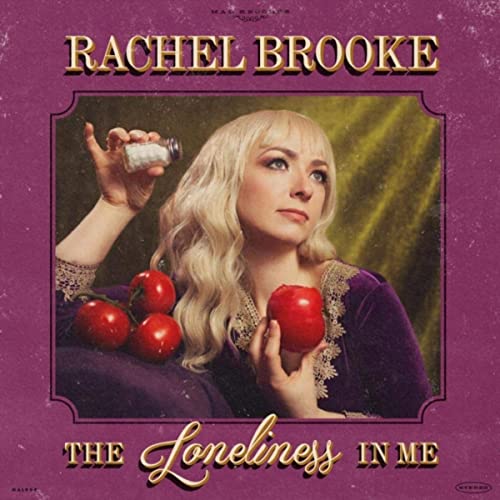 Rachel Brooke
The Loneliness in Me
Mal Records
When a new clip from pop culture prophet Bo Burnham first appeared on YouTube earlier this year, it stirred an immediate sensation. And with his hilarious "Country Song" parody, the celebrated comedian did more than serve up a savory slice of satire – he hit the freaking bullseye with the accuracy of a skilled marksman. Burnham's spot-on perspective – the pabulum being produced and peddled today as "honest and pure" actually is calculated corporate pandering. In short – country music has become a (predictable) joke.
It's a heartbreaking case of mistaken identity, really – the growing misconception that the bevy of airbrushed belly shirt babes and the host of V-neck hunks parading currently across media airwaves are even remotely "country." Beyonce and Bieber – yes. But, Patsy and Porter – not a chance. FYI, Auto-Tune ain't sangin', y'all. And all the "pickin' and grinnin'" session cats in Nashville can't legitimize frauds.
Truth be told, country music has been bastardized for the last 20-plus years – ever since the mass influx of arena rock rejects invaded Music City following the hair band holocaust.
Fortunately, in recent years, a few new brave artists, both male and female, have been blazing trails to restore country's compromised rep – inspired by the likes of Merle and George, Loretta and Tammy. Relegated to the underground, these authentic artists rarely are anointed as CMT-sanctioned idols. However, they are making considerable noise on the indie country scene. Seek and ye shall find.
While the industry-driven cities of Michigan might seem lightyears from the hills of Tennessee and the hollers of Kentucky, that's exactly where you'll find singer / songwriter Rachel Brooke. Despite her less-than rural home base, Brooke's authentic roots run deep. And with her latest solo release, The Loneliness in Me, she's created a record that boasts true-blue balls – the likes of which have been displayed rarely since Dwight dropped Guitars, Cadillacs, Etc., Etc. back in '86.
Reminiscent of Nashville's golden era, The Loneliness in Me serves as a stylistic Ouija board, with Brooke successfully channeling a seemingly endless array of late country legends, from Tammy to Skeeter to Kitty – while projecting its own unique spirit.
A songwriting collaboration between Brooke and her musician / husband, Brooks Robbins, the 12-track collection makes its case quickly with the reverb-glossed opener, "It Ain't Over 'Til You're Crying."
The lead-off video / single, "Great Mistake," feels like a welcomed hug from that long-lost honky tonk girl, while the piano-twinkling "Picture on the Wall" and the geetar / banjo-charged "It Won't be Long" both are bona fide traditional treasures that just might keep ya up walkin', well after midnight. The fiddle-fueled "Ghost of You" makes for another of many standouts, along with the shuffling, "Lovells Stockade Blues."
Although the record can get a bit sleepy at times, the title track is an impressive MVP that represents the team nicely – touching nothin' but net. And when experienced via its engaging video, it hits an impressive, game-winning three-pointer.
In sum, if The Loneliness in Me doesn't "speak" to you, perhaps it's time you have a chat with Bo Burnham.
---