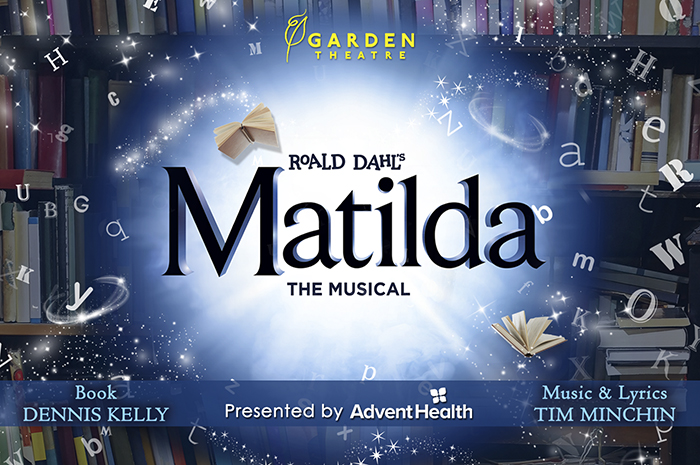 Roald Dahl's Matilda The Musical
The Garden Theater, Winter Garden, FL
By Roald Dahl
Book by Dennis Kelly
Music and Lyrics by Tim Minchin
Directed by Joseph C. Walsh
Musical Direction by Terry E. Thomas
Choreographed by Lindsey D. Smith
Starring Carson Holley, Lillie Eliza Thomas, Janine Papin
Poor little Matilda (Holley). She's bright and precocious and has read all of Dickens before first grade. Too bad her garish parents (Hanna McGinty Lemaster and Daniel Abels Rodriguez) despise education. Dad's busy turning back odometers for the Russians, and mom practices her "dancing" with a hot flamenco dude named Rodolpho (Elijah Vazquez). Matilde's only solace is the library, but her parents fear education will rot her mind, so they send her off to a sadistic boarding school run by education dominatrix Miss Trunchbull (Papin). Matilda's only friend is librarian Miss Honey (Thomas) who secretly aids her as she starves after getting fired for being nice. All this drama is punctuated by her bumbling parents the Wormwoods and the even more misguided Russians, led by Sergei Ethan Walker.
This is childhood absurdism at its best. The parents eat evil pills for breakfast, lunch, and dinner, the comic Russians threaten to do evil things and then deliver, and the nice children in the play are crusted in saccharine and garnished with purity dust. Holley's Matilda is the perfect child I never had, and Mr. Rodriguez the dad I hope I never was. Vasquez's Rodolpho shakes his mighty booty and could be a transplant for Rodolpho in any community production of "Drowsy Chaperone." Papin's Trunchbull plays the most evil antagonist of her career. Off stage, I'm sure she's a doll, I just never seem to run into her in real life. All this flies by on a technicolor set by Joe C. Klug that spins and twirls and glows in the dark like a radium watch or a working Star Drive.
This is also the biggest and best "real " theater production I've seen this year. No zoom, no mysterious and failure-prone log ins, no staring at actors on my cell phone with tinny audio and distracting alerts from Words with Friends. "Matilda" provides fun for the whole family, even it they are sitting in separate rows and productions. Theater is still alive in central Florida although it took some body blows, and The Garden is so far the biggest and best company to get back in action.
---