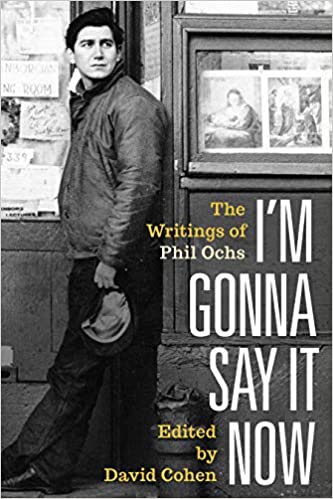 I'm Gonna Say It Now: The Writings of Phil Ochs
Edited by David Cohen
Backbeat Books
Although his contemporaries went on to have perhaps more notable careers—your Dylans or Seegers—at his prime Phil Ochs was every bit their equal. As this collection of his writings shows, Ochs had a razor-sharp mind regardless of the topic, and he wasn't afraid to use it. His early works from his time at Ohio State show a keen interest in the world around him, from Castro's Cuba to disarmament or the state of Russia.
Once graduated, he wrote for the folk journal Broadside while starting his songwriting career. He wrote eloquently on fellow songwriters such as Dylan or Buffy Sainte-Marie, and best-selling folk groups of the day such as the Kingston Trio (yes, at one point folk groups were actually popular, hard to believe). The book collects his poetry, song lyrics, and self-penned liner notes to his albums, as well as later writings on America, which sound eerily prophetic, such as this from "James Dean Lives In Indiana" from the Village Voice: "America is two Mack trucks colliding on a superhighway because the drivers are on amphetamine." He wrote this in 1968, but daresay it is still sadly accurate in 2020.
In writing on Woody Guthrie's legacy for Mainstream in 1963, Ochs begins the piece thus:
The legacy of Woody Guthrie encompasses much more than the thousand songs he put together and the years he spent singing around the country. His legacy is the same as all the great poets of history: that of truth or the search for truth.
He could have been describing himself. Phil Ochs was a protest singer when such things mattered. They still would today, if we weren't so benumbed and distracted by the world around us. Ochs' songs such as "I Ain't Marching Anymore" and "Draft Dodger Rag" still hold up, and no less than Lady Gaga sang Phil's "The War is Over" during the Democratic Convention in 2016. Phil Ochs killed himself in 1976 at the age of 35, after battling alcoholism and depression. While one might ponder what he would say today in the time of Trump, he already told us, years ago. You only have to change the names. I'm Gonna Say It Now shows us the brilliance of a man in the search of truth. We should all aspire to such.
---