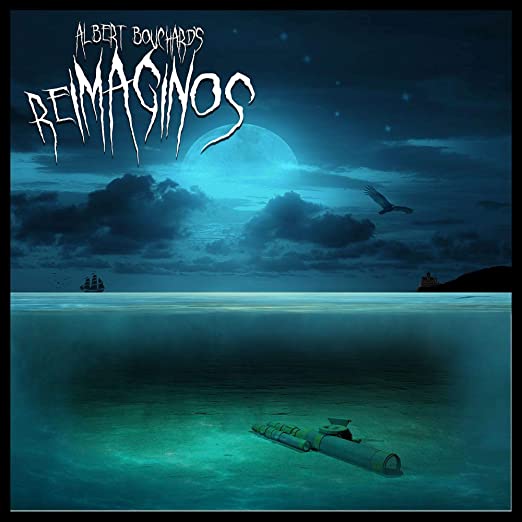 Albert Bouchard
Re Imaginos
RockHeart Records / Deko Entertainment
The Re Imaginos prequel is rather complicated – a 40-year journey that requires a sophisticated GPS to navigate through. While the exact fire of its origin is unknown, the record's confirmed timeline can be traced back at least to 1980. It was then when the adventurous collaborative side project between famed co-founding Blue Oyster Cult drummer, Albert Bouchard and longtime producer, Sandy Pearlman (d. July 2016) first began to bubble formally.
Following Bouchard's 1981 BOC departure, the project morphed quickly into a full-fledged solo effort. Entitled Imaginos, the album was rejected initially by CBS Records in 1984. However, in a wacky chain of events, Imaginos finally was released as a Blue Oyster Cult title in 1988. It met with mixed reviews.
Fast-forward another three decades, and 2020 finds Bouchard "reimagining" and re-releasing his personal labor of love. "Most BOC fans know at this point that Imaginos was supposed to be my solo album," Bouchard stated recently. "Some people think it's the best BOC album, others think it's not a 'true' BOC album. In either case, they're right. I made this new album for them so that they can hear a more properly realized version of the tale."
A creative union of gothic literature colliding with science fiction, the Imaginos story certainly is compelling – deeper than such standard BOC staples as "Cities on Flame with Rock and Roll," "Godzilla" and "Burnin' for You." However, when inspected and dissected simply as a collection of individual songs, Re Imaginos– delivering savory slices of authentic, organic classic rock.
Bouchard's celebrated writing skill combined with his engaging signature-style vocals help the songs feel familiar – songs that likely would have fit nicely on such much-loved BOC albums as Agents of Fortune or Spectres.
Twinkling with tasty piano and bathed with bluesy guitar, "I Am the One You Warned Me Of" makes for a solid opener. Of the record's other most notable moments, "Del Rio Song" is an infectious delight, while the video track, "Blue Oyster Cult" is an honest and pure standout.
Bouchard's tale certainly has traveled a long and winding road. But, for his longtime fervent fans, this 2020 reboot proves that Imaginos still has sufficient fuel in the reserve tank.
---