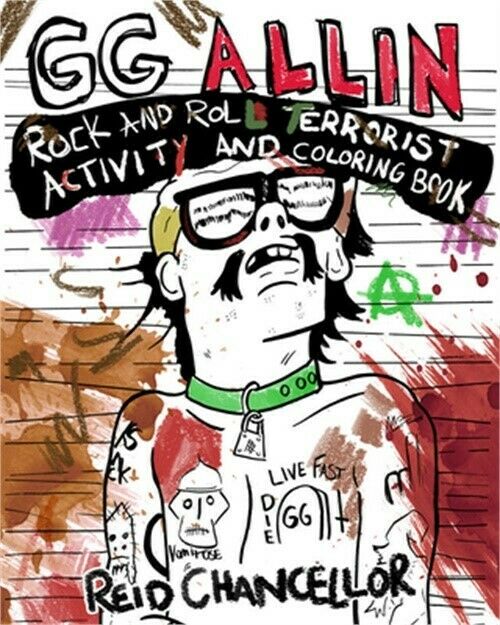 Rock and Roll Terrorist Activity Book
by Reid Chancellor
Microcosm Press
There's hardcore punk, and then there G.G. Allin punk. Allin came from rural New Hampshire to parents who might be nicely referred to as "Bible Thumping." His given name was "Jesus Christ," but his older brother shortened it to "G.G." when he couldn't pronounce the real name. G.G. discovered punk rock and pushed it far beyond the extremities of stage bleeders like Iggy Pop. Allin often assaulted his audience, defecated on stage, and threw the output at his audience. This bad boy of punk drew the attention of Wayne Kramer from The MC5, and Wayne gave him some pointers. Eventually G.G. released several albums, appeared on talk shows, and proudly died of a heroin overdose in the home of a friend named Tommy Puke. This is as punk as you can get.
And what about the product I'm holding in my hot little hands? There are two books here. The first is called Rock and Roll Terrorist, and it paints G.G.'s biography in a black and white cartoon format from his birth to his death. The graphics are primitive by today's Graphic Novel standards, but they recount the world of Allin and his band better than any glossy product out there. Allin was always a desperate figure, unbalanced and maladjusted to the "regular" world, and this cartoon explores the details behind those grainy performance videos he left behind. To really show his world, author Chancellor steps back and gives us a view of Allin's life tempered with enough distance to keep the poop off us, but to still let us see his blood flow.
Book two is the quirkier of the set and should be read after the bio. It's called the G.G. Allin Rock and Roll terrorist Activity and Coloring Book. You'll only need two crayons: brown and red. (I stole that line from the publicist.) Inside you'll find a G.G. Allin quiz, a crossword puzzle, and other activity sheets along with sketches of his defining moments, stripped down for you and ready to color. Don't worry about staying in the lines, G.G. wouldn't. As rock and roll products go, this is the most fun and most intriguing package I've seen. I've heard Allin's music in past, and it is as you would expect: packed with energy and anger and a vocal scream. The holidays soon be upon us, and THIS is the stocking suffer for your punk rock friends. Don't forget to pack the hand sanitizer.
---