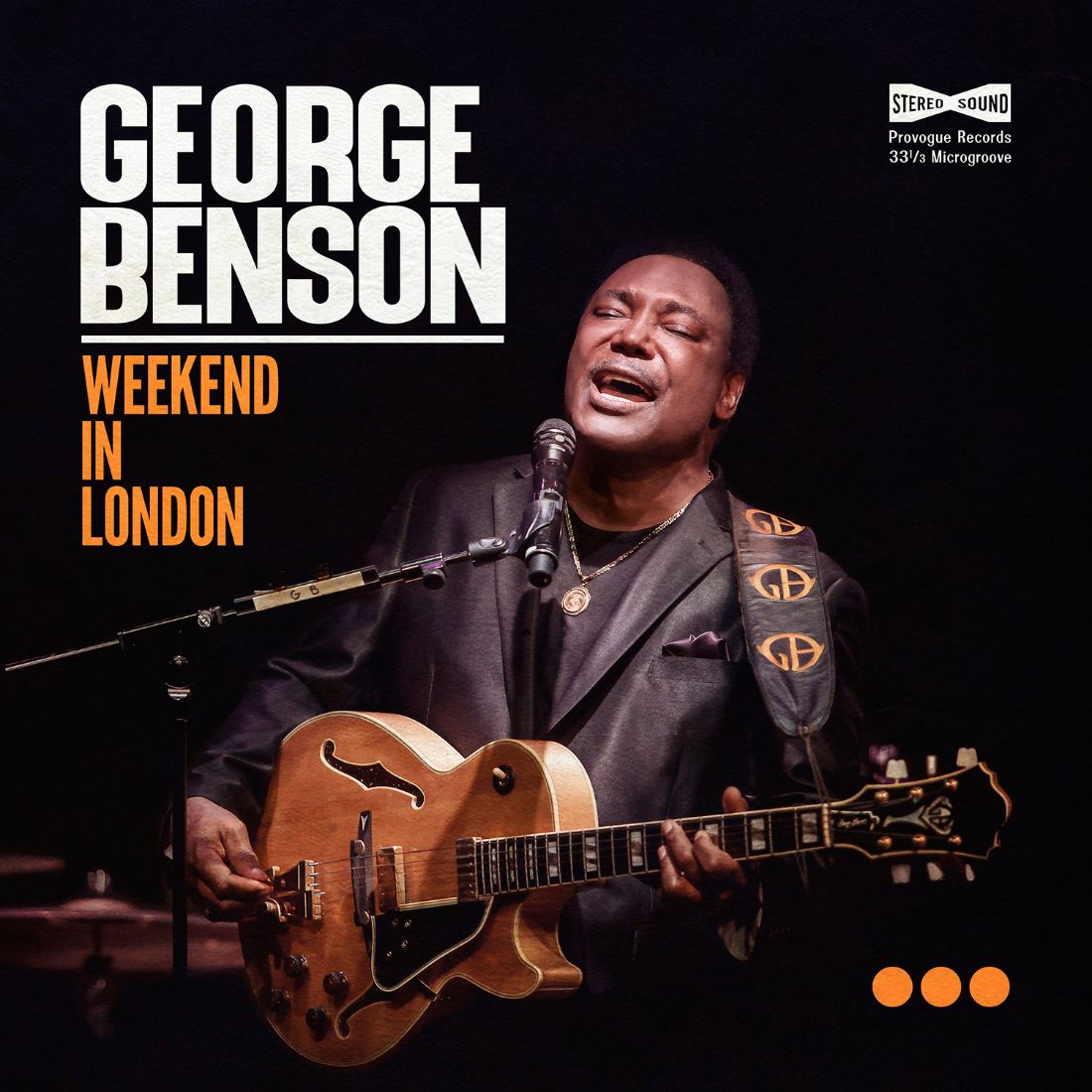 George Benson
Weekend In London
Provogue Records
There he was, the rail-thin, long-haired surf rat standing at the check-out counter of a groovy beachside Florida music shop. Tucked under his arm was his prize – Breezin', the chart-topping 1976 breakthrough album by legendary jazz guitarist, George Benson. What made this particularly odd was that the teen wasn't buying a shiny new, shrink-wrapped CD. It was a used copy – on, LP. Stranger still, this scene didn't play out circa 1980, 1990, 2000 or even 2010 – it was last week. The kid proudly plunked down the premium $25 purchase price, then trotted off quickly with his newfound treasure.
There's good reason(s) why George Benson's work remains relevant and continues to speak to new generations – his artistry is world-class, and his music has consistently defied times, trends and genres. And those points are proven further with his newly-released live record, Weekend in London.
A nod to his 1978 platinum-selling double live album, Weekend in LA, this 14-song set is an impressive, career-spanning collection captured in concert last year before an intimate crowd of 250 at London's famed Ronnie Scott's Jazz Club.
Overseen by celebrated producer, Kevin Shirley (Black Crowes, Joe Satriani, Joe Bonamassa), the record is a sparkling 75-minute tour de force. Truth be told, unpacking all the golden highlights is as overwhelming as sifting through a dazzling 1,000-piece puzzle box.
Straight out the gate, Weekend in London shoots from the three-point line and scores big with the triple threat combo, "Give Me the Night," "Turn Your Love Around" and "Love X Love." Yet, despite the inclusion of Benson's much-loved crossover pop hits (and there are many), the record's true WOW-factor is enhanced when he journeys down roads less traveled.
Driven by Benson's signature-style guitar work and accented by his crisp scat vocals, the Donny Hathaway-penned, "The Ghetto," oozes soulful authenticity, while Jose Feliciano's instrumental, "Affirmation" twinkles as brightly as when it first appeared on Breezin' 44 years ago.
Along the way, Benson treats the audience to a slew of engaging covers. Smoky and bluesy, his remake of Dave Bartholomew's "I Hear You Knocking" more closely resembles the 1955 Smiley Lewis version than Dave Edmunds' rocked-up 1970 reboot. "Feel Like Makin' Love" is a delightfully faithful recreation of the 1974 Roberta Flack smash. The honey-soaked rendition of James Taylor's "Don't Let Me Be Lonely Tonight" makes for another noteworthy standout.
Simply put, you can't be a hack and get a gig with George Benson. Hence, superb musicianship abounds throughout, particularly on "Moody's Mood." Slinky and sultry, this jazz club standard zings, courtesy of the frenzied fills offered by late drummer, Khari Parker. A chilling duet between Benson and vocalist / percussionist, Lilliana de los Reyes, the song is arguably THE "white hot" moment of the performance. As for "Miss Lilliana," she shines like a bona fide superstar. In the iconic tradition of Chaka, Minnie, Teena and Whitney, she possesses the voice of a God-sent angel.
The music of George Benson is timeless, indeed. His soothing guitar style and smooth voice wrap around joyful songs that still beam sunshine – a particularly beautiful thing given today's troubled and turbulent times.
In sum, Weekend in London – come for Benson's legacy. But, stay for everything else!
---