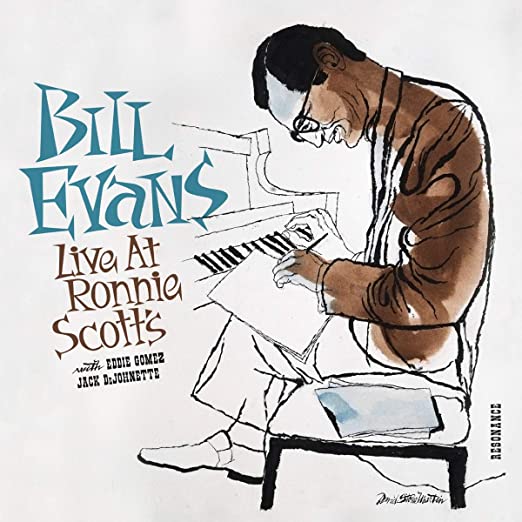 Bill Evans
Live at Ronnie Scott's with Eddie Gomez and Jack DeJohnette
Resonance Records
The folks at Resonance Records have been doing an impressive job of musical archeology. Zev Feldman has scoured the archives of recording studios, radio stations and personal collections to bring to light previously unheard recordings by Monty Alexander, Sonny Rollins, Bob James and Bill Evans. They've done an amazing job documenting Evan's short-lived, but explosive trio with Eddie Gomez and Jack DeJohnette. The trio were only together for six months in 1968 before DeJohnette left to join Miles Davis, but they recorded one of Evan's best-loved albums, Bill Evans at Montreux Jazz Festival. Resonance has already excavated two other recording the trio made in those few months, Another Time: The Hilversum Concert and Some Other Time: The Lost Sessions from the Black Forests. The Ronnie Scott's tapes were hidden away in Jack DeJohnette's personal archive until he brought them to Feldman's attention while they were working on the those earlier releases.
After the trio's Montreux success, they settled in London for a month long residency at Ronnie Scott's. Unlike their normal string of one nighters, moving from town to town, the trio were able to settle in and stretch out. They were able to relax and feel the music without the tell-tale stress of the road. Each disc of this two CD set approximates one of the trios sets. Evan's playing is lyrical with occasional forays into dissonance. Eddie Gomez is up front in the mix, showing his simpatico accompaniment and solo spots. The young Jack DeJohnette injected a jolt of energy into Evan's playing. Possibly because DeJohnette is also a pianist, he has an almost telepathic ability to anticipate and accentuate Evan's piano lines.
For a recording that was made more than 50 years ago and never intended for release, Live at Ronnie Scott's sounds great. OK, it may not be as crisp as recordings that were made for release, but the spontaneity captures in those moments, on that stage, more than make up for any shortcomings. The package is rounded out with a nice booklet that includes interviews with Eddie Gomez, Chic Corea, Jack DeJohnette and Chevy Chase (yes, the comedian). The cover artwork is another rare find; a previously unpublished lithograph by David Stone Martin, whose illustrations graces the covers on dozens of classic jazz LP's of the 1940s and '50s.
Thank you, Mr. DeJohnette for making recording these performances and holding on to them for half a century.
---