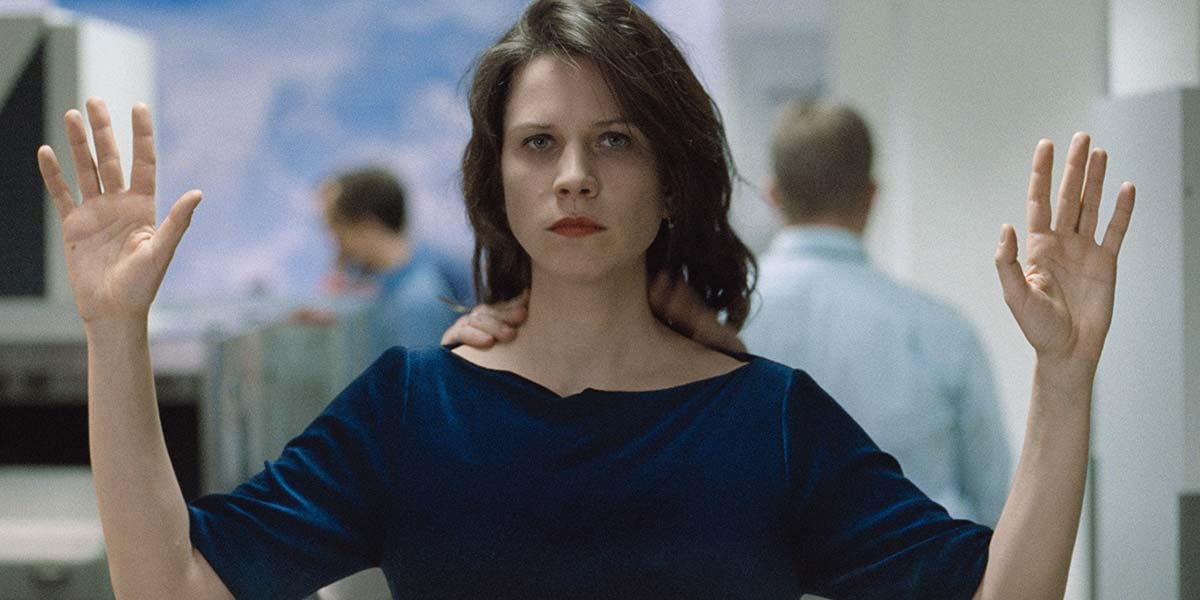 Preparations to be Together for an Unknown Period of Time
directed by Lili Horvát
starring Natasa Stork, Viktor Bodó, and Andor Lukáts
Poste Restante
Shortly into the narrative of Preparations to be Together for an Unknown Period of Time, we observe Hungarian-born doctor Márta Vizy (Natasa Stork) and her former medical school professor, now chief of surgery, Dr. Fried (Andor Lukáts) watching an online video of Dr. Vizy describing an intricate surgical procedure. In the video, Dr. Vizy, who was until recently a resident at the New Jersey Neurosurgery Center, describes in exceptionally precise English her innovative technique which requires the brain surgery patient to be awake and verbal so that she can monitor her patient's response to the procedure. Though it is abundantly clear that Dr. Vizy was a respected professional at her previous hospital, why then has she suddenly abandoned her entire life in the States for a return to her homeland where she must now struggle to have her own voice heard?
Part of the answer to that question is found in the opening moments of writer/director Lili Horvát's intriguing second feature, which, at first, looks seemingly like a romantic genre film. Dr. Vizy, who has lived in the states for almost two decades, recounts a chance encounter that she had with a fellow Hungarian neurosurgeon named János Drexler (Viktor Bodó) at a medical conference in New Jersey. It turns out that during their fateful meeting, the pair chose not to exchange information, but rather to vow to meet again, one month to the day at the Liberty Bridge in Budapest. So, following the prescribed elements of the genre, Dr. Vizy boards a plane back to her native land to make good her promise to her newfound love, but once at the bridge, Dr. Drexler is nowhere to be found. Spurned by his absence, Dr. Vizy races to the medical university where he teaches, but when she encounters him, he has absolutely no recollection of her which causes her to blackout. When she awakens, Márta is obviously dejected, and so she silently heads back to the airport to return home, but, once there, she makes the sudden and unprovoked decision to abandon her life in America and remain in Hungary for good.
While dealing with the severe feelings of rejection expected from traveling across the ocean for nothing, Dr. Vizy makes the decision to speak to a psychiatrist, a burly man who somewhat resembles our Dr. Drexler, who might be able to help her make some sense out of the whole affair. In their first session, Dr. Vizy describes her meeting with Dr. Drexler, but as she speaks and offers odd testimony about her initial encounter with him, Márta's psychiatrist suggests a possible misunderstanding on her part, which further suggests that perhaps this entire scenario might have been a complete fabrication produced by her mind. As she commits to further counseling, Dr. Vizy begins to work at Dr. Fried's hospital, despite his insistence that the place is woefully suited for her level of expertise. Dr Fried also fears that his hospital, which appears to have not changed since the 1960s, is a place where she will be met with jeers from the staff who are likely to find her methods and techniques in conflict with the ones they've commanded, but not updated, over the years.
Despite Fried's protests, Márta continues to make the rounds with her fellow surgeons, but as Dr. Fried predicted, she is instantly rebuked the first moment that she offers a diagnosis that conflicts with the senior doctors on staff. Unflustered by the resistance she experiences, Márta continues to work and is given a case of an affable older man who is having issues finishing his sentences and driving his car. Márta examines her patient and gives her diagnosis and plan for his surgical treatment, but here she is questioned again, not by an older doctor, but by Alex (Benett Vilmányi), the youthful and handsome medical student son of her patient. When Alex insists that his father's surgery must be performed by the older staff doctor and not Márta, he is overruled, and Márta performs the procedure with the older physician as her assistant. But, when he proves to be unsatisfactory in his role, Márta relieves him in favor of Dr. Drexler, who was elected by the patient's family to observe. Márta's confidence excels while doing what she does best, and the surgery is successful. After witnessing the outcome, Alex offers his apologies for doubting Márta and also becomes enamoured with her, while Dr. Drexler starts to respond to her and also apologies for not remembering their first meeting.
In her use of formal elements of romantic cinema to actualize her protagonist's reawakening of cultural identity, director Lily Horvát has created a feature with echoes of Fatih Akin's 2004 breakthrough film, Gegen die Wand (Head On). But unlike Gegen die Wand, which utilizes stark and at times violent moments of ultra-realism for its protagonist to reach catharsis with his inner self, Horvát imbues a constant ambiguity between inner and outer realities to externalize the disorienting cross-conscious states and cross-cultural spaces that Márta is trying to navigate. Throughout Preparations to be Together for an Unknown Period of Time, it is this ambiguity that compels us to examine what we see and hear through Márta's subjective interpretation. Over the course of the film, we, and Márta, become less concerned about what is real and unreal, and instead, watch on as Márta absorbs her surroundings and senses and begins to react intuitively in life as she would in the surgical room.
By the end, we are left with an understanding that Dr. Drexler may be a projection of Márta's true self, the love she had always wanted, the person she wished she could be, or some combination of some or all of these things. Although she had a few friends and was well-respected in the United States, Márta's voice there was never her own, which prevented her from developing the expression she desired. But by seeing (or inventing) Dr. Drexler, the fellow surgeon and gifted writer and teacher, she, under the influence of an overwhelming romantic idea, is finally driven towards the opportunity to find her true voice. And it is this reconciled, discovered voice, in combination with her outstanding professional acumen and knowledge, that will allow Márta to overcome the surrounding antiquated patriarchal structure that she originally left and that will inevitably try to drown her out again along with her own doubts about her mind and self.
Márta's precarious and intimidating boundaries between the real and the imagined have fallen, and she doesn't have to watch everything from a distance anymore. She can listen and speak, and most importantly, partake in all that is inside and outside and everything in between.
Preparations to be Together for an Unknown Period of Time is playing virtually through January 28th via the Acropolis Cinema and the Coolidge Corner Theater. Please also check with your local theater for additional screenings and showtimes.
---