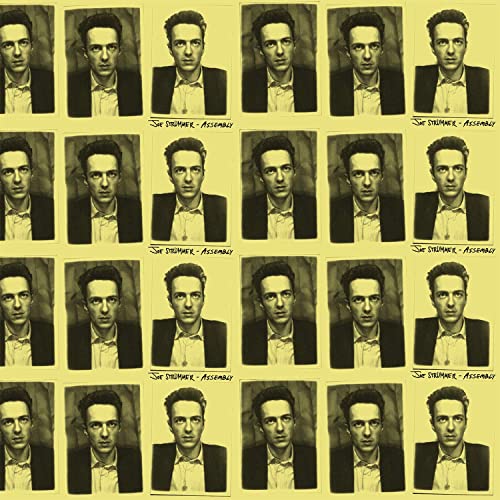 Joe Strummer
Assembly
Dark Horse Records
The Clash cast a long shadow on the career of Joe Strummer. It's almost impossible to go from "the only band that matters" to one guy on his own. It's going to be damn near impossible to live up to expectations. The dissolution of the Clash cast it's own shadow. For better or worse, Strummer tried to keep the Clash going without his writing foil, Mick Jones. It looked like Joe was desperately trying to rekindle the spirit of the band when they did things like a busking tour. Then Cut the Crap dropped. To be fair, Joe and the rest of the band lost control of the process in the studio and their manager finished the record, turning it into a drum machine drenched stinker. So going forward on his own, Joe had to try to live up to some fans unbelievably high expectations AND live down former fans revulsion over Cut the Crap.
The Strummer documentary, The Future Is Unwritten, shows the man casting about to find his muse. He did some acting, he did some radio, he subbed as a Pogue on a couple tours and did a lot of soundtrack work. His solo work reflected his searching for where he belonged. The gripe on his first solo album, Earthquake Weather, was that he was trying to be Tom Waits. When Rock Art and the X Ray Style came out, the knock on it was, "too folky." Joe did find his muse again in London rave scene. The music had nothing in common with punk, but the spirit moved him. Before his untimely death in 2002, Joe and his band the Mescaleros were hitting their stride and people were getting excited for him.
Assembly is a career spanning retrospective put together for Dark Horse Records (yes, George Harrison's label). The selection and passing make the eclecticism of Joe's wilderness years blend fairly seamlessly as a record. The music is all over the map. "Mondo Bongo" is bongo jazz with Tymon Dogg's violin as lead instrument. "At the Border Guy" and "Get Down Moses," bubble up with dub reggae grooves. "Long Shadow," is a thoughtful acoustic number that looks back to Strummer's appreciation of Woody Guthrie. These flavors are complemented by songs like "Coma Girl," where Strummer gets his post-punk rock on. "Coma Girl" is the most punk song on the compellation, but it's all about wandering around a music festival meeting new people. My guess from watching The Future is Unwritten, is that it may be about one of those raves that rekindled his enthusiasm to make music again
Assembly raises the "what if" questions that always revolve around an artist cut down too young. Joe was in his 50s when a congenital heart defect took him away. The posthumous live album and final studio album Streetcore are evidence that there was a lot more Strummer had to say. What would he have done if he lived? This collection pulls the threads of Joe's post Clash solo work together to suggest that he was just getting restarted.
I do have a minor gripe about the record. "I Fought the Law" and "Rudy Can't Fail revisit the Clash canon. Joe and the Mescaleros do a fine job kicking out the jams. For me, the songs unnecessarily force comparisons to the Clash. Maybe listeners who weren't around for London Calling and Sandinista won't even notice. The rendition of the old blues standard, "Junco Partner" put a shiver down my spine. The Clash did a version of this, but this acoustic solo version is stark and feels like Joe is playing us one last song from somewhere in the great beyond.
joestrummer.com
---