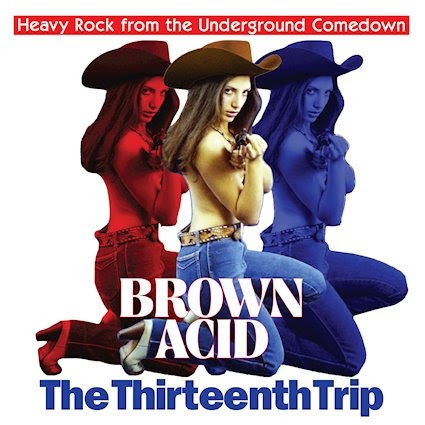 Brown Acid 13
Brown Acid: The Thirteenth Trip
Riding Easy
While music fans might realize that rockabilly, garage, and punk launched hundreds of amateur bands, who knew that just about every city in America had hard rock bands influenced by Deep Purple, Cream, and Led Zeppelin, churning out heavy, musically adept groovers, seemingly radio-ready yet ignored or forgotten over time? The archivists at Riding Easy Records did, and have released thirteen amazing compilations of unheard hard rock, heavy psych, and proto-metal under the Brown Acid title. While it's hard to believe this is the thirteenth collection of these hard-rocking yet forgotten tunes, it's equally mind-blowing that a collection this far into the series can be so strong.
Brown Acid: The Thirteenth Trip presents another ten rockers that should have been all over the airwaves in the late '60s/early '70s, but for whatever reason never got the breaks to become household names.
It certainly wasn't lack of talent that held these bands back. The compilation opens with "Run Run" by Ontario's Max, crafted around a rising guitar riff and employing a groove recalling prime James Gang. If you want fuzz, it's delivered in excess on the next song "Dark Street" by Ralph Williams and the Wright Brothers, which sounds like a collaboration between Deep Purple and Blue Cheer. These songs were well-crafted, and the musicianship is top-notch, like the vocals in Gary Del Vecchio's "Buzzin," or the guitar solo and Bonham-influenced drums in Master Danse's heavy blues "Feelin' Dead," and almost all the bands show mastery of the primal riff. It's not all pummeling, however, The Thirteenth Trip closes with the insanely catchy "Detroit" by Good Humore which recalls "High School" era MC5 with a cleaner sound.
After just a few plays, these songs were firmly lodged in my head, once again prompting the question, "Why weren't these bands all over the radio?" While I'm sure each bands' situation was different, it adds up to a tremendous missed opportunity by the major labels at the time.
Their loss is your gain, however, as Brown Acid: The Thirteenth Trip curates an incredibly strong collection of forgotten hard rock nuggets that deserve to heard and played loud. You can also feel good about knowing, that unlike some compilations of unknowns, Brown Acid actually contacts the artists and fully licenses their work. Ethically sourced fuzzed-out monster guitar licks! What could be better?
https://ridingeasyrecords.bandcamp.com/album/brown-acid-the-thirteenth-trip
---