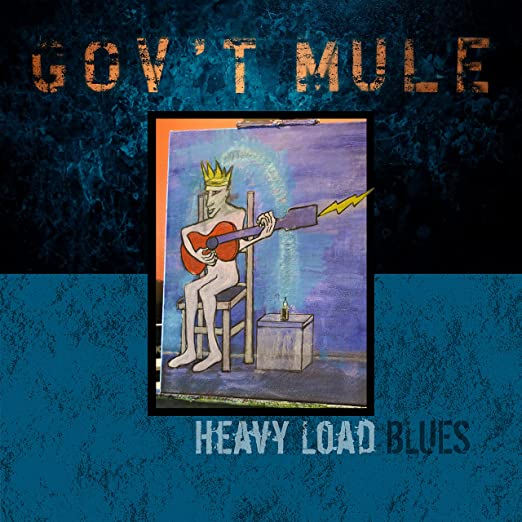 Gov't Mule
Heavy Load Blues
Fantasy Records
For a band who formed in 1994 and has tackled almost everything imaginable, Gov't Mule is still finding new ways to widen their sound and bring fresh new music to their fans. Heavy Load Blues is, surprisingly but true, the first blues album by the quartet, and according to Haynes it has been a long time in the works. Haynes says about the project, "This album gave us a mission… we wanted to stay true to the spirit of the blues in a traditional sense."
And while "traditional" conjures up a variety of directions, the Mule way of bringing "traditional" to these songs is a hard nod to the genre's roots, while creating an album that is a 50/50 mix of blues hits and new songs written by Haynes for the album. The 1934 Leroy Carr penned hit "Blues Before Sunrise" explodes out of the gate with great slide and keys, while a song like "I Asked Her for Water'' uses Haynes's guitar to substitute the growl the song carries when performed by Howlin' Wolf. "Snatch It Back and Hold It > Hold It Back > Snatch It Back And Hold It" is a fresh take on the Junior Wells classic with Gov't Mule adding some nice improvisation to the song, the "Hold It Back" section, before rolling back around to the basics of the song.
The band also created the authenticity of the sound by tracking the album to analog tape, as they usually do, but also live in the studio and using vintage equipment close to the eras that the songs were written in. This creates a palpable vibrance to the sound, and in cases like the Tom Waits song "Make it Rain," a reverb tank picking up some RF frequency during the tracking adds extra character to the track. And as the studio was within driving distance of Warren's house, he was able to bring in a variety of amps and instruments that generally do not get to be recorded in order to attain true authenticity.
The Gov't Mule originals weave themselves seamlessly with the classics, and both the album's namesake "Heavy Load" and the final song on the album, "Black Horizon," are acoustic songs with incredible depth and feeling. Gov't Mule also recorded a long overdue studio version of the Haynes track "If Heartaches Were Nickels" first covered by Kenny Neal in 1994 and later by Joe Bonamassa on his 2000 album A New Day Yesterday. Additionally, for fans looking for more of Heavy Load Blues, a deluxe version of the album includes 8 more songs, including 2 live tracks, another Haynes original, and songs by Muddy Waters, Savoy Brown, Otis Rush, and more.
Heavy Load Blues is now available on all streaming platforms and online retailers. The Gov't Mule website has CDs and digital downloads, standard vinyl, copper and gold vinyl, as well as the deluxe versions available. It's a must-have addition to Gov't Mule fans, anyone who has an appreciation for analog masterpieces, and fans of the blues.
---