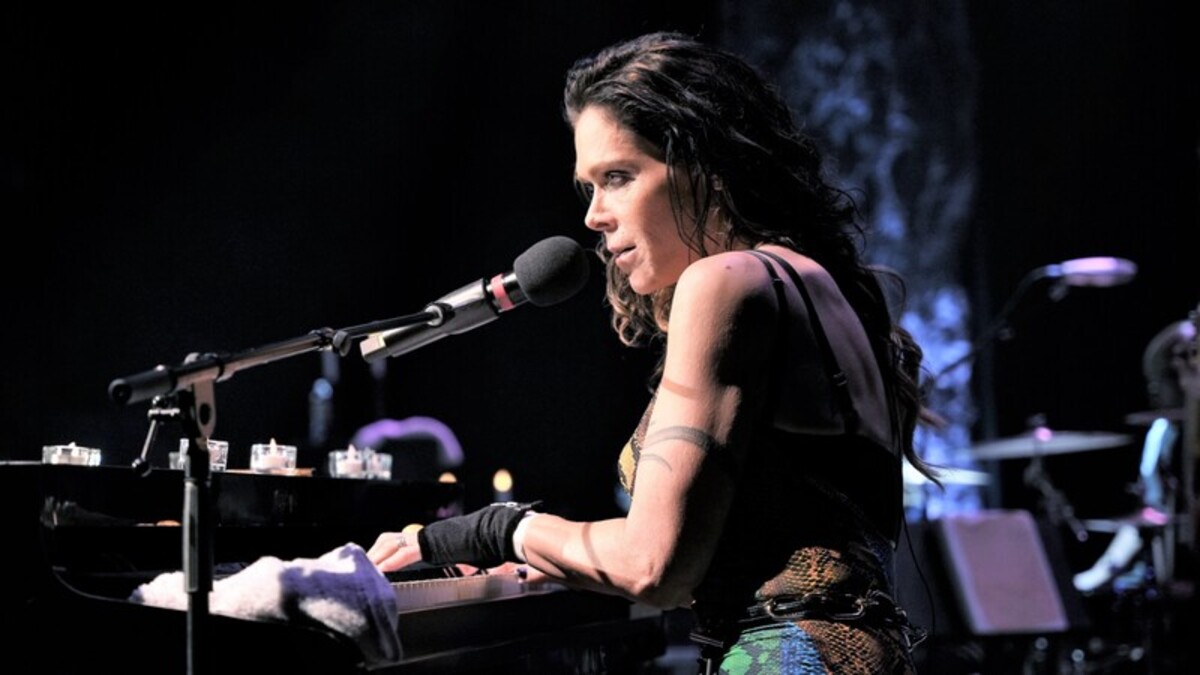 Beth Hart
with Vella
The Plaza Live, Orlando, Florida • April 30, 2022
by Michelle Wilson
The Plaza Live in Orlando, Florida got rocked to its sold-out rafters Saturday night, as the one and only Beth Hart unleashed a scorching set of blues, jazz, rock, and soul. With her rich, contralto vocals and soul-baring stories of abuse, addiction, sex, redemption, gratitude, and love, the beloved blues queen kept the crowd entranced for a solid two hours. There's no doubt that another two hours would have been just fine. Every song had a story, and every story was her life. Backed by longtime collaborators Jon Nichols (guitar), Bill Ransom (drums), and Tom Lilly (bass), Hart was in her element as the foursome grooved like a well-oiled machine. "I just love, love, love being able to sing with you guys. It just feels like church." And church was, indeed, in session.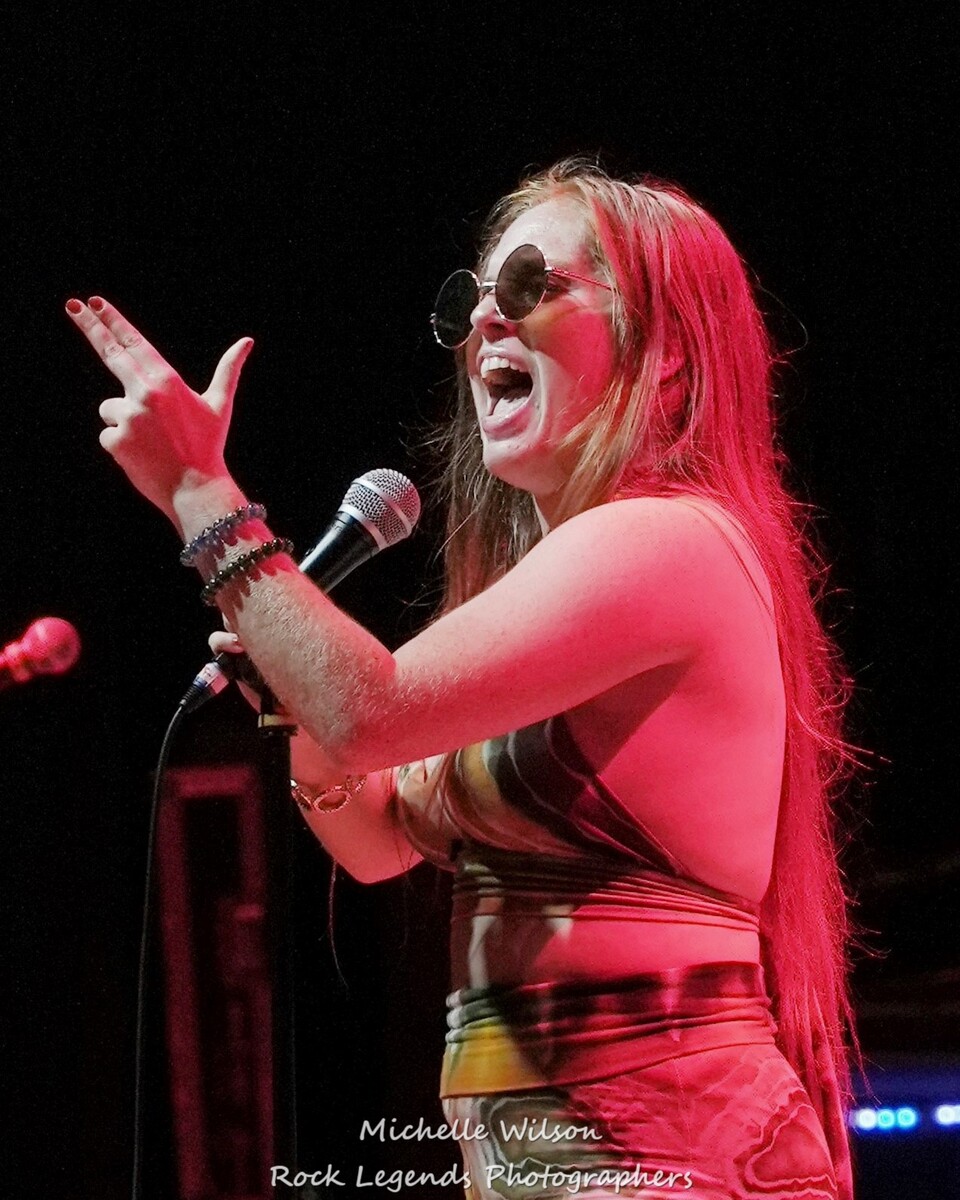 Opening the show at 8pm was Tampa, Florida native Vella (Gabriella Valdes), backed by acoustic guitarist Adrian Padilla. If you haven't heard the name Vella yet, you definitely will soon. Completely comfortable in her own skin at only 18 years old, this young woman can belt it out like a seasoned pro. Self-described as "the love child of Amy Winehouse and Janis Joplin," the blue-eyed soul rocker's voice will make your hair stand on end in the same way that Hart's vocals do. Even Hart sang her praises, writing "Vella Rules" in Sharpie across her arm and predicting that the newcomer will have a long singing career, both true testaments to her ability. She even wished that Vella was her daughter. Due to some unforeseen snafus, I missed the first song or two of Vella's performance, but the 30-minute acoustic stunner did include her two blazing originals "Pull The Trigger" and "Out of Control," as well as "Blue," cowritten and recorded with Macy Gray, plus blistering covers of Everybody Loves An Outlaw's "I See Red" and Gnarles Barkley's "Crazy." This phenom is seriously going places, and I look forward to following her meteoric rise.
At 9pm, the house lights faded as the musicians took their places. While Hart's resonant tones were audible, she was not visible. The spotlight suddenly focused on the darkened rear of the theater, and her lithe figure emerged, gliding down the aisle barefoot amid a swirl of fans, greeting them and singing "Tell Her You Belong To Me." In a slinky, floor-length, multicolored snakeskin-patterned dress, she reached to high-five someone but abruptly pulled back and laughingly stated, "Can't touch you because of Covid, you know?!" But moments later she was hugging concertgoers in true Beth fashion. Never far away was her beloved husband and manager, Scott Guetzkow, keeping her safe. I stood next to him in the photo pit while she continued her greetings. As she ascended the stage stairs, I marveled at their devotion to one another. Standing center stage and jumping up and down as she continued singing, Hart then took her place at the piano to finish out "Tell Her You Belong To Me," the scathing piece she wrote when her father's wife kept him from seeing his children. Following it up with a rocking "Bad Woman Blues," Hart expressed what everyone was no doubt feeling. "Man, this venue is so awesome, isn't it? I feel like we're all in a living room together. It's just killer." That is EXACTLY how it feels at a Beth Hart show. Throughout the event, Hart brandished a bamboo stick in the shape of a cigarette. After quitting smoking a year ago, her husband began cutting and baking bamboo sticks for her to hold in place of a real cigarette. That's some pretty ingenious stuff.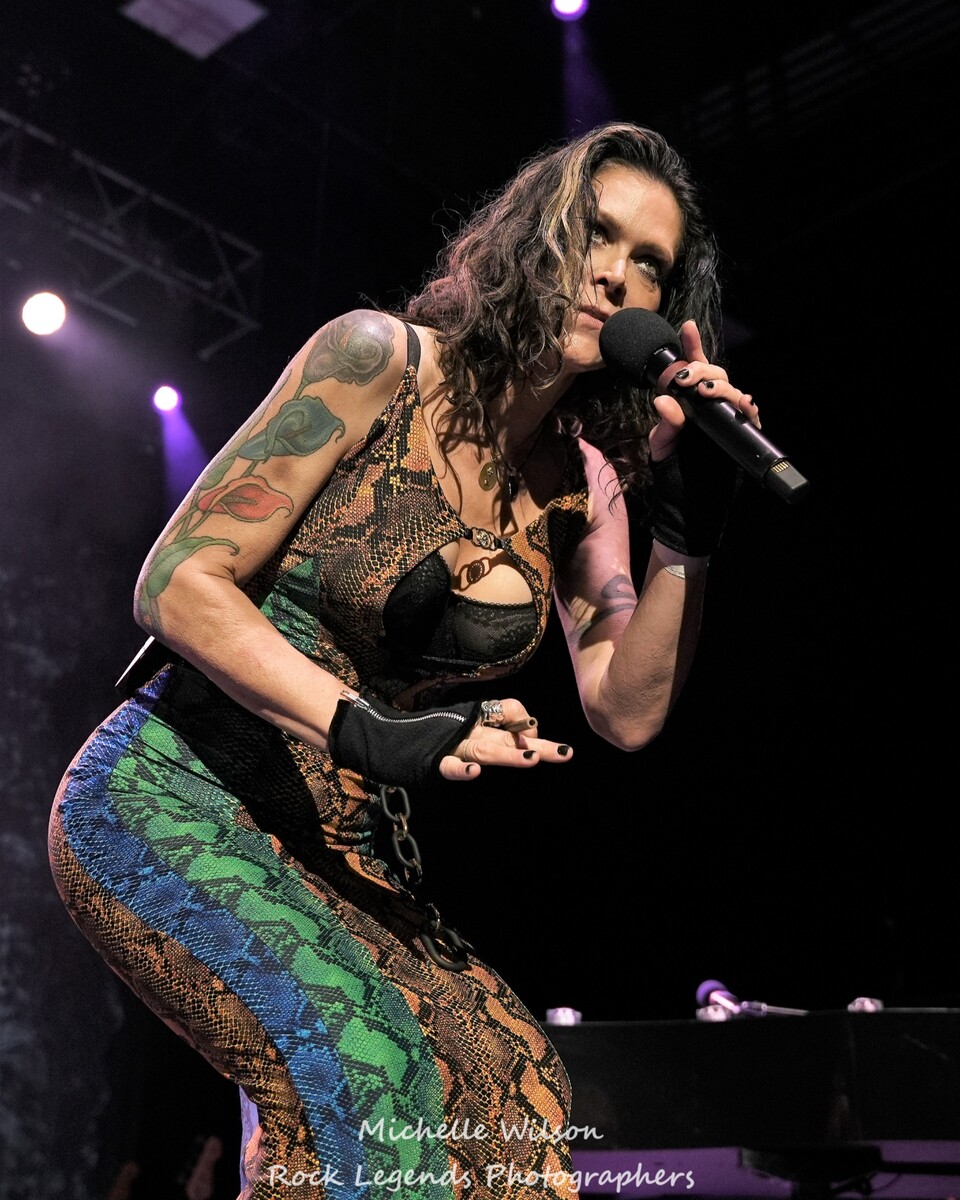 After a funky version of Al Green's "Rhymes" with everyone up and out of their seats singing along, Hart explained the inspiration behind her next selection, "Delicious Surprise." If you're familiar with her history, you know that she lost her dear sister, Sharon. "My sister Sharon was my hero." But this song was inspired by the OTHER sister and was "based on what the asshole sister had to say… whatever it is that you dream of or you want, you just get up and go for it. It doesn't matter if you get it. The fun part is just going for it." After the song, she thanked a fan for gifting her a necklace during the entrance. "When I get gifts from you guys, I don't feel worthy because you guys already let us get to do what we love to do, and you let us be who we are and show so much love. So when you bring, like, gifts, you don't ever have to do that at all, dude! You are the gift! You know what I mean?"
Slowing down the tempo with her jazzy, blues-infused cover of Melody Gardot's "If I Tell You I Love You," Hart sat on a stool and shared that Gardot is one of her favorite singer-songwriters in the world. Returning to the piano with a poignant rendition of "Skin," a powerful, heart-wrenching piece written about her late sister, Hart shared that Sharon's daughter, Jade, is the light of her life and that she also has a daughter named after Sharon.
Remaining at the piano, Hart then segued into the "fun in the sun" song, "As Good As It Gets," and she mentioned how she is a recovering alcoholic but that she does talk about drinking in the song, "and so for those of you who get to drink, you lucky motherfuckers!" Still at the keys, she mentioned how great it is to be touring the United States again before playing the jazzy "Swing My Thing Back Around."
Hart lavished praise on several guitar players including her own, Jon Nichols (who has been with her for 22 years), Buddy Guy, Jeff Beck, Eric Gales, Eric Clapton, Jimmy Page, and Joe Bonamassa, the latter for whom she wrote "Rub Me For Luck." "Everybody's different, and you get to hear who they are through their axe." The band sounded incredible on this track, but it was Hart's keys and vocals that truly sparkled.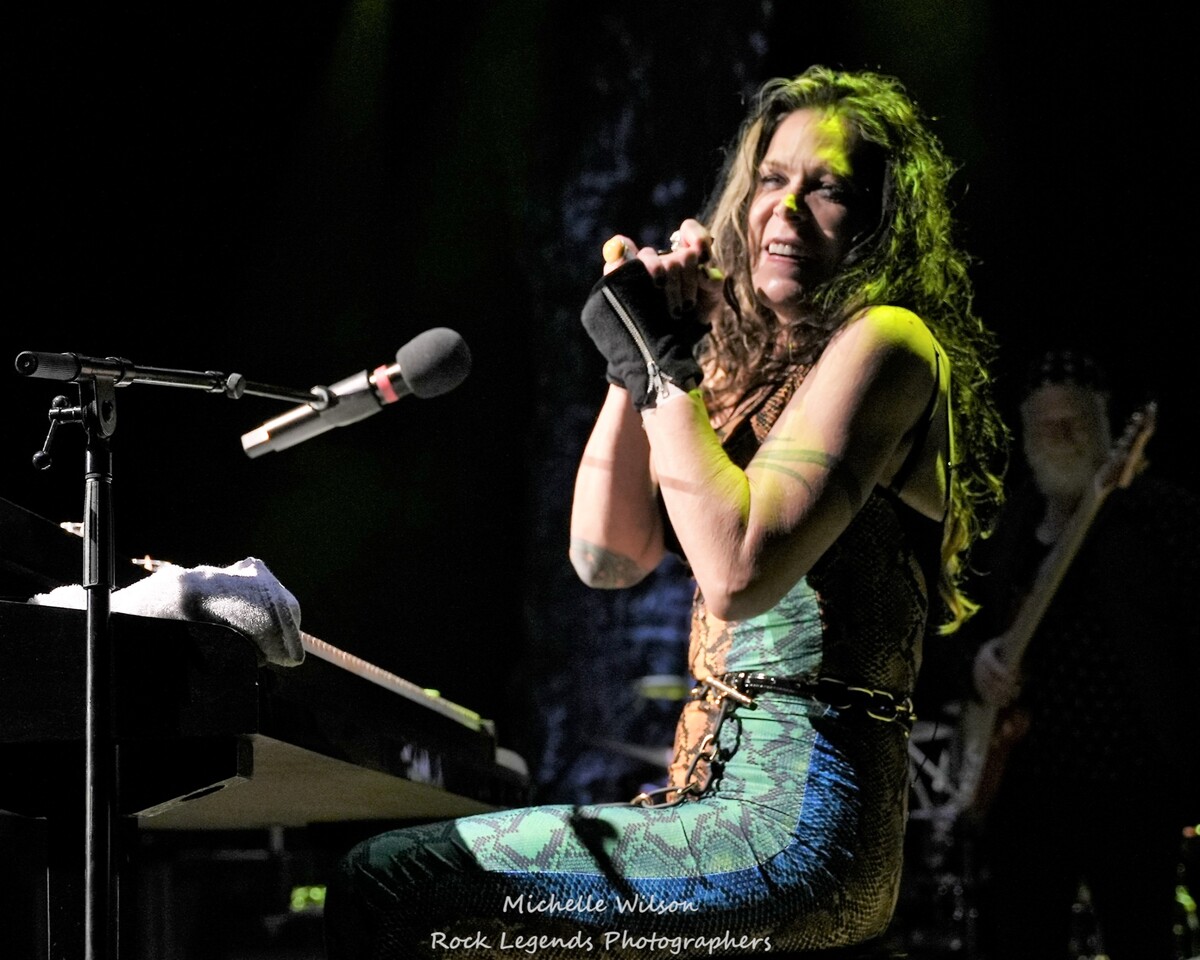 Only Beth Hart could sit at her piano and relay stories about her husband's coolness with her going to strip clubs alone, the first time they had sex after a concert and an Ecstasy-fueled night (Scott: "I'm gonna have sex with you tonight." Beth: "Dude, you are never getting this cooch!"), and the morning after when Scott told her not to tell anyone, and she opened the door of their tour RV and screamed "Hey I just had sex with Scott, everybody!" and make it all seem perfectly normal. But before all that, she shared how she started drinking alcohol and doing drugs at 11-years old, and how she met a guy when she was 14 who "beat the shit out of me a lot." But then, miraculously, "thanks be to God I met Scott when I was 27." After getting married and staying clean for many years, she fell off the wagon and contemplated suicide. She went to a Korean church for six weeks, and even though the services were in Korean she kept going back. Finally, a female pastor named Pastor Kim ("she is my Spirit Mother") did an English sermon and helped Beth understand gratitude and faith. She has been sober for over seven years. And with that, she broke into "War In My Mind."
Leaving the piano again, Hart came center stage to perform "When The Levee Breaks" (Memphis Minnie and Kansas Joe McCoy), one of the two Led Zeppelin covers of the evening, the other "No Quarter." The duo appears on her new release, A Tribute to Led Zeppelin (read my Ink 19 review). Both were stellar, and she went out into the audience towards the end of "When The Levee Breaks" and also threw in a snip of "Dancing Days" as she went back on stage. Nichols played some tremendous slide guitar as well. Lilly moved to keys as Hart sat on the stage edge and absolutely slayed "No Quarter" with chill-inducing precision. She NEVER went over the top.
Returning to the piano, Hart dedicated "Mama" to all the different types of mothers out there. Overcome with emotion, she had to stop for a few moments, but the crowd rallied around her, and she soldiered on. Her fans REALLY, REALLY love her, this one included. She apologized, and followed with the perfect pairing, "I Need A Hero."
Dedicating the gut-wrenching "Leave The Light On" to Vella after seeing a piece of Vella's TikTok cover of the fan fav and weeping, Hart finished the song as her husband ran on stage to embrace her, something he often does during shows.
The band members moved to stage front and Lilly switched to upright bass, Nichols to acoustic guitar, and Ransom to percussion, while Hart remained at piano and oozed out the ultra-jazzy "Without Words In The Way." The band remained at stage front and Beth came to sit on her stool once again, rocking out to "Sugar Shack" and "Fat Man," a song about a drug dealer. As Nichols switched to electric guitar and Hart piled her long, wavy hair into an updo, the band finished it out with a funkadelic Bill Withers cover, "For My Friend." Nichols' guitar work was outstanding. Hart mentioned that "Ain't No Sunshine" was the first song Withers ever wrote and that he was only 19 when he wrote it. "It was his first freakin' song. It's like, hello?"
Briefly exiting the stage at 10:52 and reappearing at 10:54, Hart wowed the house with a long-time crowd pleaser, her Etta James cover of "I'd Rather Go Blind." At 11pm it was all over, and literally no one had left. Hart stated that she loved the night and it was her favorite one of the tour. "You guys are great! I want to take you home with me!" I want Beth Hart to perform in my town every night for the rest of my life. That still wouldn't be enough. There are no words to describe the experience of a Beth Hart concert. If she rolls through your area, treat yourself to the experience. There's nothing quite like it.
Check out the full galleries of photos from Rock Legends Photographers.
smugmug.com/bethhart • smugmug.com/Vella • bethhart.com • vellamusic.io
---