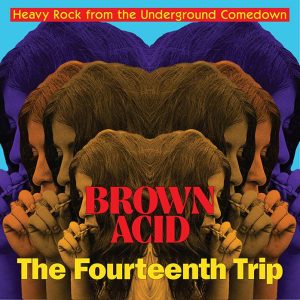 Brown Acid: The Fourteenth Trip
Riding Easy Records
Just how many semi-great acid rockers are there? This is Riding Easy's fourteenth collection of Brown Acid, psychedelic tunes you missed back in the day—and you weren't the only one absent in the School of Rock that day. All these rockers were off my radar screen in the old days, but they all sound pretty good.
We begin this collection of just nine tracks with "Fever Games" by The Legends. There's a compelling mix of vocal riffs along with a reference to the Jimi Hendrix Experience in the lyrics. It's a strong start, followed by another chunky rhythm section and a wild guitar on "I've Been You" by Mijal & White. More earthy bass and drums drive the tune, but here the lyrics expand the concept of tripping out with a more industrial feeling.
I love the title on track three, Liquid Blue's "Henry Can't Drive." Maybe he rocks hard, he drives hard, and he never worries about parking. While Henry's working the pedals, there's a dueling guitar sound backing the exercise along with cunning bass and drumming. As time expands and contracts in the world of acid rock, soon we are up to track four, "Signs," by San Francisco Trolley Co. This is a blues powered rocker, and it has no relation to that minor hit by the Five Man Electric Band. Instead, it's a tight number with decent guitar solos and clean, if rather flat, arrangement. I won't cover all nine tracks here; I want you to have some sense of discovery. But I'll do one more to make and even five, "Need A Friend," by Blue Creed. This band spits fire and boasts machine gun drumming and a growling bass lead singer begging "What are you gonna do when you need a friend?" I think you would need this collection, it draws friends.
If you're not already in the psychedelic musical mindset, your best bet would be to get copies of the earlier releases in this series. Lava lamps are optional, but recommended.
---