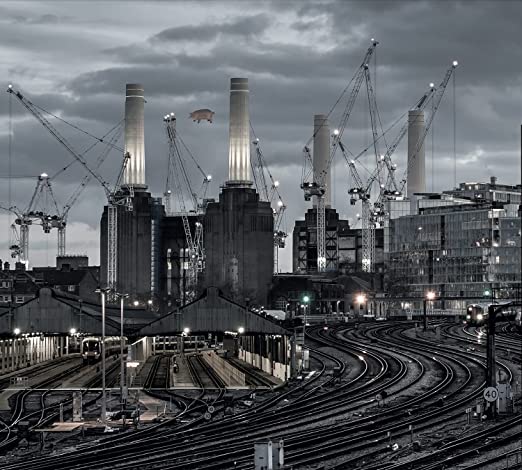 Pink Floyd
Animals 2018 Remix
Sony Legacy Recordings
If you just can't get enough of late-century art rock, Pink Floyd's Animals 2018 Remix might well become the capstone of your temple of vinyl classics.
Animals was Pink Floyd's tenth album, and while wildly popular, they had yet to have a successful single. They weren't a band that cranked out pop tunes, they were a band that created high concept spectacle, more like good symphony from the 1800s. Pink Floyd (and no, no one in the band ever had that name) had nine albums under their belt when they released this gem in 1977. The band hadn't really recovered from the loss of Syd Barrett, and this project seems somehow a continued grieving for that loss.
The basis of Animals comes from from George Orwell's writing and examines the metaphorical value of the pigs, dogs, and sheep (or industrialists, managers, and workers) that made up British society. It consists of three rather long tracks and two shorter pieces that might be considered an alternate ending to the "Pigs" segment. The band had been working hard for 10 years, and while all their projects had unique aspects, this might be the quintessential Floyd album. It does not have a proper linear story with antagonist and protagonist, but it does return to the frankly weird experimental stuff they issued earlier in their career. That's my take, and you are welcome to disagree, but not until you've heard their full catalog. If you get that far, I'll buy the first beer.
The music is classic Pink Floyd, flowing and soaring and using unusual tempos to break new ground. The full lyrics are included, and they echo a much darker mood than their earlier music. Reading the lyrics is a dark task. The words in "Dogs" are particularly gruesome: here, life is reduced to street hustling. "Sheep" opens with the prophetic "Only dimly aware of a certain unease in the air…" I might suggest reading the lyrics first if you are new to this album—some of the really bitter stuff is easy to miss in this complex story.
Another historical element in this set is a fine collection of images. The publicity for the initial release was typical, but press featured a large helium-filled pig named "Algie " attached to the Battersea power plant, an icon of failed (or at least obsolete) English technology. It broke loose perhaps intentionally and floated around town, threatening the approach pattern for Heathrow Airport. You have to admit, this was publicity of the finest kind: the band was detested on the BBC for several days.
Animals 2018 Remix is available on CD, LP (with gatefold artwork), Blu-ray, and SACD, and a Deluxe Gatefold format is out there, too. The product marketing is almost overwhelming. For us low rollers, there's a CD, a Blu-ray and a vinyl release with booklets. Then for those seeking a more complete overview, there's a package of all those options or a three-disc version of different audio mixes on a Blu-ray. Then they add a direct streaming option, just for completeness. If you're a high roller, go for the full metal release package, it's a hummer. If you obsess on that sort of thing, this is a mother lode. If you're an old hippie like me, this could be a way to recall the good old days. And if you are just discovering the joys of ancient music and ancient musical formats, I think this will give you more options than you could ever want or need. I wouldn't know where to start.
---