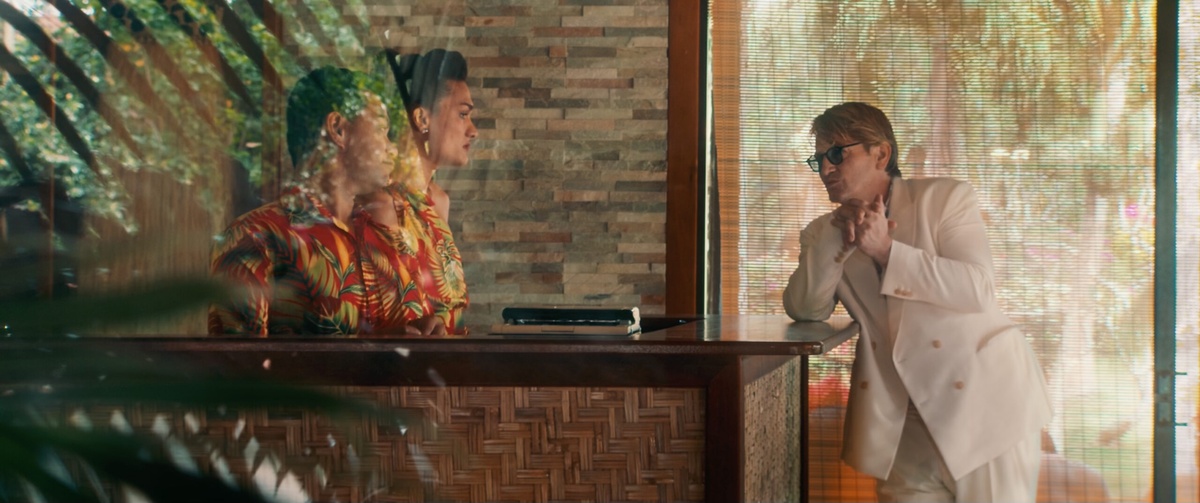 Best of Film 2022
Connectivity.
Over the past few years, we've tried to select a handful of words to describe undercurrents in our favorite films of the year. For 2022, one word overwhelmingly emerged as the winner to link the films that inspired and demanded us to look more closely at the cinematic form and our world at large: connectivity.
This year, every film in our Best Of list addresses our attempts to connect with people and/or places in some way. Sometimes the connections are new ones. Other times, they are old ones that are changing. And, more often than not, they fail to meet original expectations. Despite the likelihood of disappointment, connectivity is more important than ever, and our favorite films underscore the fragility of human interactions in an era where a past pandemic is now in the rearview mirror and distant warning signals of future ones may be ahead, keeping isolation at the top of our minds.
There are a multitude of approaches to such a broad concept in our shifting times, and consequently, this year's list has entries from a variety of genres. Some veer towards science fiction. Many incorporate hybrid cinema techniques. One is a pure documentary. A few are dialogue-centric. And, a couple even have comedic roots. As thus, we hope that each film covers a distinct facet/perspective of our world and that, collectively, they propel us towards a hope for a new (or at least restored) sense of awareness for everything, big and small, moving around us.
We send immense gratitude to the fine folks at Acropolis Cinema, AFI Fest, Independent Film Festival Boston, the Brattle Theater, Films at Lincoln Center, and the Coolidge Corner Theater for their outstanding programming efforts that brought exceptional works to screens and audiences throughout the year. Please support these festivals, microcinemas, and independent theaters as they are vital to the progress and strengthening of our communities.
• •
Pacifiction / France, Spain / dir. Albert Serra
In the earliest scenes of Pacifiction, French Navy sailors land at a small harbor, and soon after, a disarmingly sickly, yet mesmerizing sky fills the screen. Immediately, we begin to suspect that we are somewhere in Rainer Werner Fassbinder's adaptation of Jean Genet's Querelle. But, as Pacifiction hones in on Monsieur De Roller (Benoît Magimel), a High Commissioner to French Polynesia, we start to detect echoes of Bertrand Tavernier's Coup de Torchon, setting in place the expectations of a story about a wayward colonial government representative long forgotten because of time, distance, and insignificance. However, throughout Pacifiction, Serra navigates away from any familiar narrative devices and continuously re-directs all of our attention to Monsieur De Roller, whose actions present a fascinating, morally ambiguous, and unsettlingly contemporary character. De Roller is not like the morally decrepit of the past. He's not a hedonist. He's not an ideologue. And, in fact, he maintains positive (though palpably fragile) relationships with most around him — so much so that he is someone that both Polynesian community leaders and French expats trust. But, De Roller is a deceptive, complex figure, and Serra allows us to study his actions and conversations to try to decipher his motivations. After we see stern, diplomatic, amiable, and pseudo-casual versions of De Roller through his interactions with others, we take notice of something consistent in his demeanor: control. Not that of a dictatorial kind, but rather control that comes from a keen understanding of the people around him and the ability to push and pull different strengths and tensions in order to maintain stability and peace for himself in his environment. De Roller's attentive yet noticeably distant countenances in most settings reveal his lack of commitment to any particular cause, yet his words, particularly terms of negotiation, often acknowledge, address, and take some action on his conversational partner(s) concerns. De Roller doesn't want to help people, but he does want to maintain his control over the systems he has mastered in his surroundings: positive outcomes are necessary, and acts of physical violence towards his fellow inhabitants are generally avoided because of their long-term consequences. This approach works perfectly for De Roller until an admiral (Marc Susini) arrives and continues to reappear in De Roller's social circles while rumors of the return of nuclear testing spread, stirring up paranoia in De Roller as French military powers threaten the equilibrium he's created for himself and remind him of his insignificance beyond the shores of French Polynesia. Pacifiction stands out as Albert Serra's most approachable work to date, but despite the illusion of a narrative laden with images that evoke familiar motifs in fictions of the past, Pacifiction slyly uses known conventions to mislead you towards a grand ending or a climax that never happens. Instead, we enter a paradoxically hyper-real and hyper-fictionalized world that mirrors our own distortions of reality and see it through the hyperbolic, morally indifferent eyes of De Roller, who perfectly represents the collision of unsavory geopolitical histories, strategic diplomacy and conciliation, basic self-interest, and powers far beyond our grasp and perception, all of which are forces that underlie our own daily actions, even if we don't want to be aware of them.
• •
Memoria / Colombia, Thailand / dir. Apichatpong Weerasethakul
Though many in the US had the opportunity to see Apichatpong Weerasethakul's Memoria in 2021, it arrived in our town via its roadshow (which is still ongoing!) earlier this year. Set in Colombia, Memoria centers our attention on Jessica (Tilda Swinton), an orchidologist on a visit to Bogotá for a mix of professional and personal reasons. Her sister lives there and is currently in the hospital with a peculiar unknown illness, so Jessica has arrived to comfort her, and while there, she takes the opportunity to do some research on orchid fungi for her work as well. However, the sudden onset of a thunderous sound that only she can hear pulls her out of her own life as she tries to find its source, and in doing so, she experiences a different kind of life guided by her connections to the people and places around her. Jessica becomes a transistor for the collective energies and memories of her surroundings: she absorbs and amplifies tones from modern histories, individual pasts, primordial times, and possibly even extraterrestrial presents, and through her immersion, we too are able to connect the same frequencies reverberating in ourselves as we sit in our theater seats. A film not to be watched but rather experienced because of its sensuous audio and visual elements, Memoria has been (and will only ever be) available in the US through limited engagements in theaters, major and minor, across the country. And such an exhibition and distribution method is only too apt for Memoria because, in going to theaters to see the film, we too are actively sharing a collective experience, a practice that had been put on pause since the COVID-19 pandemic and, as a result, has become layered with our own recollections of the past and hopes that communal connectivity around cinema can be restored again one day soon. Read our full review of Memoria here.
• •
The Cathedral / United States / dir. Ricky D'Ambrose
It is oddly fitting that this review of Ricky D'Ambrose's family epic, The Cathedral, is being written only a few days after the passing of Jean-Marie Straub, as D'Ambrose's second full-length feature bears many of the minimalist visual attributes and verbal punctuations indicative of the works of Straub and his longtime partner, Danièle Huillet. However, The Cathedral diverges from the mostly text to screen relational works of Straub-Huillet in its narrative construction, which is based on moments that are naturally recalled from memory. Created as a semi-autobiography, The Cathedral focuses the on the pre-college life of only child Jesse Damrosch (portrayed by both Robert Levey II and William Bednar Carter), the son of Richard (Brian d'Arcy James) and Lydia (Monica Barbaro), suburban Italian-American parents who struggle mightily to maintain their family's middle-class identity and status. Framed against a backdrop composed of major world events from the 1980s through the 2000s, which are dispensed through interjected news reports, the moments of familial misunderstandings and deafening silences endured by Jesse during his upbringing reach levels that rival these grand historical events when experienced through the mind of a young man who knows only his family's contained world. Impressively, D'Ambrose presents the Damrosch/his family's tribulations without the use of any over-dramatic staging of their dysfunctional moments, which has become the norm in films that depict the Italian-American experience. As we watch businesses fail and relationships falter in The Cathedral, we clearly understand the causality of these shortcomings: they stem more from the Damrosch family's inability to fully integrate due to a socioeconomic system that is likely set against them, and less from what is usually seen in cinema when the failures of Italian-Americans are the results of a lack of desire to acclimate and, thus, move away from an outdated cultural imperative. Throughout The Cathedral, D'Ambrose artfully maintains a distance to his story through sound and framing that provide us with a clear lens that, to some, may feel overly unemotional, but is no less impactful and honest in its personal message of disenfranchisement.
• •
El Gran Movimiento / Bolivia, France, Qatar, Switzerland / dir. Kiro Russo
In the La Paz presented in El Gran Movimiento, practices and traditions of the past coexist alongside the mercantile systems of the present and the forces of capitalism steadily making their way through the geographies, architecture, and sociopolitical structures in and around the city. Kiro Russo takes us through and between all of these different energies with flashes of sound and images, zoomed in and out, to form a buzzing kaleidoscope of La Paz with components radiating from (or perhaps towards) its central point, Elder (Julio César Ticona), a coal miner who has walked to the city after losing his job. Elder simply wants to find any kind of work, but his body and the city have other intentions for him. He has a mysterious respiratory disease that intensifies when he arrives. Initially, we suspect that the mines have caused Elder's illness, but the longer he remains in the urban heart of La Paz, where he's exploited by market suppliers, mocked by stall-keepers, and even somewhat teased by his able-bodied friends, the more he weakens, and soon we realize that Elder's spirit is being consumed by the malevolent forces in his surroundings. Thankfully, Mama Pancha (Francisa Arce de Aro), a woman who takes in Elder and claims to be his godmother, and Max (Max Bautista Uchasara), a shaman who provides treatments for both Mama Pancha and Elder, counter with those of a more humane past and provide hope as they manage to survive in or near the city — Mama Pancha in a building down a long forgotten alley and Max in the mountainous forest beyond the urban center — and through them, Elder has a chance to live. El Gran Movimiento is certainly political at its core, but its politics are neither dogmatic nor rigid: they are inherently human-centric and understand how an individual person manifests their flaws and triumphs to varying degrees, sometimes modulated by internal motivations, other times by external societal pressures, and oftentimes by some combination of both, which aggregate in the cities where people gather, assemble, and clash. La Paz in El Gran Movimiento is bewildering, haunting, and striking because it is an ecosystem that has its own mechanisms for operation and survival with chaos regularly injected. The city is its own character brimming with imperfections and occasional flecks of kindness and virtue. And hence, it is fundamentally representative of the modern human.
• •
Mato Seco em Chamas (Dry Ground Burning) / Brazil, Portugal / dirs. Joana Pimenta and Adirley Queirós
Back in the spring of 2018, we were extremely fortunate to catch a screening of Once There Was Brasilia (Era uma Vez Brasília) at Locarno in Los Angeles. That politically urgent, low-budget science fiction film, which was awarded a Special Mention in Locarno the previous year, was the first collaboration between director Adirley Queirós and his then cinematographer, Joana Pimenta. A top ten film for us in 2018, Queirós's feature inventively blended tropes from dystopian sci-fi and post-apocalyptic cinema to deliver a poignant statement on contemporary Brazil from a futuristic world devoid of hope. With their new feature, Dry Ground Burning, Joana Pimenta has returned as the DP and, in addition, has joined Adirley Queirós as a co-director for an ambitious docu-fiction work that brings our filmmakers back to the beleaguered district of Ceilândia, the site of their aforementioned sci-fi film.
At the center of Pimenta and Queirós's Dry Ground Burning are half-sisters Chitara (Joana Darc Furtado) and Léa (Léa Alves da Silva), leaders of a gang who sell purloined gasoline to bikers in their Sol Nascente favela, a community that has long given up on the promises and hopes of societal enrichment from governmental investment into the Brazilian infrastructure after the extraction of untold amounts of oil found in the country during the mid-2000s. As the sisters run gasoline with their all-female crew, we learn about the pervasive history and impact of crime and incarceration in their current lives and future. Timelines pause, reverse, and skip forward in Dry Ground Burning, but the oil rig and refinery remains as the emanating point for Chitara, Léa, and their teammate Andreia (Andreia Vieira), who together provide their neighborhood with gasoline while also supporting themselves and their families before splitting apart as the surrounding police state descends on them. From its early scenes, Dry Ground Burning is intentionally framed as a neo-western mixed with shades of City of God, but, as the film progresses, Pimenta and Queirós strip away any cinematic tropes and build the film's strength not from typical action scenes, but from raw dialogues heard between the sisters and their gang and long takes of the women working at the rig and living outside of its gates, which humanize the overall feeling of desperation and survival in Sol Nascente in a way that slickly shot gunplay could never achieve. We discussed Dry Ground Burning with co-director Joana Pimenta during this year's AFI Fest, and that interview is available here on Ink 19.
• •
De Humani Corporis Fabrica / France, United States / dir. Véréna Paravel and Lucien Castaing-Taylor
Unseen systems that generate outputs that we interact with, such as water purification or the conversion of gasoline into energy, continuously operate all around us. We understand some systems abstractly. But with others, we don't even quite know their parts. The systems in our bodies fall into both of these categories, and for the longest time, we would only learn about them through ailments with clear, perceptible symptoms, and we rarely saw into the physiological culprits. Hospitals too are their own systems that we engage with when we need treatment for our bodies and minds, but unless we are (or intimately know) medical professionals, we rarely get to see how parts of the hospital system work and how operations are performed. In De Humani Corporis Fabrica, directors Véréna Paravel and Lucien Castaing-Taylor present images and sounds from studies of components of hospital and body systems far from perfection and provide us new, visceral, uncomfortable, and amazing views into both. In operating rooms, via laparoscopic cameras, we travel through unknown ducts and tubes to watch surgical graspers, scissors, and needles cut, repair, or remove tissues and organs. In labs, we see tumors prepared for microscopic study and the resulting psychedelic slices projected onto screens. In geriatric hallways, we see how our physical and mental faculties wear down with age. And, in the morgue, we see masses of bodies that have reached the end of their lifecycles. Mixed into these varying internal and external views of the human form, Paravel and Castaing-Taylor pipe in casual conversations throughout various hospital settings that reveal the less than ideal conditions doctors and nurses face with unsustainable case loads, staff reductions, and even surgical supply shortages. Yet, despite the feeling that everything inside the hospitals featured in De Humani Corporis Fabrica may be broken, the doctors and nurses manage to continue maintaining and fixing the human body and keeping the hospitals' systems running, instilling in us wonder that our bodies work at all and awe in the fortitude and resilience of medical professionals who see our bodies at their lowest points every day.
• •
Espíritu sagrado (The Sacred Spirit) / Spain, France, Turkey / dir. Chema García Ibarra
As seen by the church activities of the protagonists living in the district of Ceilândia in Joana Pimenta and Adirley Queirós's film Dry Ground Burning, spiritual identity and connection are essential in a place enduring through economic hardship, and the same message can be said, but in a radically different way for the residents of the depressed town of Elche, the setting for Chema García Ibarra's inventive feature-film debut, The Sacred Spirit. With its cold open to the mid-essay speech given by a seraphic young girl who directly speaks to her class about the need for priests in her town to baptize babies lest they become the unwilling organ donors to devil-worshippers, Ibarra abruptly and surrealistic offers us the town of Elche as a place that is wildly devoid of traditional religion as guide for conduct. After that first moment, we find out that the young orator is Veronica, the twin sister of Vanessa, who may have been kidnapped by a gang of organ thieves operating the in the town, a dire situation that leaves their mother Charo (Joanna Valverde) with no other option than to take to the airwaves to plead for her daughter's return. Soon, the film shifts to Vanessa and Veronica's uncle, José Manuel (Nacho Fernández), a cafe owner and member of the local UFO collective Ovni-Levante, who must tend to his disabled mother, Carmina (Rocío Ibáñez), the town's medium who has been rendered fairly uncommunicative due to the progression of Alzheimer's. Though it would seem that the grim reality of Vanessa's disappearance should take center stage in José Manuel's life, the death of Ovni-Levante's leader takes precedence instead, as José Manuel is the only one with deep enough knowledge to guide humanity through the approaching extraterrestrial phenomenon. For its engine, Ibarra fills The Sacred Spirit with fantastical instances that thrive in the uncomfortable space between laughter and tragedy to purposefully misdirect you before delivering his film's closing message of how our frenzied need to believe in the unreal in a time filled with dizzying untruths can cloud our judgment to dangerously obscure a real evil.
• •
Re Granchio (The Tale of King Crab) / Italy, France / Alessio Rigo de Righi and Matteo Zoppis
With their feature, The Tale of King Crab, directors Alessio Rigo de Righi and Matteo Zoppis weave the folklore of the Tuscia town of Vejano into its current reality then spin a new myth from both. The final film of a triptych concentrated on stories told by the members of a hunting lodge in Vejano, The Tale of King Crab opens with the hunters regaling the beginnings of the heroic journey of Luciano (Gabriele Silli), the son of the town's doctor and a local drunkard who lived in Vejano some time near the end of the 19th century and the beginning of the 20th. Born into a class awkwardly straddled in between the peasants of the town and the royalty and clergy that rule it, Luciano contends with both when he expresses his love for Emma (Maria Alexandra Lungu), the daughter of a shepherd. Emma's father refuses to allow Luciano to be with Emma. And, much to the disdain of Luciano, who has never been a fan of the oppressive and seemingly trivial rules of royalty, Emma catches the attention of the local prince when she's selected to be the symbolic Mary of the Feast of St. Orsio. With these dual forces pulling Emma away from him, Luciano commits a tragic act of arson that leads to his exile to Tierra del Fuego, a purgatory for him to reflect on his sins in Vejano. At the other end of the world, Luciano, who now fashions himself as a priest, embarks on an archetypal quest for redemption, but along the way, Rigo de Righi and Zoppis intertwine a set of uncouth pirates, a compass in the form of Tierra del Fuego's iconic king crab, and diverse landscapes that shouldn't coexist but somehow do at this point at the end of the earth. All of these rich details build a mythology around Luciano that has its own distinctive world with all of the essentials of a grand epic, and altogether, they breathe life into a classical genre that is centuries old, the fairy tale, reminding us that timeless narrative traditions can still be relevant and significant to the imaginations of today because the travails and triumphs of an imperfect hero will always manage to resonate with us in some way. Our full-length review of The Tale of King Crab is available here.
• •
Das Mädchen Und Die Spinne (The Girl and the Spider) / Switzerland / dirs. Ramon Zürcher and Silvan Zürcher
Silence can emphasize sound and action, or it can take on a meaning of its own. In The Girl and the Spider, the absence of sound carries the weight of the film's mood and gives us a glimpse into the history, complications, and uncommunicated sentiments hiding below and in between its characters' actions and words. The premise of the film is simple in concept: Lisa (Liliane Amuat) is moving out of an apartment that she has been sharing with Mara (Henriette Confurius) and Markus (Ivan Georgiev) and into an apartment for herself alone. We see the moving day activities in the former and the new apartment, and as boxes get filled and depart then arrive, we meet characters connected to the spaces. In the old apartment, we meet neighbors who exist across multiple generations, and in the new apartment, we meet a neighbor with two young children and repairmen hired to make the place a home for Lisa. In between the movements, there are plenty of glances and conversations, but all of the characters remain fairly enigmatic to us as the viewers: even if they say or do something, they all seem burdened with words that cannot or will not come out into the open. Mara is noticeably upset with Lisa's departure, but remains relatively quiet with the exception of an outburst. Lisa is determined to make the move happen, but we're never quite sure as to why she wants it so intensely. Lisa's mother (Ursina Lardi) is trying her best to help with the moving efforts, but looks out of place and oddly draws recurring acts of passive and active aggression from her daughter. In turn, directors Ramon and Silvan Zürcher transform this common, domestic event of moving apartments into a microcosm of transition periods in life, that fleeting period where the connections and intimacy of the previous state collide with fresh motivations and anticipation of future interactions in the state to come. Such a transient period flows with a variety of paradoxical reactions and memories, and in the process, little can be done to express all of the feelings looming around the impending change, especially when many people are involved, so we proceed with what needs to be done or what feels proper to make the change happen, creating a forward motion even as tangents away from it continuously emerge. The Girl and the Spider stages all of these motions in the confines of the new and old apartment, and in doing so, amplifies everything around Lisa's move and guides us to a quiet acceptance of the constancy of change.
• •
Dangsin-Eolgul-Apeseo (In Front of Your Face) / South Korea / dir. Hong Sang-soo
In 2022, we managed to view three new Hong Sang-soo films. As fans since seeing The Day He Arrives in 2012, we've always looked forward to the next iteration of Hong's signatures: the uncomfortable pauses and glances, the conversations in various states of inebriation or caffeination, the cyclical actions of characters, and the quiet, yet unnerving disconnections of artists trying to interact with the world around them. These motifs always bring comfort and yet never feel stale, and consequently, most Hong films of late have felt like fresh variations on a treat that you adore. However, this is not the case with In Front of Your Face, which contains Hong's dialogue and mood hallmarks assembled this time into a semi-linear structure far more urgent in tone than the circuitous ones of his previous films. From the earliest moments of meeting the elegant Sang-ok (Lee Hye-young), who has returned to Seoul to visit her sister (Cho Yunhee) and her home city after living in the US for many years, we sense that each interaction to come has greater meaning and stakes for her than what she superficially conveys. In a modest discussion over coffee with her sister, we learn that Sang-ok's hopes for success in America never came true, and in her time away, an enormous chasm emerged between her and her sister, not for any dramatic reasons but rather because they took very different paths in their lives. As the sisters continue to familiarize themselves with each other, we learn about each one's legacies in Seoul. Sang-ok gets recognized by strangers in the park, and we learn that she was once a prominent actress in Korea. And, in a separate moment, we meet Jeong-ok's adult son, who is a kind and respectful owner of a small restaurant specializing in tteokbokki. From these scenes, we overwhelmingly sense that Sang-ok is on some kind of farewell tour, and we get full confirmation of this suspicion when she meets with a director, Jae-won (played by the frequent Hong proxy Kwon Hae-Hyo), who is a longtime fan and who drunkenly promises to make Sang-ok's final film. Melancholic overall with fleeting infusions of playfulness, In Front of Your Face is perhaps Hong's most sentimental film to date, but every second has an effortlessness, humanity, and honesty that makes Sang-ok's experiences all the more meaningful, slowing down time and building an appreciation for life's oddities, failures, and accomplishments.
• •
SUPPLEMENTAL FILMS
• •
Trenque Lauquen / Argentina, Germany / dir. Laura Citarella
At the center of the cosmos of Laura Citarella's Trenque Lauquen is Laura (Laura Paredes), a woman who has gone missing. A botanist sent to Trenque Lauquen for a cataloging project that could cement her success as an academic, Laura has her own pulsating, shifting orbit that intersects with those of Rafael (Rafael Spregelburd), her boyfriend and academic partner in Buenos Aires, Ezequiel (Ezequiel Pierri), her institute assigned driver turned investigative partner in Trenque Lauquen, and Elisa (Elisa Carricajo), a brusque and mysterious local doctor. In the moments she shares with each of these main players, sometimes in person, other times through phone calls and voice messages, we as the audience learn more about the transformations that led up to Laura's disappearance. In part one of the film, Citarella primarily focuses our attention on Laura, Rafael, and Ezequiel. Rafael and Ezequiel actively search for Laura by car, and as they ask for information from various shop owners and farmers along the roads, their chances of success look slim. Rafael and Ezequiel are both discreet in what they share about their own relationships with Laura, preventing them (and us) from piecing together a complete understanding of Laura. However, as Citarella takes us back in time to learn about the evolution of Ezequiel and Laura's relationship through Laura's discovery and compulsive excavation of letters written in the 1960s between two lovers (Carmen, a teacher in the town, and Paolo, the father of two of her students) and Ezequiel's contributions to the investigation to understand who the lovers were and how their relationship fell apart, we begin to better understand Laura in the period before her disappearance. Upon discovering a letter between the lovers hidden in a book by Alexandra Kollontai, Laura abandons her plant cataloging project and instead spends all of her time voraciously combing through the Martín Fierro estate's large donation to the Trenque Lauquen library to hunt for the rest of the letters hidden inside of the collection. As she attempts to piece together the letters' timelines and portraits of their writers, she shares the knowledge with Ezequiel, and with his own connections to the history of Trenque Lauquen, he helps Laura connect Carmen and Paolo to their positions and statuses in the town. But, despite this expanded knowledge and Laura's success in extracting the complete series of correspondence between Carmen and Paolo, the letters point towards a surprisingly unclear resolution, for, as they progressed in time, Carmen's location became more ambiguous and eventually unknown.
As the second part of Trenque Lauquen opens, we learn about how Laura became intertwined with Elisa, beginning with the moment when she asked Laura for a sample of a short yellow flower. This simple request pulls Laura into a local event and its fallout — the discovery and presence of a half-human, half-amphibian child in Trenque Lauquen's lake and Elisa and her partner Romina's roles in becoming the child's caretakers and secret guardians. When Laura finally brings a sample of the flowers to Elisa's home, she gains partial entry into Elisa's life. However, little is shared about the child and Elisa's intentions for it, even as Elisa and Romina (Verónica Llinás) ask Laura for her assistance with growing plants and finding materials for something that Laura can only assume is a simulated habitat. Though Laura never gets to see the child/creature, she nevertheless works harmoniously alongside Elisa and Romina and develops a more collaborative spirit, allowing her to open up, receive, and accept what may come, regardless of how irrational or unexplainable it may be. So, when Elisa, Romina, and the child must flee and Laura receives instructions from Elisa explaining things to collect and meet up points, Laura complies, and as she works to fulfill Elisa's requests, she is sharply aware of everything around her and absorbs it all. Trenque Lauquen doesn't seek a solution to a mystery. Instead, it documents the awakenings and transformations caused by and within Laura, making her whereabouts far less important than her impact on the people and places she interacted with and their influence on her. We spoke with director Laura Citarella during AFI Fest 2022, and that interview is available here on Ink 19.
• •
A Chiara / Italy, France / dir. Jonas Carpignano
The winner of the Directors' Fortnight Award at the 2021 Cannes Film Festival, A Chiara is the final installment of director Jonas Carpignano's Calabrian triptych set in the southern Italian port of Gioia Tauro. Here, the focus is on 15-year-old Chiara (Swamy Rotolo), the middle daughter of upper-middle class parents, Claudio (Claudio Rotolo) and Carmela (Carmela Fumo) Guerrasio. As a Gen Z Italian teen of some privilege, Chiara blissfully goes about her days without a concern, but when she witnesses a car bombing that occurs on the street outside of her sister Giulia's (Grecia Rotolo) eighteenth birthday party, that moment of seemingly random violence sets in a motion of chain of events that alerts Chiara to the nefarious nature of her father's illicit activities. When news reports detailing her father's ties to the 'Ndrangheta reach school, a disgraced Chiara sets out on a search for answers and enlists the help of Ayiva (Koudous Seihon), who brings Chiara to Ciambra, the center of the Roma community in Gioia Tauro and the neighborhood of the Amato family, whom we lived with in Carpignano's previous entry of the triptych. But in A Chiara, we approach the Ciambra from a different perspective as Chiara begrudgingly tries to comprehend the role that her father has played in exploiting this community and responds to her frustrations by committing a violent action against a Roma teen girl. Now guilty of a crime herself, Chiara's sentence enacts a governmental order created to break up crime families: she must sever all ties with her family in Gioia Tauro and relocate to Urbino to live with a government-approved, wealthy family helmed by a pediatrician. With each film in Carpignano's triptych, we see how family, ethnicity, and economic standing influence the actions of and the ramifications against each of the films' main characters. Each protagonist is forced at some point to make a decision related to their individual family, and the available choices are determined by their statuses as Italians, varying from newly arrived immigrant to a member of a Roma community to a more established multigenerational family, which reflect the current state of acculturation and national identity in Italy overall. Read our full review of A Chiara here.
• •
Wood and Water / Germany, France / dir. Jonas Bak
At the opening of Wood and Water, we meet Anke on a monumental day in her adult life: her last day of work before retirement. Anke has worked as an employee of a small church in an idyllic village in the Black Forest for many years, and the tranquility of her work setting extends into her last day and retirement, which are both peaceful, but somewhat lonely. As a new retiree, Anke first sets out to organize a modest reunion with her children at a cabin by the Baltic Sea that was the site of many past vacations, but when her son, Max, fails to make it because he's stuck in Hong Kong as the pro-democracy protests surge, Anke decides to go to him. Amidst the high tensions and energy in Hong Kong, Anke walks and observes all that is around her and converses with older denizens of the city who articulate pasts long gone and a present that is somewhat alien but, alas, is right in front of them. The longer she remains in Hong Kong, the more Anke finds her own pace to experience her new reality as a retiree, a foreigner, and a mother of adult children. For the role of Anke, director Jonas Bak casted his own mother, Anke Bak, who at the time of filming was not retired but was in the twilight of her working years. This decision imbues Wood and Water with a tenderness that never veers towards the cloyingly sweet because the film projects Anke forward to a retirement that doesn't regress into the past but rather explores a changing future with self-assurance and heightened awareness. A confident debut feature, Wood and Water gifts us with a refreshing sense of calm, not through escape but rather through absorption.
• •
Incroyable mais vrai (Incredible But True) / France, Belgium / dir. Quentin Dupieux
Over the last two decades plus, director Quentin Dupieux has excelled far beyond any other filmmaker in accentuating the absurd in his comedies to reveal our shortcomings. Case in point is last year's hysterically funny effort from Dupieux, Mandibules, where he gave us the most extreme version of a slacker film where our protagonists' total lack of desire to earn an honest wage prompts them to transform a giant house fly into a thief to do their bidding. One of two comedies directed this year by Dupieux (the other being Smoking Causes Coughing), Incredible But True sees Léa Drucker and Dupieux regular Alain Chabat playing Marie and Alain, a middle-aged couple who purchase a run down house that contains one remarkable supernatural quality — a basement manhole access to an upstairs hallway corner that progresses time by a half-day while also reversing aging by three days for whoever travels through it. Though this feature would be of endless fascination to some, in the world of Dupieux, Alain and Marie find it merely amusing at first and simply revel in their new digs, but all that changes after their first dinner party when their friend and Alain's boss, Gégé (played by Benoît Magimel whose boorish character here is clearly more evil than his turn as Monsieur De Roller in Albert Serra's Pacifiction), boasts of his recent surgery that replaced his perfectly functional penis with one that is bluetooth-enabled and (in theory) is always ready on-demand. Now, face to face with Gégé's wonder phallus and his young and beautiful partner, Jeanne (Anaïs Demoustier), Marie sees green and subsequently takes fanatical advantage of her new time machine with the hopes of eventually turning the clock back far enough so that she can become a teenage fashion model, and while she regresses in age and outlook, Alain's concern for her deteriorating mental health situation grows each day. Though only 74 minutes in length and fairly simple in its overall message of the consequences of envy that arise with the fear of mortality, Dupieux fills Incredible But True with scenes of laugh out loud comedy and understated emotion that make the film a remarkably compassionate watch.
• •
Cette Maison (This House) / Canada / dir. Miryam Charles
After the sudden loss of a loved one, there is an essential need within many of us to understand the why before we can imagine what could've been. For director Miryam Charles, the tragic loss of her cousin, Terra, who died under violent and mysterious circumstances at the age of fourteen in Bridgeport, Connecticut in 2008, is experienced in Cette Maison through a reconstruction, not of the crime, but of the trajectory of Terra in her real and imagined life via her family's reactions to her passing and their connections to the physical spaces that they've existed in through their migrations years prior and since her passing. As an experiential process, Charles depicts the varying states of sadness, grief, and resignation through different visual motifs that recurrently pull us closer then away to emulate time against impact. When we witness the day that Terra is found dead, Charles recreates the moments as a formal stage play, complete with facades and direct lighting in a way that feels dramatic and intense but classical and familiar in appearance. Charles ages Terra through the performance of actress Schelby Jean-Baptiste, who is close to the age of Terra had she lived, and as Terra engages with her mother (Florence Blain Mbaye) in confrontational conversations, their communication evokes a bi-directional transference of spirit that manifests as a documentary of mourning, memory, and imagination which carries Terra's spirit back and forth from Connecticut to Quebec to Haiti through her mother's grief. These erratic shifts of location and storytelling style are juxtaposed with Charles's use of grainy 16mm film and warm natural light, which imbue us with a sense that Terra's death and her family's inability to find a place of belonging are forever intertwined. We spoke with director Miryam Charles during this year's AFI FEST, and that conversation is available here.
• •
Los Conductos (The Conduits) / Colombia, France, Brazil / dir. Camilo Restrepo
Luis Felipe "Pinky" Lozano has escaped the insidious grasp of a cult and its leader to find himself roaming the streets of Medellín in a profound state of loss. Loosely based on Pinky's actual experiences after fleeing a tyrannical religious sect, Los Conductos follows Pinky through a psychedelic purgatorial state of consciousness as he takes refuge in an illegal factory where he produces textiles embossed with images of eternal fire, indulges in narcotics, and plots future revenge (or perhaps past actions of vengeance) on the cult's "padre." Though set in contemporary Colombia, Restrepo creates a enigmatic sense of time that adds layers to the hallucinatory atmosphere by drawing from the visual aesthetic of Jodorowsky's 70s output, while incorporating elements of the past, such as the story of the real life 1950s outlaw Desquite (Revenge), who acts as a mirror of sorts to Pinky's feelings of rage and contempt for the oppressive world that he left behind and the damaged place he now inhabits. Adventurously shot by Guillaume Mazloum on grainy 16mm that adds a palpable unease, as Los Conductos freely progresses in a non-linear fashion without a definitive sense of era, it feels less like a statement about today's Colombia and more like one from Restrepo that aims at a country that has historically exploited its inhabitants and has never been united in a goal for a peaceful existence. Drawing its strength from its contrasting elements, Los Conductos steers us through each of Pinky's denouncements of the violence permeating every strata of his identity, and by the end, we are ultimately left to ruminate on a single line of a poem by Gonzalo Arango that asks, "When will Colombia stop killing its sons?"
• •
BEST REPERTORY FILM EXPERIENCE
• •
Flaming Ears (4K Restoration) / Austria / dirs. Angela Hans Scheirl, Ursula Pürrer, and Dietmar Schipek
Though set in the year 2700, 1991's dystopian and prophetic science fiction film Flaming Ears is a fitting work to be restored and re-released in 2022. After two years plus of COVID-19 fatalities, lockdowns, and social distancing, our concept of urban society is even more unsettled now than it was during the ruinous period surrounding the initial release of Flaming Ears in which the aftermath of the consumerist 1980s coupled with a decade of fears from the HIV epidemic reimagined urban landscapes for worse. Set during the Year of the Toads, Angela Hans Scheirl, Ursula Pürrer, and Dietmar Schipek's feature primarily focuses its attention on three denizens of the fictional industrial wasteland city of Asche: Spy (Susanna Heilmayr), Volley (co-director Ursula Pürrer), and Nun (co-director Angela Hans Scheirl), whose existences begin to intersect when the rollerskating pyromaniac and sex performer Volley destroys the work and printing means of Spy, a comicbook creator. At the same time, Volley's lover Nun wanders around Asche as a corrective force that challenges both the anarchic and perverse elements of the city, and when Spy is injured as she seeks revenge on Volley, Nun rescues her. As Nun figuratively devours the plagues from the book of Exodus while searching for pure expressions of love, she becomes a symbol of everyone who once strived to help invigorate and protect the extreme factions of attitudes, both cultural and social, that kept cities vibrant. As a statement on the 1980s, Flaming Ears provided a biting comment on the homogenizing effects that HIV and the rapid gentrification by urban professionals had on most megalopolises, and in 2022, it is a grim reminder that our major cities, though densely packed, are filled with isolated people who only see their neighbors as obstacles standing in the way of their contentment. You can read our full review of Flaming Ears here. ◼
Featured image courtesy of Grasshopper Films
---