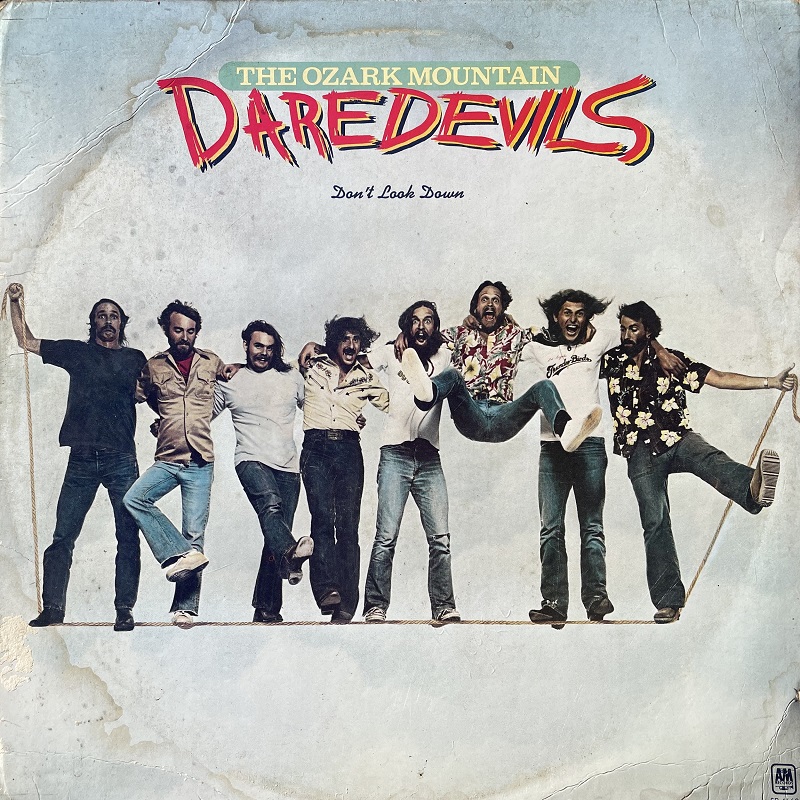 Garage Sale Vinyl: The Ozark Mountain Daredevils
Don't Look Down / A&M Records / October 1977
by Christopher Long
We never miss finding a treasure — me and the GF. As a result, "Joe" has become one of our favorite vendors down at the ol' local flea market. Truth be told, the guy's little concession barely rates "vendor" status. It's actually just a huge, rotting wooden table, out in the open at the end of Row Z. And it's always piled with all sorts of random crap for sale — rusty power tools, mismatched plastic dishware, well-worn hand-me-downs, etc. But what makes this our go-to flea market spot is the box of ravaged vinyl LPs that's usually tucked under Joe's table.
So, there I was, recently rifling through the old records (trying carefully to avoid contracting tetanus), when Joe announced, "Everything in that box is a quarter." In my hands at that moment was a completely destroyed copy of Don't Look Down, the 1977 release from the Ozark Mountain Daredevils. The cover was totally tattered — not even a paper inner sleeve. But for 25¢, how could I go wrong? I had it on CD and iTunes, but this was an original vinyl copy. SOLD! As it turned out, despite also being warped as shit, the record played nicely. You just never know.
As the saying goes, there really was, "gold in them thar hills." And the Ozark Mountain Daredevils panned for precious metals successfully — both gold and platinum. The cool thing about this Springfield, Missouri-based collective is they've always remained committed to two key creative components — integrity and authenticity. The country / rock hybrid had been brewing for a few years, but the Daredevils took their rootsy, down-home music to another level — blending folk, bluegrass, and country with rock and pop — effectively defining the Americana genre decades before the patchouli-soaked hipsters claimed it as a thing.
The band's initial five-title string of A&M Records studio LPs ('73-'77) all were simply superb pieces of work, to be sure. And over the years, those albums have aged beautifully. To this day, the massive hit singles, "If You Wanna Get to Heaven" and "Jackie Blue" remain classic rock radio staples. But at the time of the 1977 release of Don't Look Down, the music scene had changed drastically, as disco dominated everything and new wave was pogo-ing onto the horizon.
As a result, the record went largely unnoticed — a particular tragedy given that Don't Look Down found the Daredevils firing on ALL cylinders, moving forward while maintaining their unique identity. Produced by David Kershenbaum (Duran Duran, Joe Jackson, Bryan Adams), the album owned some of the Daredevils' finest and freshest songs to date. The shoulda-been-a-single "Following The Way That I Feel" was a pure pop treasure, while the funky-feeling "The Fox" was a chunky, Jamaican-flavored treat, and the fiddle-fueled "Giving It All To The Wind" was a delicate, signature-style standout.
The album has been a personal favorite since back when I had great hair and cut abs. But I was curious about what the band thought of it. So, I reached out to co-founding bassist, Michael "Supe" Granda, to get his take on Don't Look Down. And I'll be dipped — the dude called me back. Apparently, he digs it too.
• •
Christopher Long: Here's bassist Michael "Supe" Granda's take on Don't Look Down.
Michael "Supe" Granda: When we began to record Don't Look Down, we'd also added a new guitar player, a new piano player, and a mandolinist. With the addition of the mandolin, we were able to include my bluegrass tune, "Stinghead." With Rune Walle's searing slide guitar, we were able to do a country tune, "On The Rise," and several all-out rockers, "River To The Sun," "Snowbound" and "Backroads."
Even in 1977, the Ozark Mountain Daredevils possessed a prominent presence on the international rock scene. Caribou Ranch Studios was one of the preeminent facilities of the day and it provided a memorable environment.
Located right up the mountain from Boulder, Colorado, Caribou Ranch Studios was notorious for late nights and a "let's go see who's recording" attitude. Artists, in town to play Red Rocks, would stop in. Ann and Nancy Wilson of Heart, Dennis Wilson and Al Jardine of the Beach Boys, America, and the Sons of Champlin all stuck their heads in the door. All were welcomed. None impeded progress.
But the band's longstanding reputation for being party-hardy, hell-raising hillbillies probably had been blown out of proportion. Surely, they were "all business" while making the record. Right?
The general feeling of the place (Caribou Ranch) was upbeat and up-tempo. This is what we attempted to inject into our music. The sessions were fun, festive, and full of life. One highlight was a drinking contest we held. On an off night from recording, we gathered in the dining room and drank one shot of beer every sixty seconds, until the last man was standing. The first hour was funny. The second hour began to get wobbly. The third hour was psychedelic. When guitarist Steve Canaday won after 216 shots, the rafters rang with laughter.
More than 45 years after its release, Don't Look Down might be endeared to fans as much for its memorable cover as for its impeccable songs.
Though the album contained no big hits and found no real commercial success, we had an absolute blast making it. This conviviality can be seen on the cover. As we all balanced on a 2×4, superimposed onto a taut rope, dangling in mid-air, the camaraderie was wonderful.
• •
Simply put, Don't Look Down was a stinger of a record. In fact, if "Stinghead" alone doesn't make you a true believer, buddy, we'll keep praying for you.
(4/5) ⭐ ⭐ ⭐ ⭐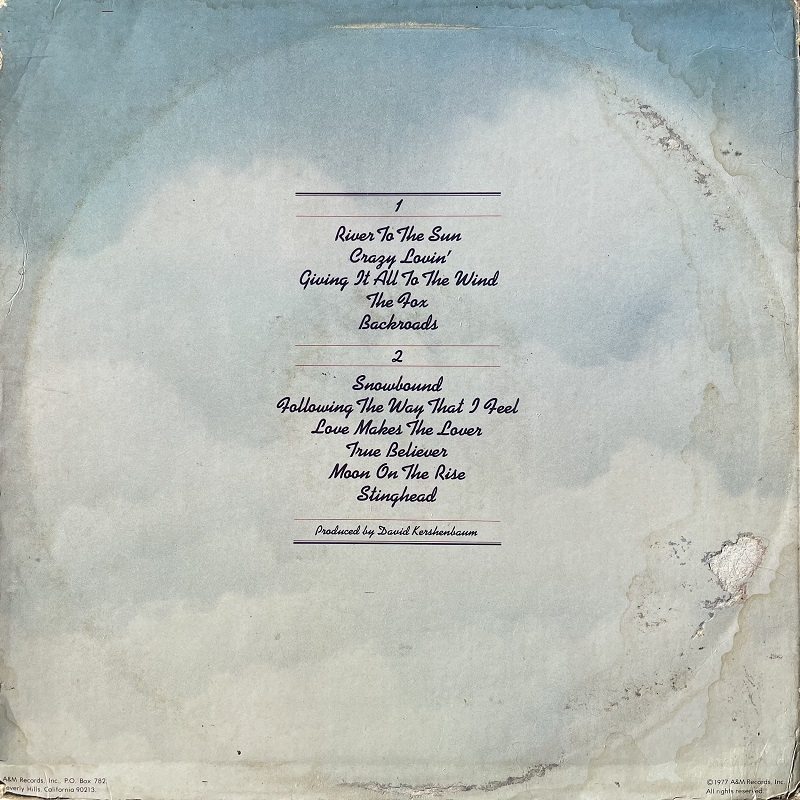 Don't Look Down Track List
SIDE ONE
River To The Sun (Steve Cash, John Dillon) 3:25
Crazy Lovin' (Steve Cash, John Dillon) 3:53
Giving It All To The Wind (Larry Lee) 4:13
The Fox (Steve Cash) 2:45
Backroads (Steve Canaday) 3:13
SIDE TWO
Snowbound (Steve Cash, John Dillon) 3:30
Following The Way That I Feel (Larry Lee) 3:35
Love Makes The Lover (John Dillon, Steve Cash) 3:21
True Believer (Larry Lee, Steve Cash) 4:13
Moon On The Rise (Larry Lee, Steve Cash) 3:05
Stinghead (Michael Granda) 2:09
---