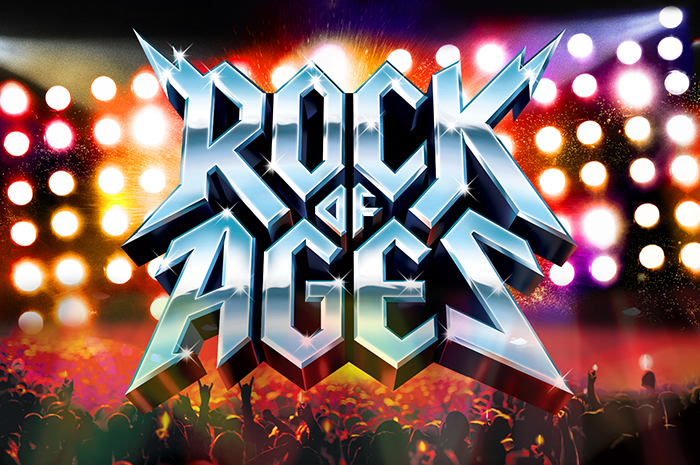 Rock of Ages
The Garden Theater • Winter Garden, Florida
Book by Chris D'Arienzo
Arrangements and Orchestrations by Ethan Popp
Directed by Justin Matthew Sargent
Musical Direction by Austin McElwain
Starring Bo Bice, Omar Cardona, Justin M. Sargent, Diana Huey, Christine Dwyer, Matt DeAngelis, Tony LePage, Militia Vox
by Carl F. Gauze
Tonight we revisit the glory days of the late 1980s with a crash of power chords, big egos, and even bigger hair-dos. The action swirls around a skanky bar that anchors the classic rock era on the west end of Hollywood Boulevard. Punks, new wavers, and hip-hoppers may have circled their wagons, but tonight it's all about classic rock, classic hair metal, and small-town girls hoping to be stars, and not just fish-netted hookers servicing Johns and living on nose candy. We even have a narrator, Lonny (DeAngelis or LePage, depending on who shows up). He feeds us mini exposition dumps and gay friendly winks. Then there are the Germans (Brian Minyard and Drew Ray). They are cartoon Germans, like a pack of Sergeant Schultz gestapo agents written for comedy and nowhere near capable of invading El Segundo, never mind the Sudetenland. OK, so there's plot, but it's not why we're here. Instead, we are here to relive that one magical night in high school when we almost made it with the girl of our dreams. "Almost" being the operative word. This is a house packed with grey-haired headbangers, making it a truly sublime event.
The story is straightforward. Sherrie Christian (Diana Huey) heads out to L.A. with hopes of making it in Hollywood, but she's quickly reduced to stripper work. Drew (Omar Cardona) does menial labor in a famous dive bar modeled on L.A.'s Whiskey a Go Go, it's run by Denis Dupree (Bo Bice). Lonny falls for Sherrie as the romantic line, and the bad guys are the Older German Hertz Klineman (Minyard) and his son Franz (Ray). They arrive with the mayor and plan to demolish the dive bars and make the street as shiny and boring as an abandoned shopping mall. Dupree hears a famous band led by Stacee Jaxx (Justin Matthew Sargent), Arsenal, is breaking up, and he hopes to host their final show. He may be going out, but it's with a bang. Standard rock and roll stuff, to be sure, but excellent motivation for a musical.
But you're not here for the plot, you're here to ROCK OUT. And that's where this show finds its wings. There's an imposing set list in the program with 30+ tracks. A few songs are played through, or at least given a full verse. Other tunes only contribute a bar or two, like Slade's "Cum on Feel the Noize." Blink and you'll miss it. Other tracks like "Harden My Heart," "We Built This City on Rock and Roll," and "Final Countdown" rock all the way through, giving us the catharsis we seek in rock. The sound tonight was high quality, live, and loud enough to dominate the room without actually bursting eardrums. Yeah, I like it loud, but I still need to get orders from my wife.
One fun fact about the show is the drinking arrangement. While The Garden normally does a limited beer and wine service, tonight there were two extra bars set up with full liquor. One was in the lobby, and one was on stage. You could go up and get on stage and grab a whiskey sour or a shot of tequila, just so long as no actors were up there working. The only thing missing from the real rock and roll experience is the sticky floors, the restroom odor, and the smell of ganga. If you're old, this may be your last chance to rock out, but there's a matinee if you aren't allowed to drive after dark.
---