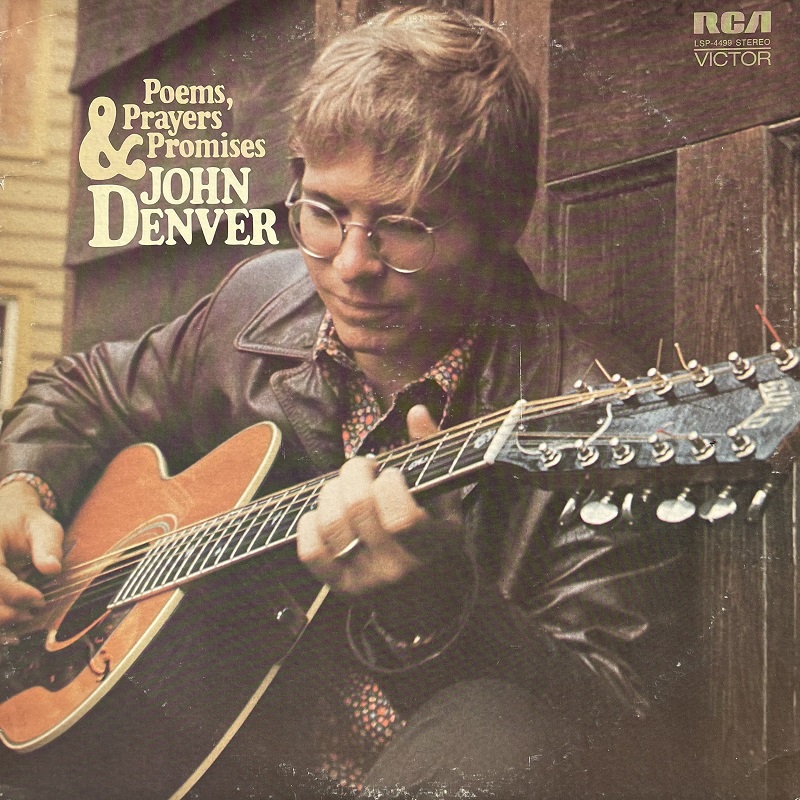 Garage Sale Vinyl: John Denver
Poems, Prayers & Promises / RCA Records / April 1971
by Christopher Long
When groovy 40-something choir director, Bernice Rephlo began teaching us John Denver songs in our decidedly square elementary school chorus group, it had an immediate "far out" effect on me. More than half a century later, I've yet to come back down to earth.
After a somewhat sleepy start, Denver had gained (significant) traction in 1971 with the downhome doozie, "Take Me Home, Country Roads." By 1972, the song became a staple of our pre-pube vocal ensemble. In short order, I made my mom take me to Sears to buy the full album — my very first Denver LP, Poems, Prayers & Promises. I was ten years old and it proved to be my gateway — the passage from kiddie-type records cut from the back of cereal boxes in the late '60s to a new informed awareness of the early '70s singer-songwriter era.
Owning two of Denver's most iconic hits; the aforementioned "Take Me Home, Country Roads" (Billboard #2) and "Sunshine on My Shoulders" (Billboard #1), Poems, Prayers & Promises remains one of my all-time favorite albums. I had re-purchased the record digitally in the new millennium, however, my original 1971 LP had vanished to who knows where over the decades. As a result, I was thrilled to discover a reasonably well-cared-for vinyl copy (for a buck) while on a recent garage sale expedition with the GF. And I was reminded quickly of just how wonderful the songs are and how beautifully they've aged.
Straight out the gate, the title track provides a vivid portrait of Denver, reflecting on a life well-lived, while all his friends and his old lady sit and pass the pipe around. Long before the "wedding song" genre became hokey, Denver's heartfelt "My Sweet Lady" was a legit go-to for '70s-era nuptials. And this original version still sparkles like a 60th-anniversary diamond. Also featuring the urgent "Wooden Indian" and the hopeful "Gospel Changes," Side One is a cozy screamer.
Early in his recording career, Denver possessed a penchant for covering Beatles tunes — efforts that met frequently with tragic results. Conversely, here, his version of "Let it Be" has a custom-tailored feel. Other PP&P cover successes include remakes of the Paul McCartney solo tune "Junk" and the James Taylor standard, "Fire and Rain."
Prior to achieving massive success as one half of the chart-busting combo, Starland Vocal Band, the husband and wife team of Bill Danoff and Taffy Nivert contributed songs and backing vocals to various Denver albums. One of their finest compositions, "I Guess He'd Rather Be in Colorado," is a super-tall standout, while "Around and Around" is a sunny-sounding, twinkling treasure.
Denver soon would become one of the biggest pop stars on the planet — racking up a staggering string of 14 consecutive gold and platinum LPs, as well as a dozen Top 40 singles by 1979. However, despite all of his incredible career achievements, a strong argument can be made that Poems, Prayers & Promises is the mightiest "must-have" in the impeccable John Denver catalog.
(5/5) ⭐ ⭐ ⭐ ⭐ ⭐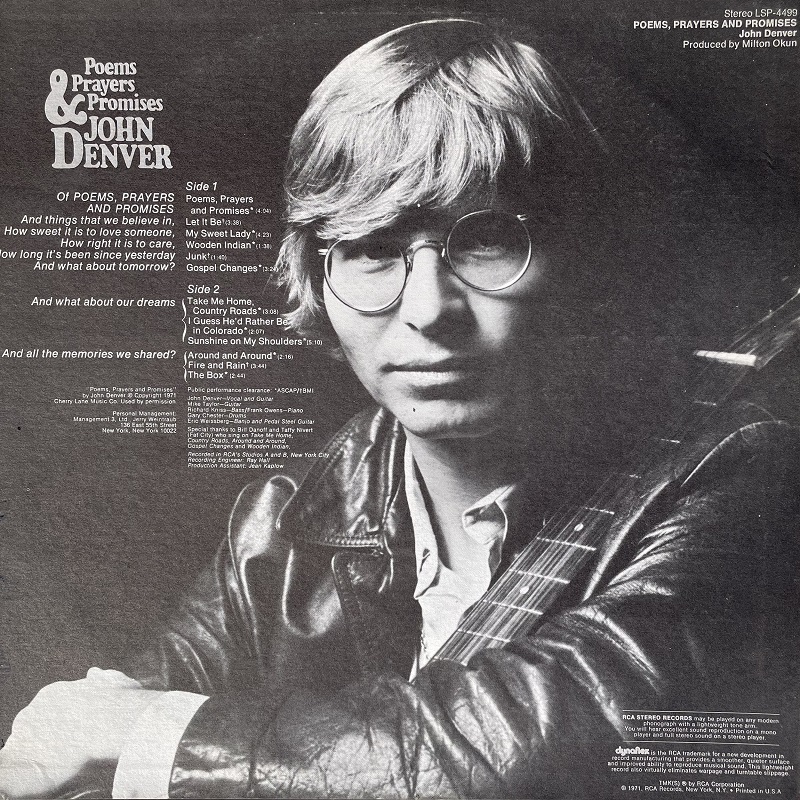 Poems, Prayers & Promises Track List
SIDE ONE
Poems, Prayers and Promises (Denver) 4:04
Let It Be (Lennon-McCartney) 3:38
My Sweet Lady (Denver) 4:23
Wooden Indian (Denver) 1:38
Junk (McCartney) 1:40
Gospel Changes (Williams) 3:24
SIDE TWO
Take Me Home, Country Roads (Danoff, Nivert, Denver) 3:08
I Guess He'd Rather Be in Colorado (Danoff, Nivert) 2:07
Sunshine on My Shoulders (Denver, Kniss, Taylor) 5:12
Around and Around (Denver) 2:16
Fire and Rain (Taylor) 3:44
The Box (Lascelles) 2:44
---