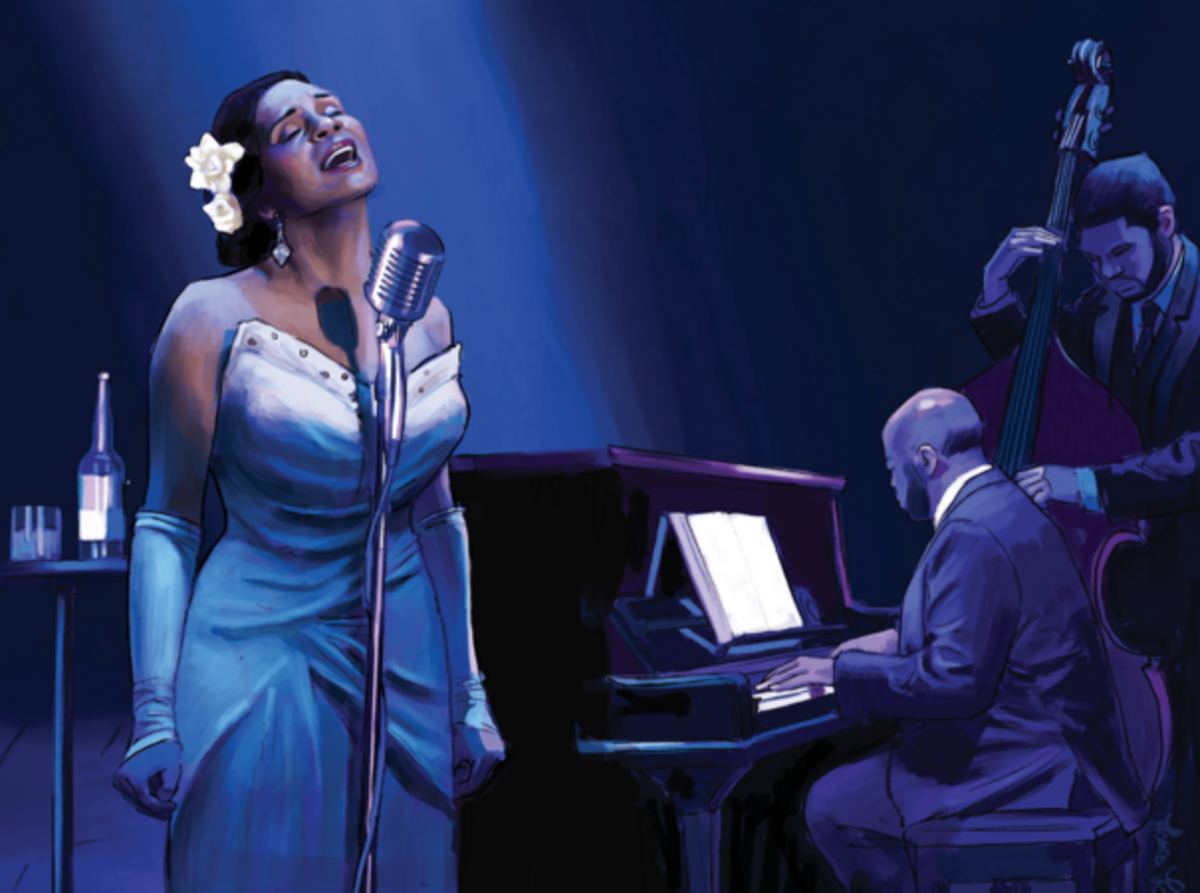 Lady Day at Emerson's Bar & Grill
Orlando Shakes • Orlando, Florida
Written by Lanie Robertson
Directed by Joshian Morales • Musical Direction by Garrick Vaughan
Starring Tymisha Harris, Garrick Vaughan, Larry McRae
by Carl F. Gauze
There are a lot of incarnations of the story, but Tymesha Harris's thread seems to have the strongest roots around Central Florida.
Tonight, Lady Day at Emerson's Bar & Grill finds us in Philly and very close to the end of Billie Holiday's career and life, booze flowing from an onstage bar pre-show. Harris's doomed chanteuse appears and seems reasonably sober, but by the closing number, you're hoping the paramedics are waiting in the green room. Her life is rough and bitter, and with segregation in full force, even the act of peeing is fraught with overtones. The days of the slave ships are passed, but their flag waves on. We find a three-piece band backing her up. They realize her condition all too well and work fruitlessly to keep her vertical and on key.
The show starts with the easy numbers and a mostly sober Billie. "I Wonder Where Our Love Has Gone" and "When a Woman Loves a Man" set the mark for sobriety, and she begins her evening's slide easy, with back up by pianist Jimmy Powers (Vaughan). The minutia of segregation fills in the corners of the story with "A Pig's Foot and a Bottle of Beer," a decent meal in those days. The show's apex appears halfway through, with "Foolin' Myself." Billie tells tales of growing up in Philly and traveling south to see what real bastards us good Christians can be. As we draw to the end of the evening and Billie's sojourn on earth, we see her only soft spot: a microscopic dogoid Pipi (Chip). By this point in the show, Billie is slipping badly, and she leaves the band to vamp for a while until the final bow.
Ms. Harris has made a career of recreating Miss Billie Holiday, and she has it down to a fine art. The music is the easy part, and the stage drunkenness is powerful and never veers to the Red Skelton level of comic-stage drunkenness. Harris draws the audience down to the hell she inhabits and never leaves an exit sign. Her massive skills at replicating Holiday are written off by the establishment — imagine having first-class tickets to hell, only to be stuck in steerage and assigned to pull the oars to your final demise. While the music soars, Billie's soul nosedives. This is the final demise of genius into the void, and to her, that void actually looks better than the realist she left behind. ◼
---