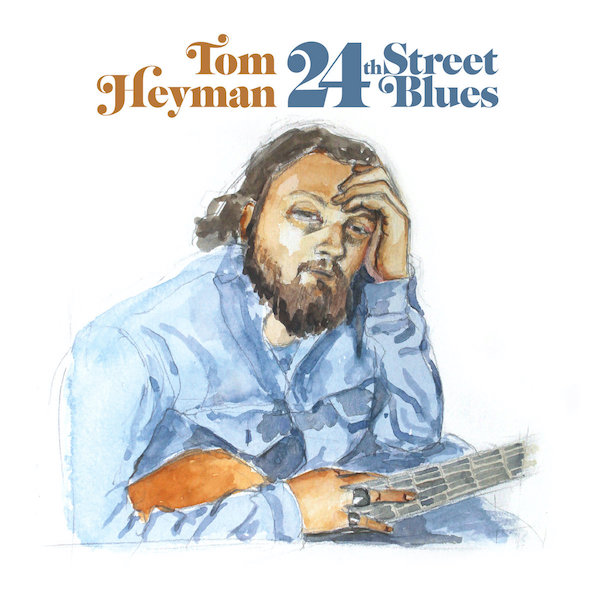 Tom Heyman
24th Street Blues
Bohemian Neglect Records
Tom Heyman has been playing guitar and steel guitar with lauded indie rock luminaries such as Chuck Prophet, John Doe, Alejandro Escovedo, Sonny Smith, and Hiss Golden Messenger since the 1980s. Originally from Philadelphia, Heyman has lived in San Francisco since 1998. On his sixth solo album, 24th Street Blues, Heyman has written about his rapidly changing neighborhood in San Francisco's Mission District. Tom's goal was to create a sound that combined the loose, late night of JJ Cale with the bittersweet melancholia of late period Nick Lowe and the melodic storytelling of Gordon Lightfoot.
Tom has lived with his wife, the painter Deirdre White, in a converted storefront on 24th Street for 20 years. In that time, Heyman has gotten to know the local characters who populate the songs on 24th Street Blues. Heyman's songs paint compassionate portraits of regular people living lives of quiet desperation. "Barbara Jean" feels like a Tom Waits character lost in a Gordon Lightfoot ballad. Barbara Jean is a woman who struggled to make it in the world, but her dreams are dashed when she comes home to take care of her father. The song is sweet, "everyone loves Barbara Jean," and sad. "24th Street Blues" finds Heyman walking through his neighborhood, waiting for the bus: "smoke a cigarette, the bus is late, it's hard to make a living. Leave the pack for my junkie friends, in the end I hope we're all forgiven."
24th Street Blues is also about the changes Heyman has seen in the past 20 years. San Francisco, and the Mission District in particular, have been rapidly gentrifying in recent years. Construction cranes and wrecking balls make cameos in many of the songs. Heyman's boldest condemnation of the gentrification process comes on "The Mission Is on Fire." Tom laments the connection between arson fires and the redevelopment that follows. It's hard to get approval to displace 60 families, but easy to get approval to knock down a burnt-out shell for new luxury condos. On the chorus, Tom laments, "The Mission is on fire now and there's some people getting rich."
The songs on 24th Street Blues echo with the loneliness and alienation of a city in flux. The songs also reflect love, loss, and determination in the face of overwhelming odds. With Tom's songs being so visual and rich in character, it seems appropriate that there is a companion songbook to 24th Street Blues that not only has lyrics, tablature, and notation, but is also illustrated with Deirdre White's paintings of the Mission District. The album cover is one of her paintings. I really wish more of the images were included with the CD.
http://www.tomheymanmusic.net/
---